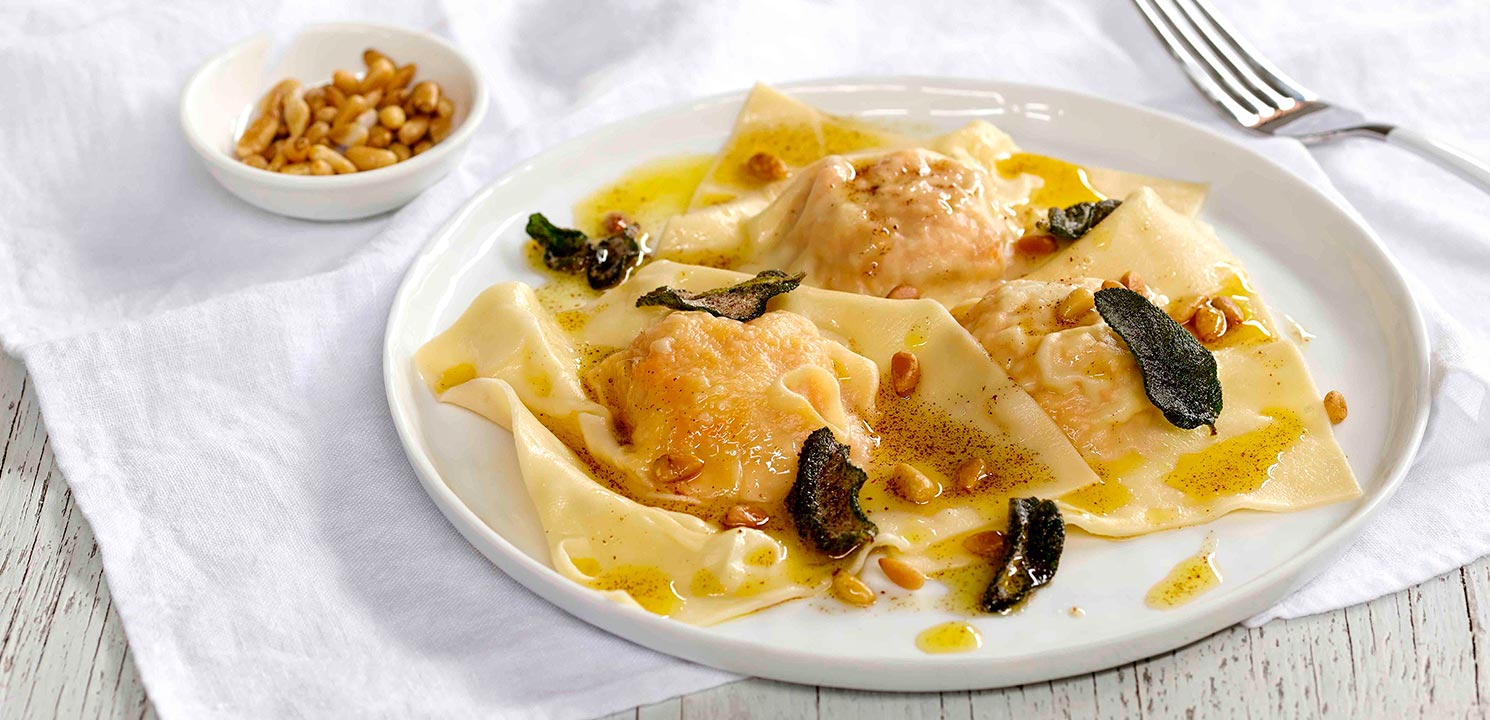 Mains
Pumpkin Ravioli with Sage Butter
Prep 1h 0 mins. /Cook 35 mins.
serves 4
Easy
Pumpkin Ravioli with Sage Butter
Method
---
Preheat oven to 200°C

To make filling, place pumpkin in a roasting tin. Toss with oil and fennel seeds. Season.

Roast for about 30 minutes or until tender and lightly caramelised. When cool enough to handle, scoop flesh away from skin into a bowl. Mash lightly and stir in remaining ingredients. Season. Set aside.

To make pasta, process all ingredients for about 10 seconds or until mixture comes together to form a crumbly dough.

Tip dough on to a work surface and knead for 10 minutes, until smooth and elastic. Wrap in cling film and leave to rest for 15 minutes.

To make the ravioli, cut the pasta dough into quarters and, working with one piece at a time, roll out using a pasta machine starting on lowest setting, lightly dusting the dough with flour between rolls and increasing settings until dough is 2mm thick.

Cut out 24 x 10cm squares. Place 3 teaspoons of filling in centre of half the squares. Brush edges with water and top with remaining squares to make 12 ravioli. Press firmly around each pile of filling with your fingers to push out any trapped air. Press or crimp edges to seal.

To make sage butter, melt the butter in a large frying pan until foaming. Add sage and cook, swirling pan, until butter is golden brown. Remove from heat. Stir through lemon juice. Season.

Cook ravioli in batches in a large saucepan of boiling salted water until tender. Drain.

Serve ravioli with sage butter. Garnish with pine nuts.
More Tips
Try making the horseradish sauce a day or two in advance to allow for a more intense flavour.
For perfectly cooked meat, use a meat thermometer with the temperatures being 55-60°C for rare, 65-70°C for medium and 75°C for well done, as recommended by Australia's Meat & Livestock Association.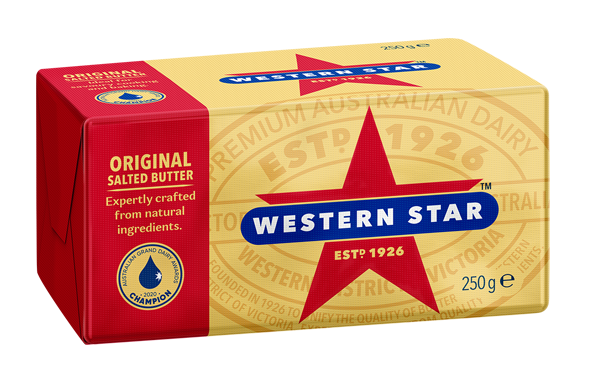 IN THIS RECIPE
Original Salted Butter
Western Star is Australia's favourite butter. It's a classic, pure creamery butter with a rich satisfying, five-star taste. Winner of Champion Butter at the 2019 Australian Grand Dairy Awards, this product sets the benchmark by which all other butters are judged. Expertly crafted from only two natural ingredients, cream and salt.
LEARN MORE
More Mains recipes
Cooking pasta?
Toss a knob of butter through pasta or couscous before serving for a glossy sheen and delicious buttery flavour!