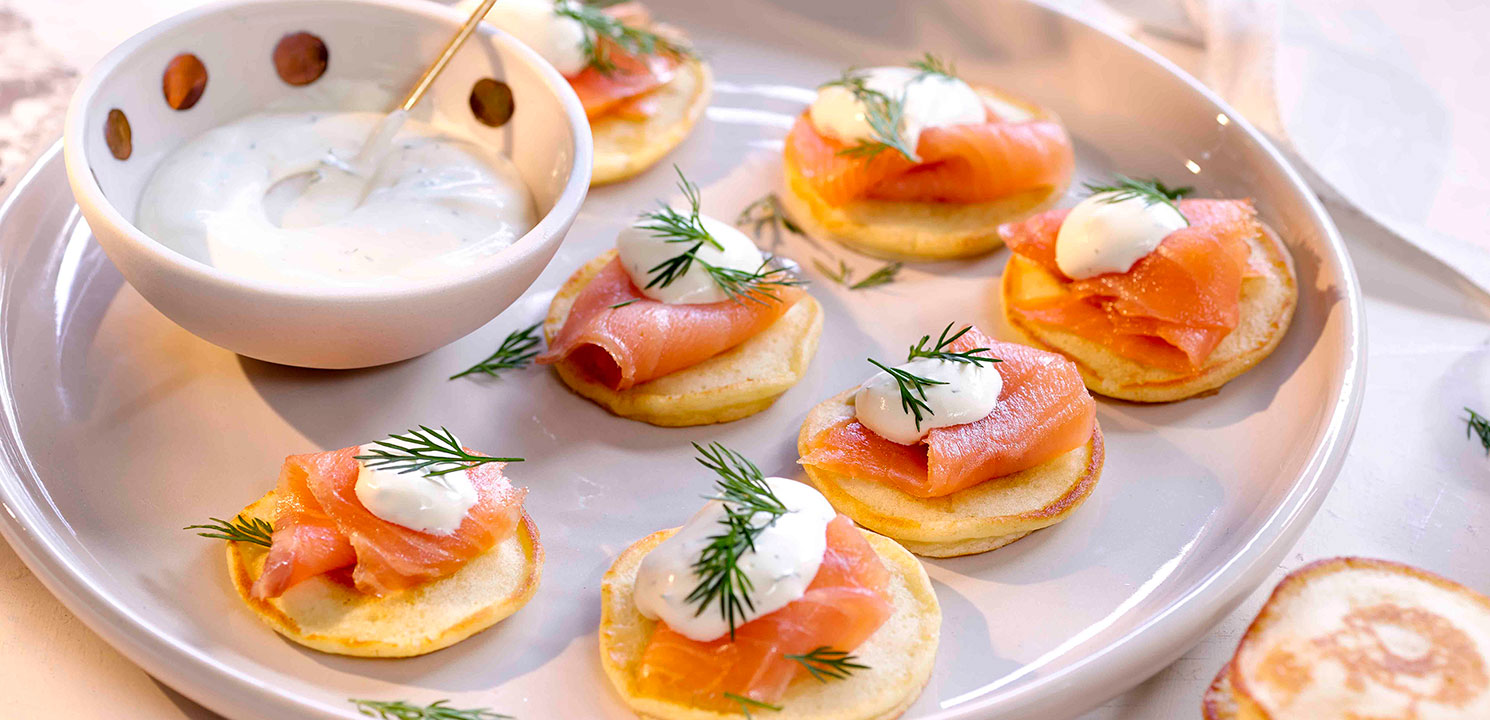 Snack, Sides and Starters
Blinis with Smoked Salmon and Dill Crème Fraiche
Prep 10 mins. /Cook 15 mins.
serves 10
Easy
Blinis with Smoked Salmon and Dill Crème Fraiche
Method
---
In a large bowl, sift in the flour, baking powder, sugar and a pinch of salt. In a medium bowl, whisk together the milk, egg, and half of the melted butter. Gradually whisk the wet ingredients into the dry ingredients, until a smooth batter forms. Transfer into the fridge for 30 minutes.

While the batter chills, prepare the dill crème fraiche. In a small bowl, mix together the crème fraiche, dill, lemon zest and lemon juice. Season with salt and pepper, and place in the fridge until ready to serve.

Heat a large non-stick fry pan over a medium heat. Lightly brush the pan with a small amount of the remaining melted butter. Add around one tablespoon of batter to the pan, and cook for 1 minute or until small bubbles appear on the surface. Turnover and cook for a further 30 seconds or until cooked. Repeat with the remaining butter and batter.

To serve, top the blinis with the dill crème fraiche and smoked salmon.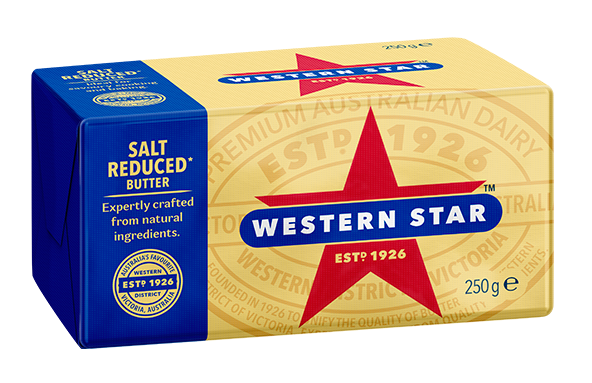 IN THIS RECIPE
Salt Reduced* Butter
Western Star Salt Reduced retains all the full creamy taste of classic Western Star butter but with just half the salt. Ideal for those who love the flavour of butter but prefer less salt in their diet. Expertly crafted from two natural ingredients, cream and salt.* Contains on average 45% less sodium than Western Star Original Butter, which contains 640 mg per 100g.
LEARN MORE
More Snack, Sides and Starters recipes
Making a sauce?
Enrich wine based sauces by whisking in a large knob of cold butter at the very end, it will give your sauce a richness, shine and round off any acidic flavours.