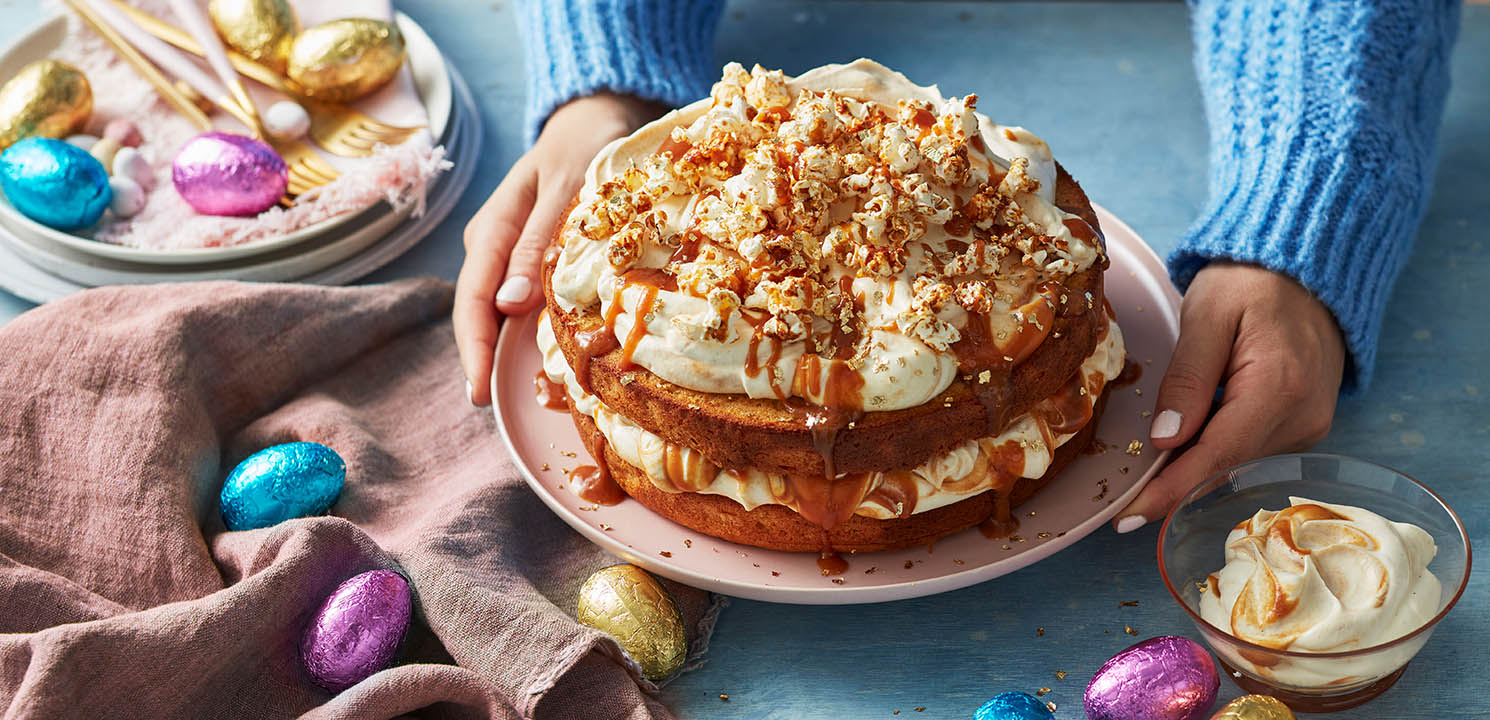 Baking & Desserts
Creamy caramel popcorn cake
Prep 30 mins. /Cook 30 mins.
Serves 10-12
Average
Creamy caramel popcorn cake
Method
---
For the salted caramel, place the sugar and 60ml water into a small saucepan set over a medium high heat. Gently shake the pan until the sugar dissolves. Increase the heat to high and cook until it becomes a dark amber colour, shaking the pan to get an even colour distribution.

Take off the heat and add the cream, butter and salt, stirring well to incorporate. Be careful, as it will spit. Set aside to cool to room temperature and refrigerate until needed.

For the cake, preheat oven to 180c. Grease and line 2 x 23cm round springform cake tins.

Beat the butter, sugar and vanilla together, then add the eggs, one at a time until incorporated.

In a separate bowl, stir the dry ingredients together and beat it to the butter mixture in several batches, alternating with the milk until you have a smooth batter. Pour into tins and bake for 20 minutes or until an inserted skewer comes out clean. Cool in the tin for 10 minutes then turn out onto a wire cake rack to cool completely.

For the vanilla cream, whisk the cream, icing sugar and vanilla together to soft peaks.

To assemble, place one cake onto a plate or cake stand. Gently stir a few tablespoons of the cooled caramel into the whipped cream, creating a ripple effect. Spread the top of the cake with half of the rippled cream and spoon over some more caramel. Place the second cake on top and repeat. Top with the popcorn and drizzle with some more caramel (you probably won't use it all). Serve straight away.
More Tips
To make your own caramel popcorn, place 30g cooked popcorn into a large bowl and drizzle over a tablespoon of salted caramel sauce. Stir to combine, place on an oven tray lined with baking paper and cook for 10 minutes at 180c.
Leftover caramel sauce can be refrigerated for a week. Try it served warm over ice cream, pancakes or French toast.
For a healthier version you can leave out the popcorn and top with sliced bananas or strawberries.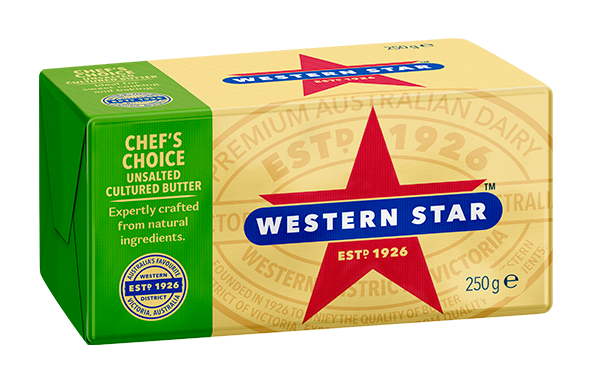 IN THIS RECIPE
Chef's Choice Unsalted Cultured Butter
Western Star Chef's Choice Premium Cultured Unsalted is a premium quality butter that's noted for its extra creamier continental taste and texture. A creamier fresh tasting butter that's versatile and ensures great results every time.
LEARN MORE
More Baking & Desserts recipes
Should I grease my baking tins?
This helps stop food sticking. Brush the tin with melted butter or use some baking paper with a little butter on it to rub around the inside of the tin.