Baking & Desserts
Hot Cross Buns
Prep 2h 15 mins. /Cook 27 mins.
Makes 20
Average
Hot Cross Buns
Method
---
Combine milk and butter and dried fruit in a small saucepan and stir over low heat just until butter melts, cool until just blood temperature, stir in egg, orange rind, sugar and yeast.

Place flour and spices in a large bowl, pour in milk mixture and stir until dough comes together. Turn dough onto a floured surface and knead for 5-10 minutes until smooth and elastic, place in a buttered bowl, cover and stand in a warm place for 30-45 minutes.

Knock back the dough and divide into 20 pieces and knead each into a round bun. Place buns onto a lined baking tray, cover and stand in warm place for a further 30-45 minutes.

For crosses, combine flour and water into a soft paste, place into a piping bag and pipe a cross on each bun. Bake at 220°C for 15-20 minutes.

For glaze, combine brown sugar, gelatine and extra water in a small saucepan. Heat for 1-2 minutes or until the sugar and gelatine have dissolved. Brush hot buns with glaze.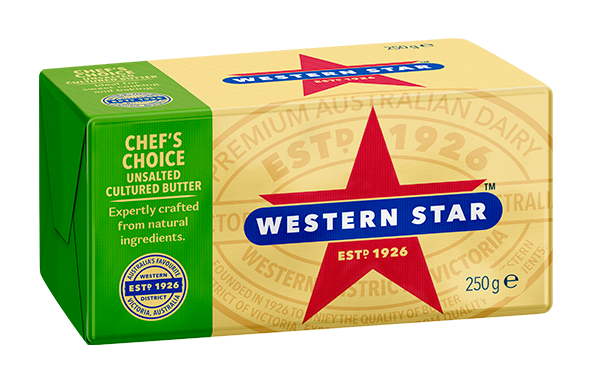 IN THIS RECIPE
Chef's Choice Unsalted Cultured Butter
Western Star Chef's Choice Premium Cultured Unsalted is a premium quality butter that's noted for its extra creamier continental taste and texture. A creamier fresh tasting butter that's versatile and ensures great results every time.
LEARN MORE