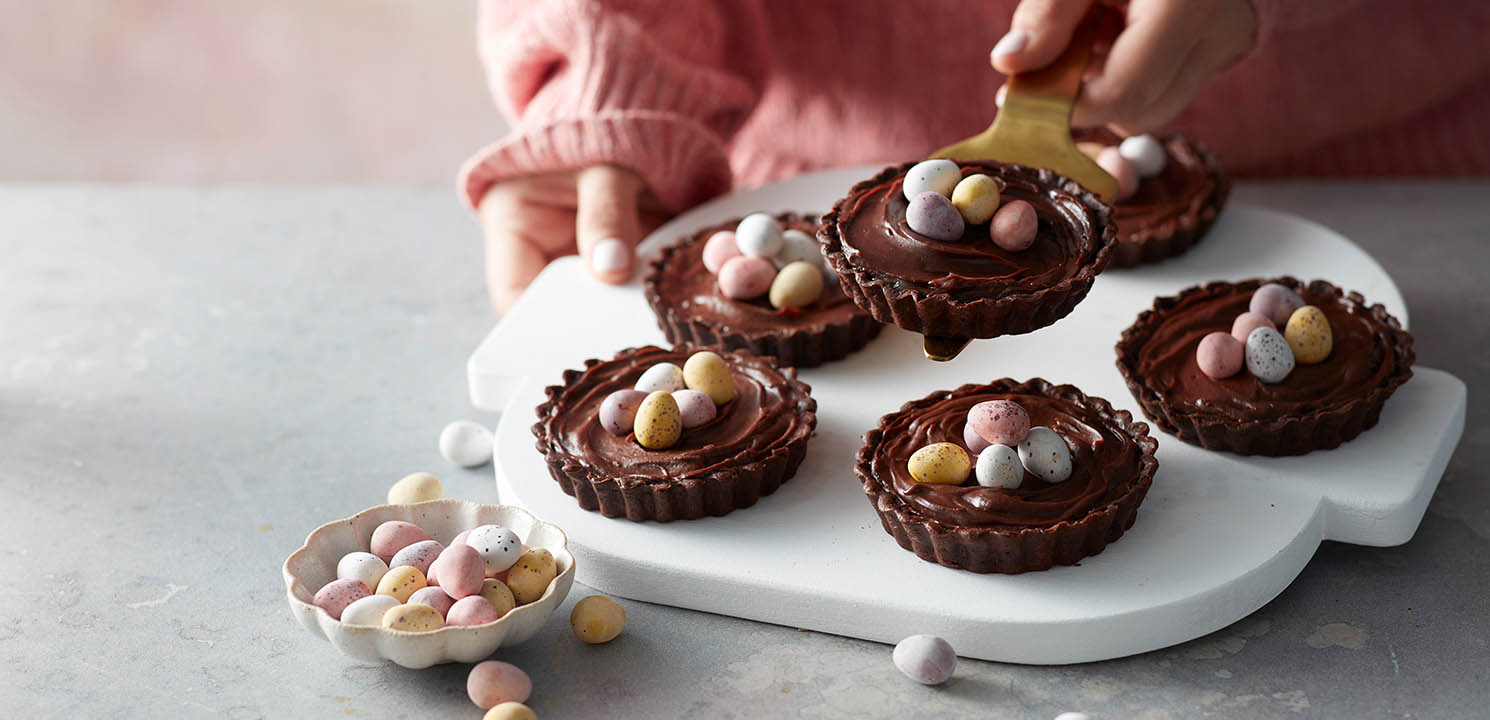 Baking & Desserts
Velvety chocolate tarts
Prep 40 mins. /Cook 25 mins.
Serves 6
Average
Velvety chocolate tarts
Method
---
To make the ganache, place the chocolate in a heatproof bowl. Place the cream and butter into a small saucepan set over a medium heat, stirring until the butter melts. When starting to bubble, take off the heat and pour it over the chocolate. Leave for 5 minutes then stir until smooth. Refrigerate for an hour or until the ganache thickens slightly.

To make the pastry, place the dry ingredients into a food processor and blitz until combined. Add the butter and pulse until the mixture resembles crumbs. Add the iced water and process until it comes together into a ball.

Form the pastry into a disc, cover with cling film and allow it to rest in the fridge for at least 30 minutes.

Preheat the oven to 180c. Roll out the dough between 2 sheets of baking paper and line 6 x 10cm fluted tart tins. Trim the tops to create a smooth edge. Prick the bases with a fork to prevent the pastry from rising. Rest in the fridge for 30 minutes.

Place a piece of baking paper inside each tart shell and fill with baking beans. Bake for 15 minutes, remove the paper and baking beans and place back in the oven for 5 minutes or until the tart shells are cooked through. Set aside to cool.

Stir the ganache until smooth and spoon it into the tart bases, creating a swirly
More Tips
For a smoother top, you can simply pour the warm ganache into the cooked tart shells and refrigerate until slightly firm.
For a sweeter tart, you can use all milk chocolate. Or go for all dark chocolate for a deeper flavour.
Try serving with some whipped Western Star Thickened Cream and a sprinkling of cocoa powder.
You can swap out the chocolate eggs for a handful of fresh raspberries.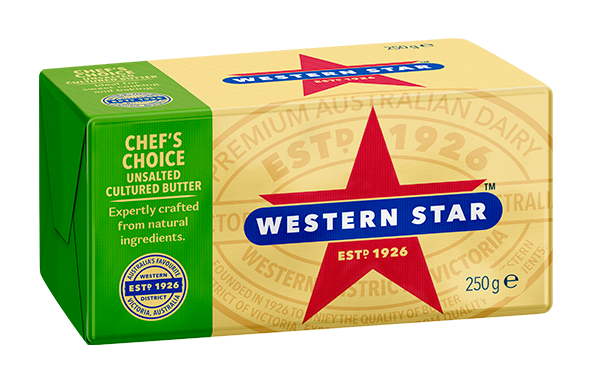 IN THIS RECIPE
Chef's Choice Unsalted Cultured Butter
Western Star Chef's Choice Premium Cultured Unsalted is a premium quality butter that's noted for its extra creamier continental taste and texture. A creamier fresh tasting butter that's versatile and ensures great results every time.
LEARN MORE
More Baking & Desserts recipes
Should I grease my baking tins?
This helps stop food sticking. Brush the tin with melted butter or use some baking paper with a little butter on it to rub around the inside of the tin.