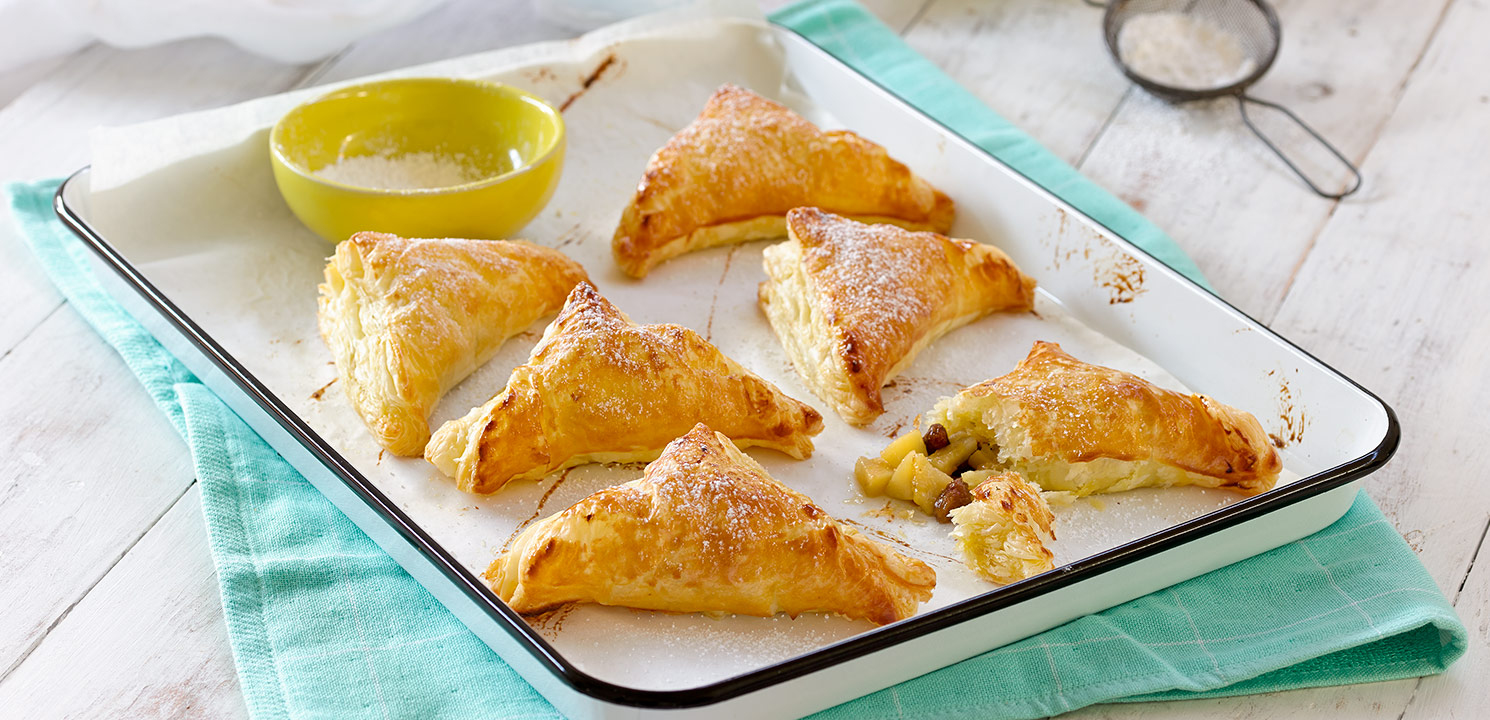 Baking & Desserts
Apple Turnovers
Prep 20 mins. /Cook 30 mins.
serves 16
Easy
Apple Turnovers
Method
---
Preheat the oven to 200°C. Line a large baking tray with baking paper and set aside.

In a medium saucepan, heat the butter over a medium heat. Once the butter has melted, add the apple, sultanas, and lemon zest. Stir gently for 5 minutes or until the apples have softened. Set aside.

Lay out the pastry and cut each square into 4. Place 1 tbsp of the apple into the middle of each square, and sprinkle with 1 tsp of caster sugar. Brush the edges lightly with water. Fold one corner over to the opposite corner, and press the edges together. Transfer onto the prepared tray, and make a small piercing in each turnover to allow steam to escape.

Mix the egg yolk and milk together, and brush over the pastry using a pastry brush. Sprinkle over the remaining sugar and place into the oven to bake for 15-20 minutes or until puffed, golden and crisp. Remove from oven and allow to stand for 5-10 minutes before serving.
More Tips
Eat warm with cream or ice cream, or at room temperature as an afternoon treat for the kids. Try using pear instead of apple or a mix of both!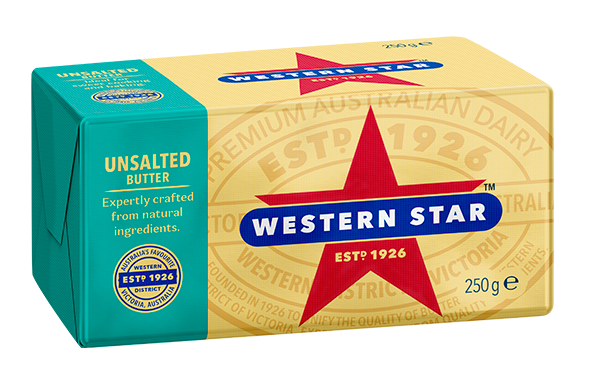 IN THIS RECIPE
Unsalted Butter
This versatile all-rounder gives you control of seasoning in the kitchen. We know that unsalted butter and everyday baking are a perfect match. But you don't have to relegate unsalted butter to only the world of sweet cooking. This pure unsalted butter is perfect for everyday cooking where you want to have control over the seasoning. Expertly crafted from one natural ingredient, Australian cream. Western Star has been Crafting Butter in Victoria since 1926 when the leading butter makers in the Western District came together. Over 95 years later and trusted for generations, Western Star truly is Australia's Favourite.
LEARN MORE
More Baking & Desserts recipes
Should I grease my baking tins?
This helps stop food sticking. Brush the tin with melted butter or use some baking paper with a little butter on it to rub around the inside of the tin.