Method
---
Heat 70g of the Spreadable in large frying pan over medium heat. Cook onion and garlic, stirring, for 5 minutes or until onion softens. Add 2 tablespoons of rosemary, half the thyme and bread pieces. Cook, stirring, for 2 minutes or until fragrant. Remove from heat. Add parsley and ½ cup stock. Stir to combine. Season with salt and pepper, to taste.

Preheat oven 250°C / 230°C fan-forced. Lay out pork, skin side up, on a heatproof large deep plate or non-metallic baking dish, then pour a full kettle of boiling water over the pork to blister the skin. Drain and use paper towel to pat the rind completely dry.

Turn over pork and place, skin-side down, on a clean dry board. Slice through thickest part of pork horizontally, without cutting all the way through. Open out to form one large piece. Press herb and garlic stuffing along centre of pork. Roll pork to enclose stuffing, securing with kitchen string at 2cm intervals.

Give the skin an extra pat dry with paper towel, then brush with oil and rub with salt. Place pork on a rack in large shallow baking dish. Roast for 30 minutes or until the rind crackles.

Reduce oven to 180°C /160°C fan-forced. Roast pork for a further 45 minutes.

Melt 50g of the Spreadable and brush over apples. Place apples around pork. Roast for a further 25 minutes or until pork juices run clear and apples are tender. Remove pork and apples from tray. Stand covered loosely with foil, for 10 minutes.

Meanwhile, to make a gravy using pan juices, discard any excess oil from roasting pan. Heat remaining Spreadable, rosemary and thyme until melted and fragrant. Add flour. Cook, stirring, for 1 minute or until mixture bubbles and thickens. Gradually stir in wine, remaining 2 cups stock and any resting juices. Bring to the boil. Cook, stirring, until gravy thickens. Strain gravy into a serving jug.

Serve sliced pork with apples and gravy.
More Tips
You can replace the white wine with an extra ½ cup of stock if you prefer a non-alcoholic gravy.
Scoring pork means to cut the skin just before hitting the meat so that the fat separates. This allows for better cracking. Most pork is already cut but if not, simply ask your butcher to do this for you, or use a very sharp knife.
Cooking time for pork will vary depending on the size of your loin. As a rule, pork requires 25-30 minutes cooking time per 500 g.
Serving Suggestion: Serve the Crispy Rolled Pork with gratin potatoes, broccolini, or a simple tray of mixed seasonal roast vegetables.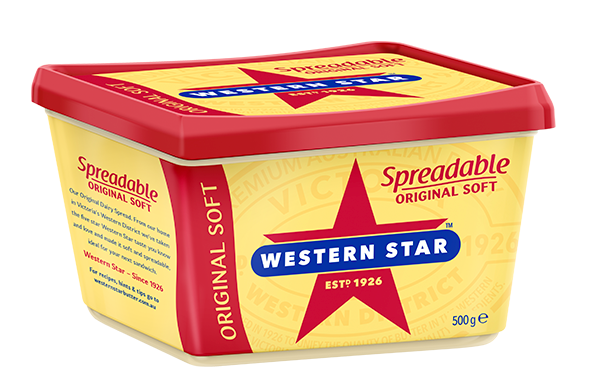 IN THIS RECIPE
Spreadable Original Soft
We've taken the five-star Western Star taste you know and love and made it soft and spreadable. Ideal for sandwiches, toast, pancakes and more.
LEARN MORE
More Mains recipes
Avoid a "floury" white sauce
At the beginning of a white sauce always cook off the butter and flour over low heat for 1 minute to ensure the finished sauce doesn't have a "floury" flavour. Remove from the heat before whisking in milk and returning back to the heat to thicken.