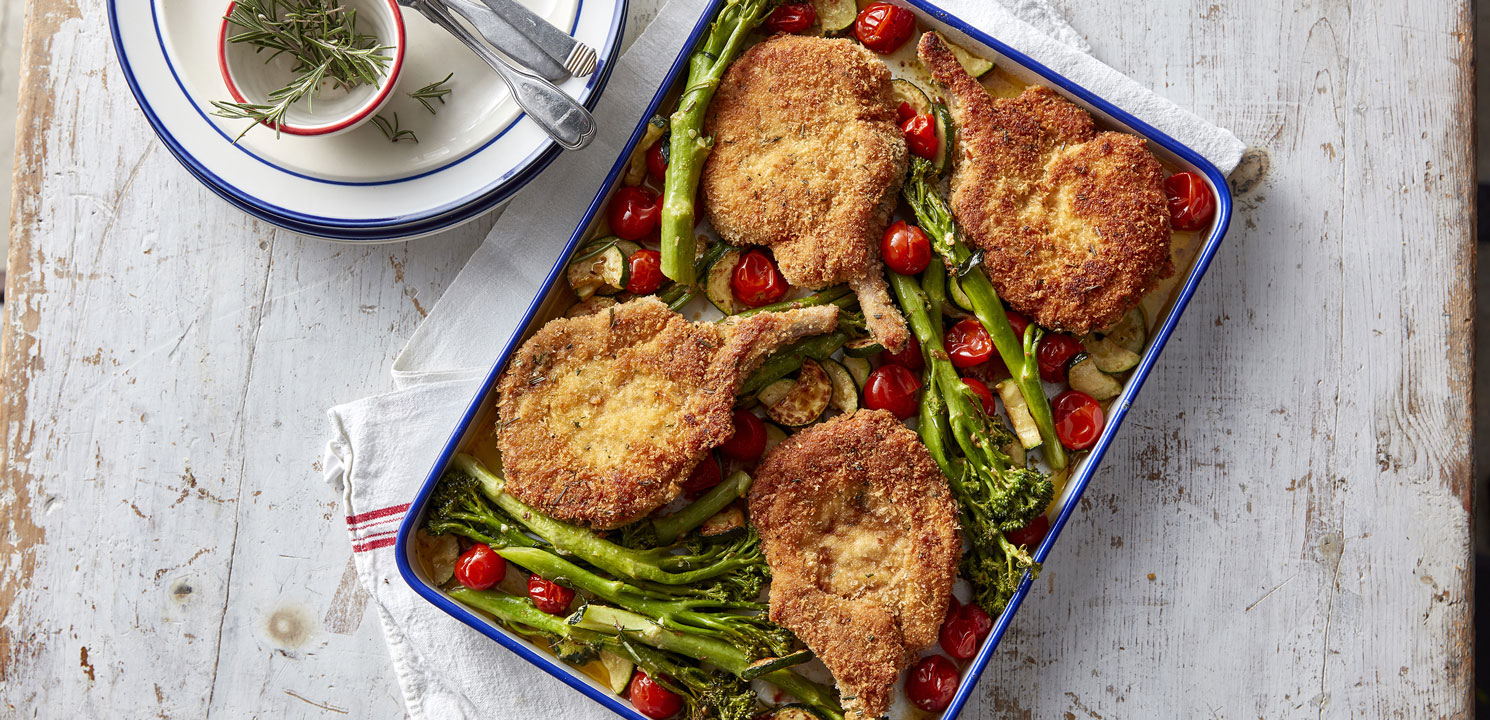 Mains
Herb Crusted Pork Cutlets with Vegie Medley
Prep 30 mins. /Cook 15 mins.
serves 4
Easy
Herb Crusted Pork Cutlets with Vegie Medley
Method
---
Cutlets
Place the flour in a large shallow bowl. Season with salt and pepper. Place the beaten egg in another shallow bowl and the panko crumbs with rosemary in a third shallow bowl

Press the cutlets into the seasoned flour, dip in the egg wash and press into the rosemary crumbs to completely coat. Transfer coated cutlets to a plate or small tray lined with baking paper. Place in the fridge for 10-15 minutes, if time permits (this helps the crumb to stick to the cutlets while cooking).

Preheat the oven to 180°C/200°C fan forced. Heat the Spreadable and oil in a large oven-proof frying pan or flame-proof baking tray over medium to high heat. Add the cutlets and shallow-fry for 2 minutes each side or until golden brown. Transfer to a plate lined with paper towel and keep warm.
Vegie Medley
Heat the Spreadable with the garlic and onions in the same cleaned pan or tray over medium heat. Add the zucchini, broccolini and tomatoes. Season to taste. Return the cutlets to the pan or tray, then transfer to the oven and cook for about 10 minutes or until cutlets are cooked through and vegetables are golden.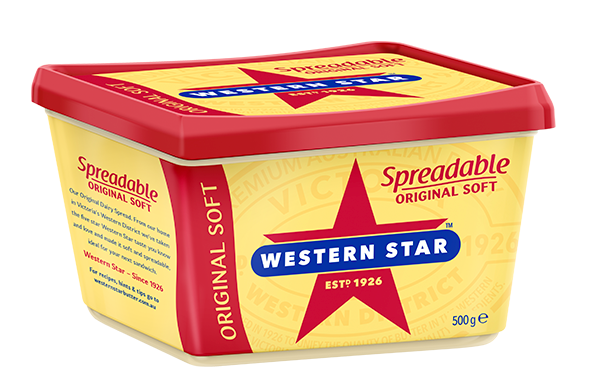 IN THIS RECIPE
Spreadable Original Soft
We've taken the five-star Western Star taste you know and love and made it soft and spreadable. Ideal for sandwiches, toast, pancakes and more.
LEARN MORE
More Mains recipes
Leek and Blue Cheese Quiche
Leek and Blue Cheese Quiche cooked with Western Star Original Butter.
Pine nut and herb crusted fish - in a hurry!
Combine melted Western Star Butter with a handful of breadcrumbs, raw pine nuts and fresh herbs of choice, press onto one side of a skinless white fish fillet. Bake at 200°C for 10-15 minutes or until golden.