Method
---
With Mum or Dad's help, preheat the oven to 180°C and grease a 20x30cm cake tin and line with baking paper.

Add the blueberries, icing sugar and a splash of water (about a tablespoon) to a medium bowl. Use the back of a fork to squash all the blueberries and mash everything together until mixed well.

Use a big wooden spoon to stir together the crushed biscuits and melted butter in a large bowl. Carefully tip the crumb mixture into the base of the cake tin, and then press firmly with your fingers to cover the base. Ask Mum or Dad to transfer the tin into the oven to bake for 10 minutes. Once ready and out of the oven, turn the heat down to 110°C.

Beat the cream cheese and sugar in the bowl of an electric mixer on medium until very smooth. Carefully add the flour, vanilla, eggs and sour cream, and continue to beat until mixed. Make sure not to turn the speed to high or else you might end up with egg on your face!

Pour the cheesecake mixture over the cooled base and then drop tablespoons of the blueberry mixture over the filling. Swirl lightly with the handle of a spoon, and see what patterns you can create!

Ask Mum or Dad to transfer into the oven and cook for 45 minutes. Once the cake is ready, it should be just set and the centre should wobble slightly. Remove from the oven and cool completely in the tin.

Once cool, place in the refrigerator for 4 hours or ideally overnight… if you can wait that long!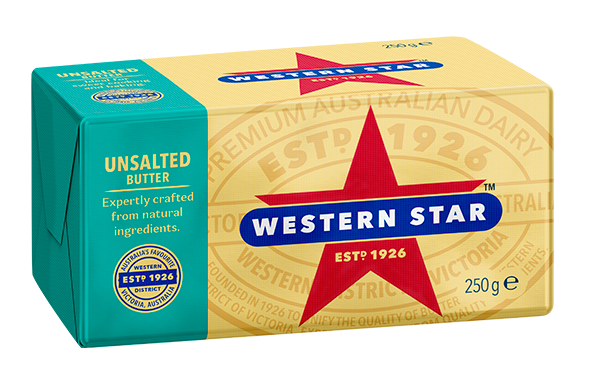 IN THIS RECIPE
Unsalted Butter
This versatile all-rounder gives you control of seasoning in the kitchen. We know that unsalted butter and everyday baking are a perfect match. But you don't have to relegate unsalted butter to only the world of sweet cooking. This pure unsalted butter is perfect for everyday cooking where you want to have control over the seasoning. Expertly crafted from one natural ingredient, Australian cream. Western Star has been Crafting Butter in Victoria since 1926 when the leading butter makers in the Western District came together. Over 95 years later and trusted for generations, Western Star truly is Australia's Favourite.
LEARN MORE
More Baking & Desserts recipes
Should I grease my baking tins?
This helps stop food sticking. Brush the tin with melted butter or use some baking paper with a little butter on it to rub around the inside of the tin.