Method
---
Grease a 20cm -22cm, 2.5L bowl. Line with a double strip of glad wrap across the centre of the bowl extending over either edge by at least 5cm.

Place boiling water into a small bowl and sprinkle over gelatine. Stir until dissolved. Set aside to cool slightly.

Place the cream cheese, sugar, and vanilla into the bowl of an electric mixer and beat for 3 mins or until smooth. Beat gelatine into cream cheese mix. Fold in the whipped cream until combined.

Spoon mix into prepared bowl and chill for 2 hours.

To make the base place the gingernuts and butter into a food processor and blitz until they resemble breadcrumbs. Spoon over cheesecake and gently press to make an even base. Chill for a further 4 hours or overnight.

To make the passionfruit curd combine all ingredients into a medium saucepan over low heat. Cook stirring for 10-15 mins or until mixture is thick. Transfer to a bowl and chill for at least 1 hour.

To serve, turn cheesecake out onto a serving plate using the glad wrap to help remove it from the bowl. Top with passionfruit curd and raspberries. Serve with extra passionfruit curd.
More Tips
Don't have a suitable bowl? Halve the cheesecake recipe and use a 20cm cake tin instead.
Try adding some lime to the passionfruit curd for some extra freshness.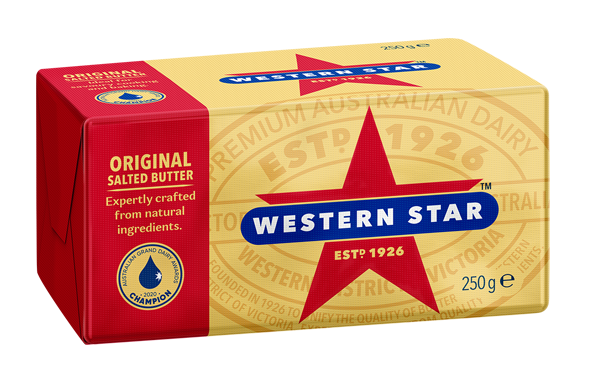 IN THIS RECIPE
Original Salted Butter
Western Star is Australia's favourite butter. It's a classic, pure creamery butter with a rich satisfying, five-star taste. Winner of Champion Butter at the 2019 Australian Grand Dairy Awards, this product sets the benchmark by which all other butters are judged. Expertly crafted from only two natural ingredients, cream and salt.
LEARN MORE
More Baking & Desserts recipes
Should I grease my baking tins?
This helps stop food sticking. Brush the tin with melted butter or use some baking paper with a little butter on it to rub around the inside of the tin.