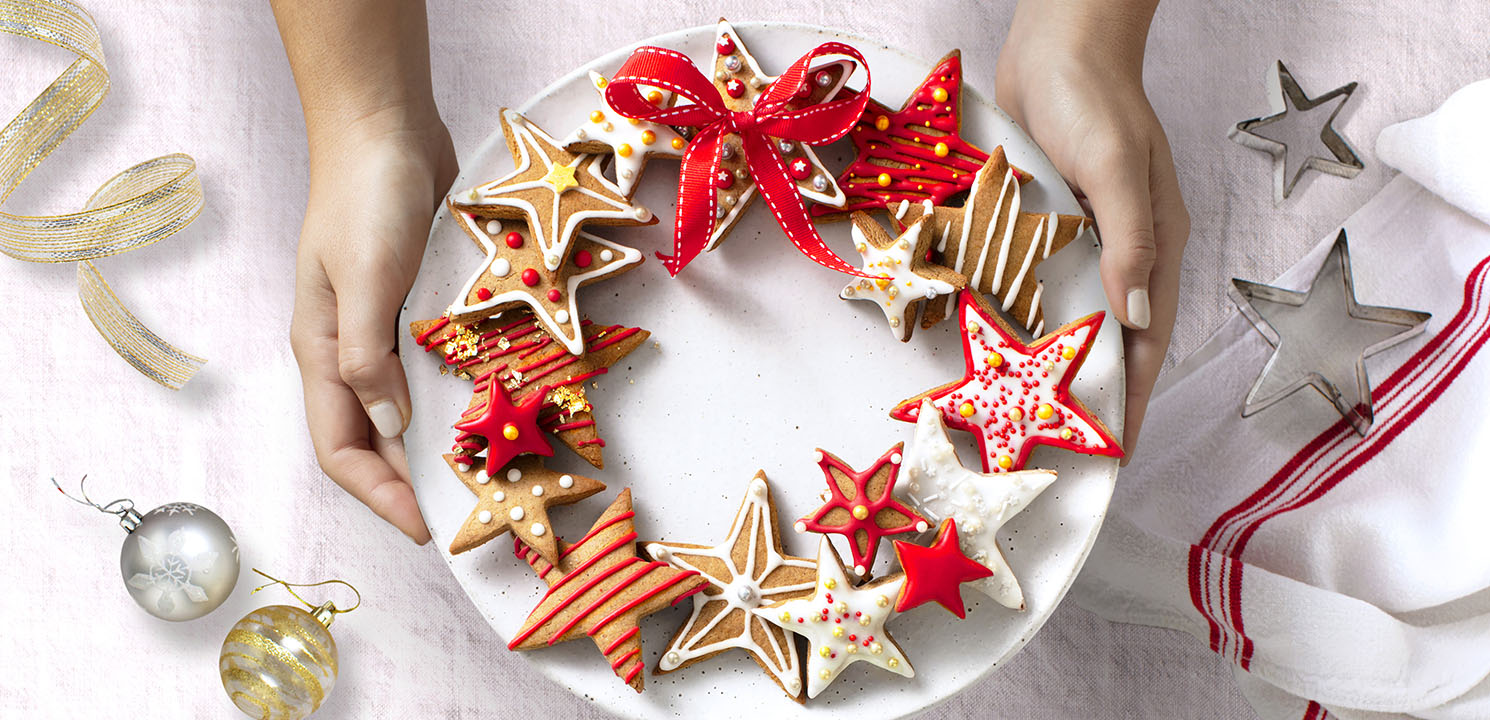 Baking & Desserts
Gingerbread Star Wreath
Prep 40 mins. /Cook 10 mins.
Makes 1 wreath
Easy
Gingerbread Star Wreath
Method
---
For the biscuits, preheat oven to 180°c. Roll the dough to 4-5mm thickness, between two pieces of baking paper.

Using different sized star cutters measuring between 3cm and 9cm, cut out approximately 30 stars. Transfer to 2 baking sheets lined with baking paper and cook for 10 minutes or until lightly coloured. Place on a wire cooking rack to completely cool.

For the icing, whisk the egg white in a bowl until frothy. Add the icing sugar and whisk until very thick. Place half of the icing into a piping bag fitted with a fine nozzle.

Using a toothpick, add a tiny amount of red colouring to the remaining icing and stir until bright red. Place into another piping bag fitted with a fine nozzle.

Decorate the stars using the piped icing, sprinkles and baubles. Allow the icing to set for 30 minutes. To prevent the tips from drying out, cover the piping bags with cling film while the stars set.

To assemble, choose the flat platter or board that you'll serve the wreath on. Place a 22cm plate or piece of cardboard in the middle of it. Using dots of icing, mark around the outside of the plate so you have a guide as to where to place the stars.

Arrange the biscuits on top of your guide, placing a little squeeze of icing under each star to keep it in place. You don't need to use all of the biscuits. Once arranged, leave to set for 30 minutes.

Place the ribbon bow at the top of the wreath and serve.
More Tips
You can easily customise the look of the wreath to match your Christmas table setting colours. Simply colour the icing and top with matching-coloured sprinkles and a ribbon bow.
More Baking & Desserts recipes