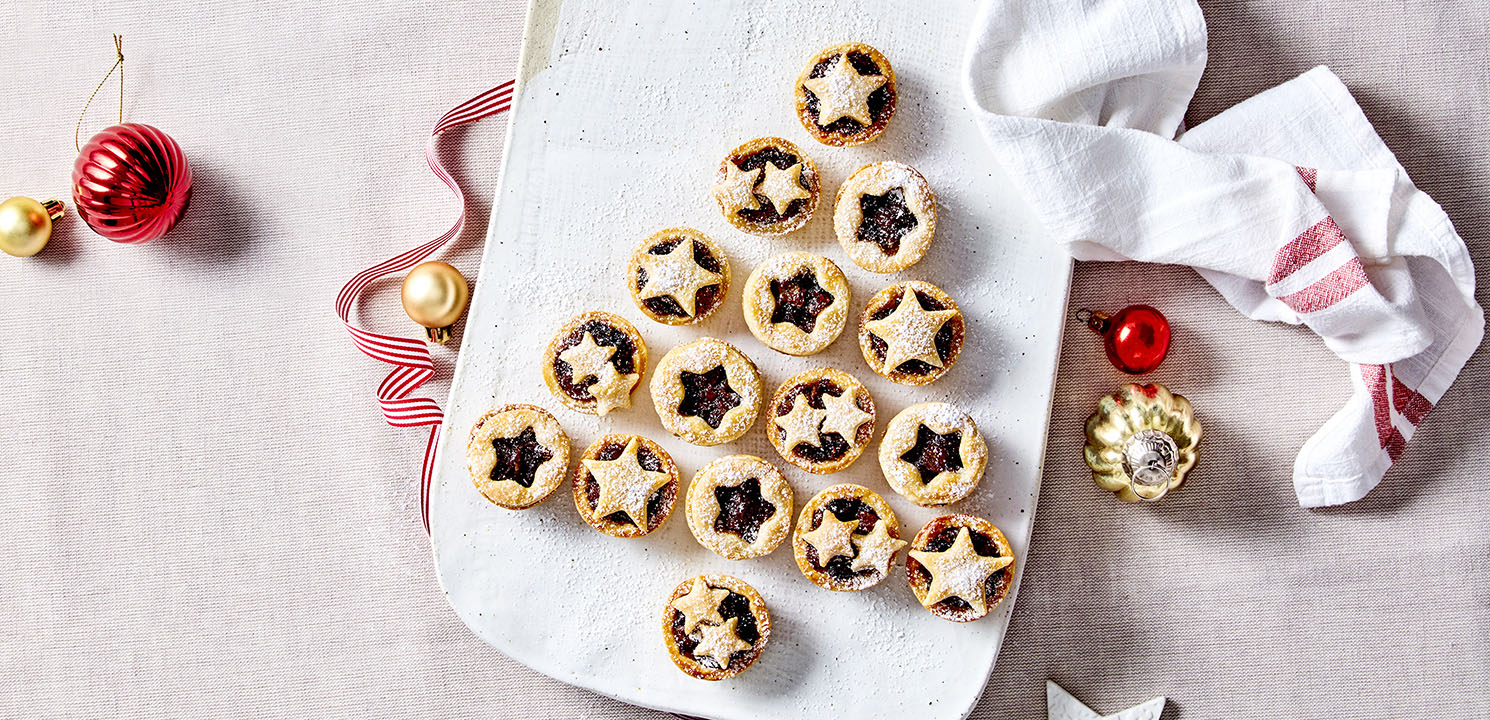 Baking & Desserts
Mini Fruit Mince Tarts
Prep 45 mins. /Cook 15 mins.
Makes 24 tarts
Easy
Mini Fruit Mince Tarts
Method
---
Allow additional 1 hour for chilling
Preheat oven to 200°C. Lightly grease a 24-cup mini muffin pan.

Combine apple, dried fruit, sherry, orange zest and juice, mixed spice and ½ cup of water in a saucepan. Cook over low heat, stirring occasionally, for 5 minutes or until the liquid has been absorbed. Set aside for about 30 mins to cool to room temperature. Coarsely grate butter over the cooled fruit mince, add the brown sugar and stir well to combine.

Meanwhile, to make the pastry, add flour, caster sugar and chopped unsalted butter to a food processor and process until mixture resembles fine breadcrumbs. Add 1 egg and chilled water. Process until pastry just comes together, adding more water if necessary.

Turn pastry onto a lightly floured surface. Kneed gently until smooth. Shape into a 2cm thick disc. Wrap in baking paper and refrigerate for 30 mins or until firm enough to roll out.

Roll pastry between 2 sheets of baking paper until 3mm thick. Cut rounds of pastry to line the pan, then cut stars using a small star cookie cutter. Line each muffin cup with pastry, add a spoonful of fruit mince and top with a star.

Lightly beat remaining egg. Brush the stars and edges of the pastry with egg and sprinkle with white sugar. Bake for 15 mins or until golden. Allow to cool in tray.

Serve dusted with icing sugar.
More Tips
You can replace sherry or rum with extra 30 ml orange juice if you prefer a non-alcoholic option.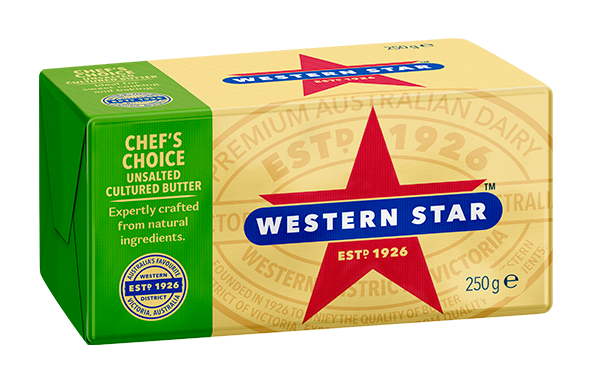 IN THIS RECIPE
Chef's Choice Unsalted Cultured Butter
When you really want your pastry and baking to shine, unsalted cultured butter delivers with that sought after creamier fresh tasting butter that is versatile and ensures great results every time. As an unsalted butter, Chef's Choice allows you full control over the seasoning of your dish. Winner of the Champion Butter award at the 2018 Australian Grand Dairy Awards, Western Star Chef's Choice Unsalted Cultured Butter is a premium quality butter, celebrated for its extra creamy continental taste and texture. Western Star has been Crafting Butter in Victoria since 1926 when the leading butter makers in the Western District came together. Over 95 years later and trusted for generations, Western Star truly is Australia's Favourite
LEARN MORE
More Baking & Desserts recipes