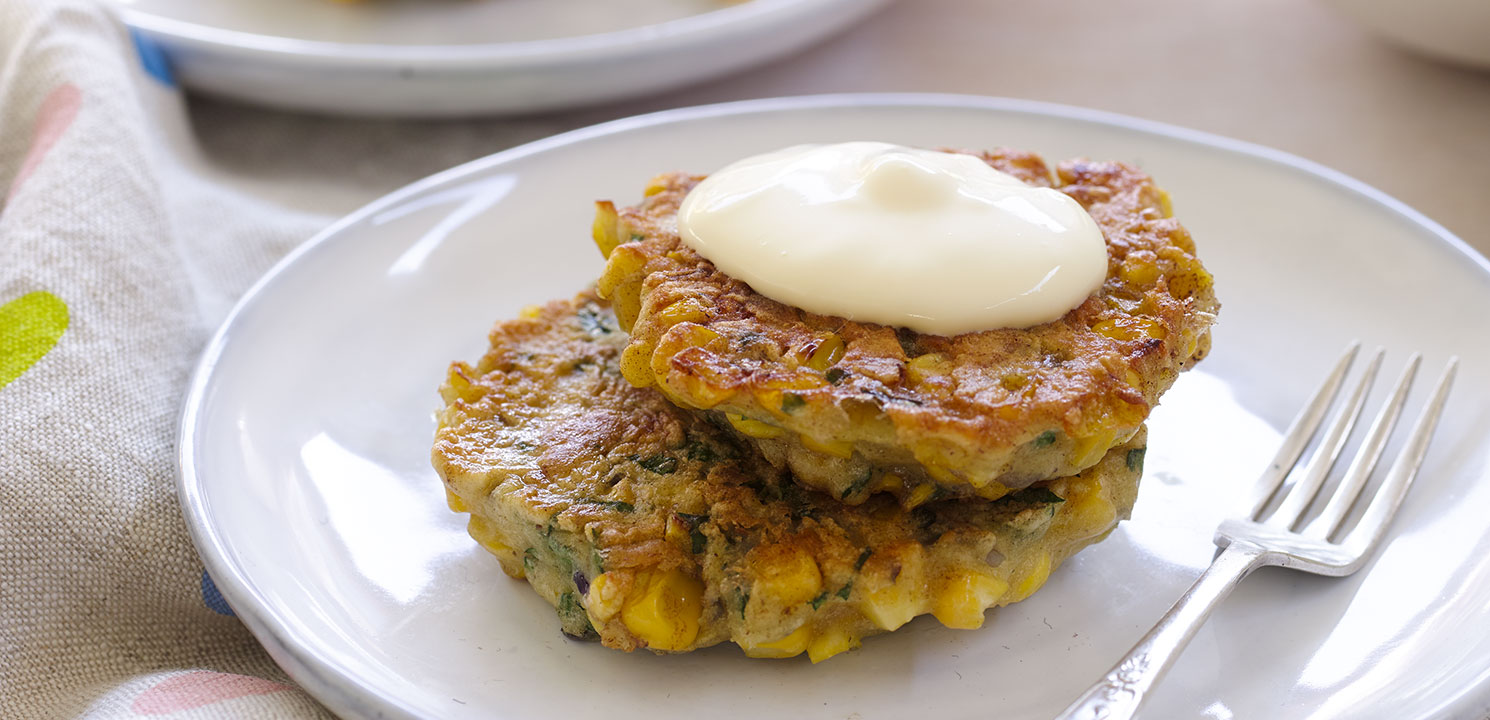 Mains
Sweetcorn Fritters with Avocado Smash
Prep 30 mins. /Cook 15 mins.
serves 4
Easy
Sweetcorn Fritters with Avocado Smash
Method
---
First, get the kids to help you make the avocado smash. Place the avocado, lime juice, and coriander in a medium bowl. Season with salt and pepper, and then use the back of a fork to roughly mash the ingredients together.

Place the egg white into a separate medium bowl and whisk until soft peaks form. Set aside. Place the remaining fritter ingredients in a large bowl. Mix until well combined, and then gently fold in the whisked egg white.

In a non-stick fry pan, heat ¼ of the butter over a medium high heat. Cook until the butter begins to foam. Add heaped tablespoonfuls of batter into the pan, and cook for 3-4 minutes on each side or until golden. Remove the fritters from the pan, and cover on a plate with a tea towel to keep warm. Repeat in batches with the remaining butter and batter.

Serve the fritters warm with a generous spoonful of the smashed avocado and sour cream.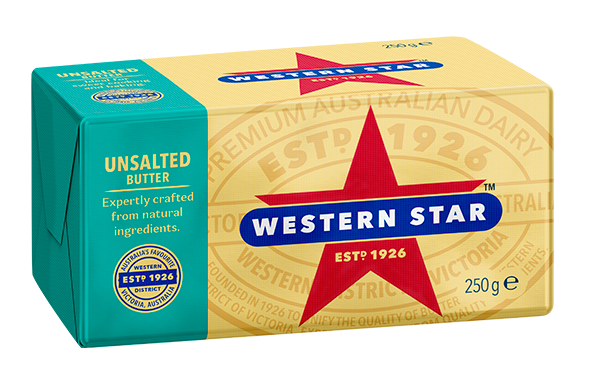 IN THIS RECIPE
Unsalted Butter
This versatile all-rounder gives you control of seasoning in the kitchen. We know that unsalted butter and everyday baking are a perfect match. But you don't have to relegate unsalted butter to only the world of sweet cooking. This pure unsalted butter is perfect for everyday cooking where you want to have control over the seasoning. Expertly crafted from one natural ingredient, Australian cream. Western Star has been Crafting Butter in Victoria since 1926 when the leading butter makers in the Western District came together. Over 95 years later and trusted for generations, Western Star truly is Australia's Favourite.
LEARN MORE
More Mains recipes
A new BBQ favourite
Stand out at your next barbecue by making a quick basting butter. Combine melted butter with flavours of choice; try chilli, garlic, lime and coriander. Brush over cooked meats or seafood as soon as they come off the barbecue for a mouth-watering flavour kick.