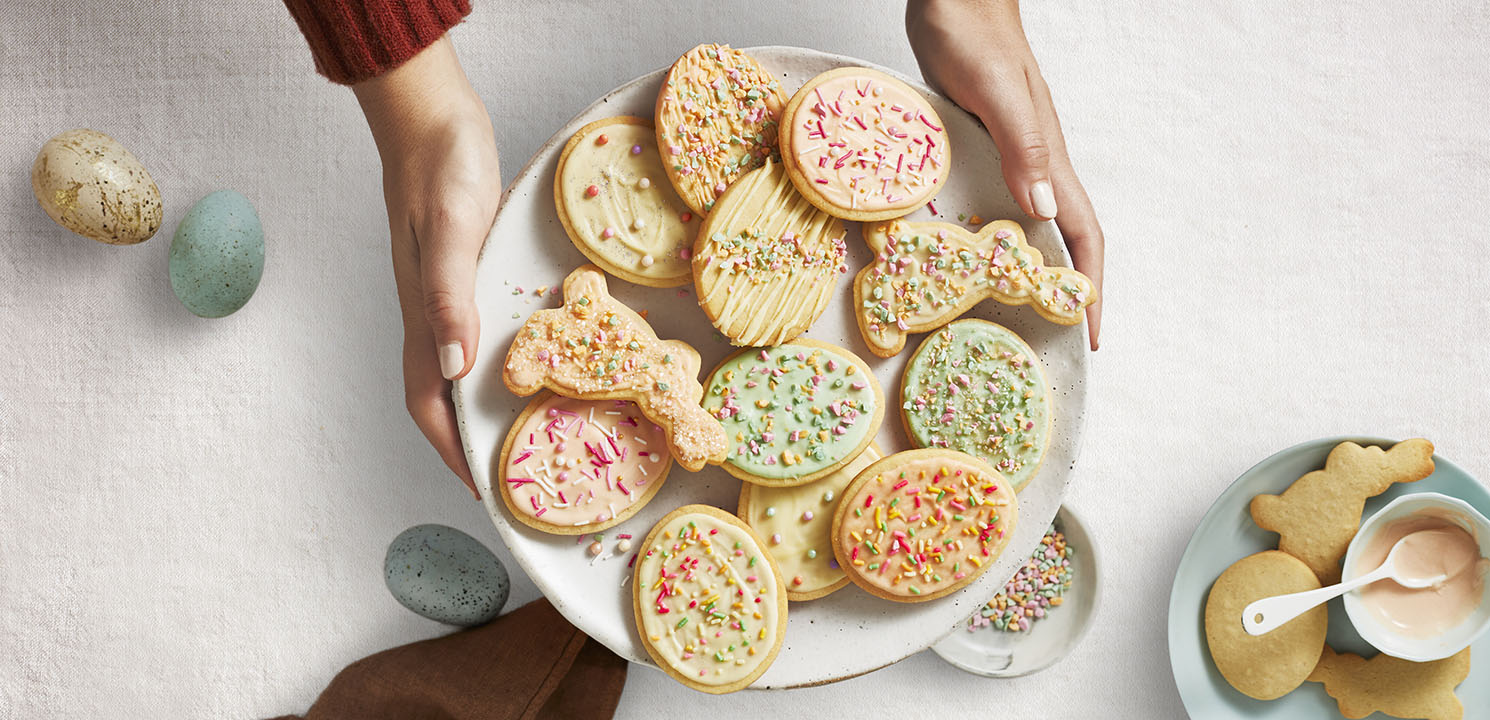 Baking & Desserts
Vanilla Easter biscuits with white chocolate
Prep 40 mins. /Cook 12 mins.
Makes approximately 20
Easy
Vanilla Easter biscuits with white chocolate
Method
---
Prep Time: Allow time for chilling
To make the biscuits, use an electric whisk to cream the butter and sugar together until light and fluffy. Beat in the egg and vanilla until well combined. Add the flour and a good pinch of salt and beat until it resembles large crumbs.

Turn onto a lightly floured board and use your hands to bring the mixture into a ball. Divide into two and flatten each piece into a rough disc. Flour the discs on both sides and roll each one out to a thickness of 4-5mm in between sheets of baking paper. Place on a flat baking tray or board (you can stack them) and refrigerate for an hour or until chilled and stiff.

Preheat oven to 180°c. Line 2 baking trays with baking paper. Stamp out the biscuit shapes using egg or bunny shaped cookie cutters. Place on the prepared baking sheets, leaving a little gap between each one. Re-roll the trimmings using a bit of flour and repeat until the dough is used up. Make sure the pastry is cold when you work with it, as it makes it much easier to handle.

Bake for 12 minutes or until golden. Gently transfer to a cooling rack and allow to cool completely before decorating.

To decorate, colour the melted white chocolate by using a toothpick to add a small amount of gel food colouring. If going for multiple colours, divide the melted chocolate into 2 or 3 small bowls and colour each one separately. Stir until combined and spoon a small amount on top of each biscuit. Using the back of a small teaspoon, gently push the melted chocolate towards the edges, making sure they look nice and tidy.

Sprinkle over your favourite sparkly toppings and allow to set for 30 minutes.
More Tips
There's no limit to the decorating possibilities. Try crushed Easter eggs, edible glitter, freeze-dried berries or chopped nuts.
Try experimenting with different shaped cutters such as stars, hearts or Easter carrots.
For a different look and flavour, try swapping out the coloured white chocolate for milk or dark chocolate.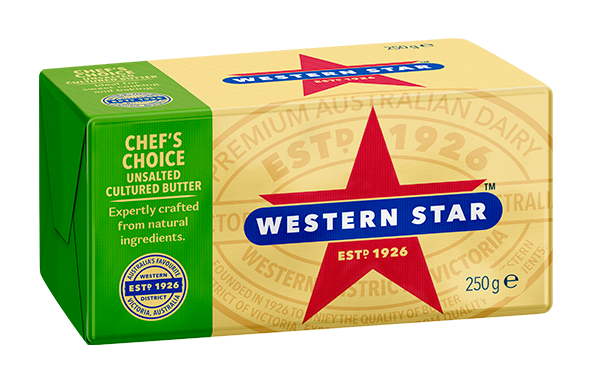 IN THIS RECIPE
Chef's Choice Unsalted Cultured Butter
When you really want your pastry and baking to shine, unsalted cultured butter delivers with that sought after creamier fresh tasting butter that is versatile and ensures great results every time. As an unsalted butter, Chef's Choice allows you full control over the seasoning of your dish. Winner of the Champion Butter award at the 2018 Australian Grand Dairy Awards, Western Star Chef's Choice Unsalted Cultured Butter is a premium quality butter, celebrated for its extra creamy continental taste and texture. Western Star has been Crafting Butter in Victoria since 1926 when the leading butter makers in the Western District came together. Over 95 years later and trusted for generations, Western Star truly is Australia's Favourite
LEARN MORE
More Baking & Desserts recipes