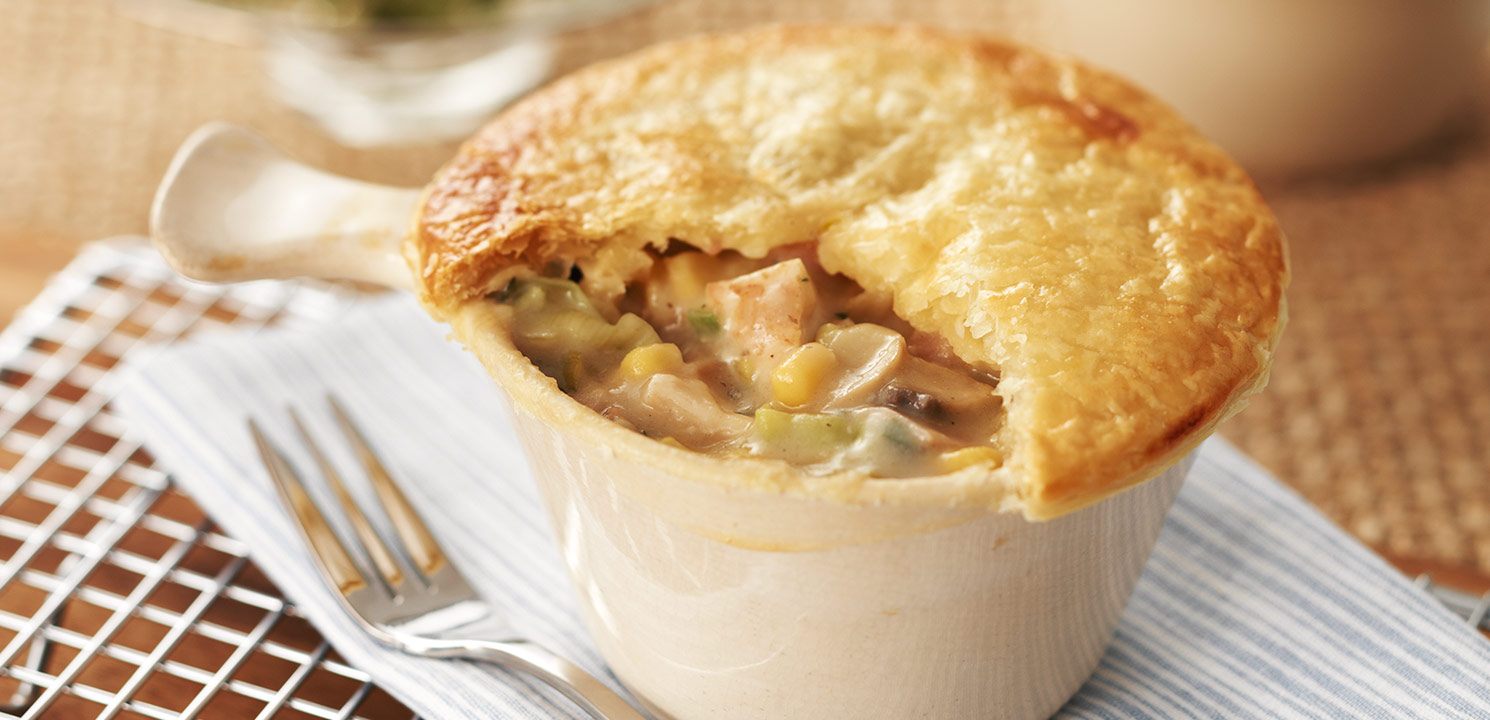 Mains
Chicken, Leek & Mushroom Pot Pies
Prep 10 mins. /Cook 1h 0 mins.
Serves 6
Easy
Chicken, Leek & Mushroom Pot Pies
Method
---
Melt 20g butter and oil in a large non stick frypan, panfry chicken until cooked through. Remove, stand for 5 minutes before shredding or roughly chopping.

Melt remaining butter in same frypan and saute bacon, leek, mushrooms and garlic over medium heat until leek is softened and bacon is slightly golden and caramelised.

Add flour and cook, stirring continuously for 30 seconds. Remove from heat and gradually stir in stock. Add chicken, corn and seasonings and cook until mixture thickens and comes to the boil. Simmer for 10 minutes. Remove from heat. Transfer to bowl, stir in cream and parsley and cool. Refrigerate until cold.

Divide filling between 6 x 1 cup capacity ovenproof dishes or ramekins. Brush edges of dishes with egg. Place pastry on ramekin, with a little overhanging, brush pastry with egg and make a slit in pastry to allow steam to escape. Bake at 200oC for 25-30 minutes or until puffed and golden.
More Tips
Cooling pie fillings before assembly prevents pastry from becoming soggy and greasy.
If making a large pie, use a 2.5 litre capacity shallow ovenproof dish.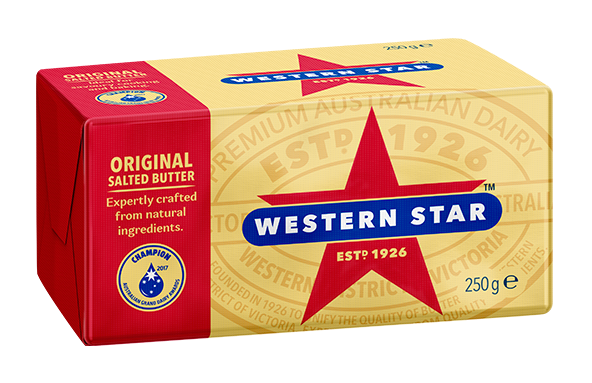 IN THIS RECIPE
Original Salted Butter
Western Star is Australia's favourite butter. It's a classic, pure creamery butter with a rich satisfying, five-star taste. Winner of Champion Butter at the 2019 Australian Grand Dairy Awards, this product sets the benchmark by which all other butters are judged. Expertly crafted from only two natural ingredients, cream and salt.
LEARN MORE
More Mains recipes
Pine nut and herb crusted fish - in a hurry!
Combine melted Western Star Butter with a handful of breadcrumbs, raw pine nuts and fresh herbs of choice, press onto one side of a skinless white fish fillet. Bake at 200°C for 10-15 minutes or until golden.