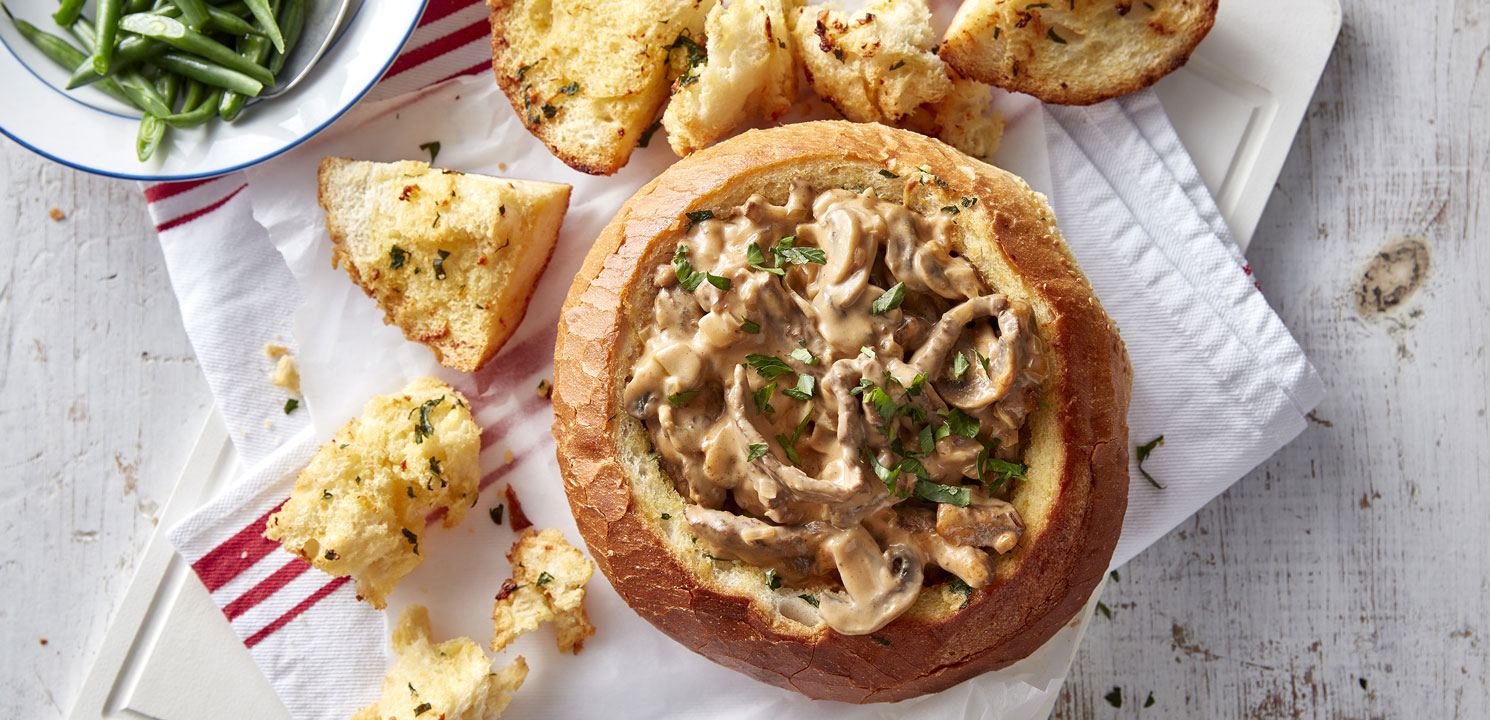 Mains
Beef Stroganoff in Garlic Cob Loaf
Prep 20 mins. /Cook 20 mins.
serves 4
Easy
Beef Stroganoff in Garlic Cob Loaf
Method
---
Garlic Cob Loaf
Preheat oven to 200°C/180°C fan forced. Line a large baking tray with baking paper. Use a serrated knife to slice about 3 cm from the top of the cob. Scoop out the bread inside leaving a 1.5 cm-thick shell. Place the scooped out bread pieces in a bowl. Cut the cob lid into 4 pieces and add to the bowl.

Combine the melted butter, garlic and parsley in a bowl. Drizzle over the bread pieces, toss to ensure they are evenly coated. Brush the inside and top cut edge of the cob with the remaining garlic spread.

Add the bread pieces to the prepared baking tray, leaving room for the cob. Bake for 20 minutes, adding the cob for the final 10 minutes.

While the cob is baking, make the beef stroganoff.
Beef Stroganoff
Heat half the butter in a large frying pan over high heat. Add beef in 2 batches and cook for 2-3 minutes or until browned all over. Transfer to a plate.

Heat the remaining butter in the pan. Add the onion, mushrooms and garlic and cook for 4-5 minutes or until the onion softens. Add the paprika, cream, beef stock, tomato paste and Worcestershire sauce. Stir to combine. Return beef to pan. Combine the cornflour and extra tablespoon of beef stock and stir into the pan. Simmer for 6-8 minutes or until slightly thickened and creamy. Season to taste. Stir through parsley.

When ready to serve, spoon the stroganoff into the cob. Serve with the garlic bread pieces.
More Tips
Western Star Spreadable Original Soft can be used as a substitute for butter in this recipe.
Visit our full Beef Stroganoff recipe:https://westernstarbutter.com.au/en/recipes/beef-stroganoff.html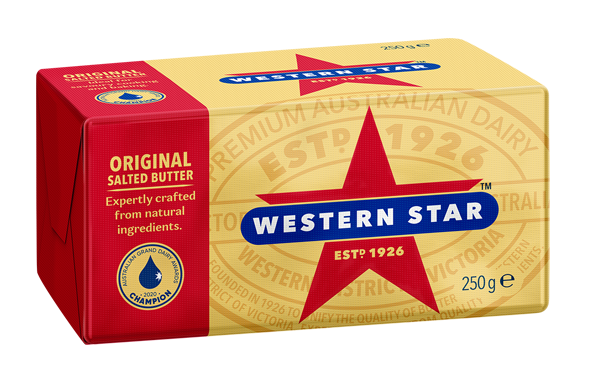 IN THIS RECIPE
Original Salted Butter
Western Star is Australia's favourite butter. It's a classic, pure creamery butter with a rich satisfying, five-star taste. Winner of Champion Butter at the 2019 Australian Grand Dairy Awards, this product sets the benchmark by which all other butters are judged. Expertly crafted from only two natural ingredients, cream and salt.
LEARN MORE
More Mains recipes
Cooking pasta?
Toss a knob of butter through pasta or couscous before serving for a glossy sheen and delicious buttery flavour!