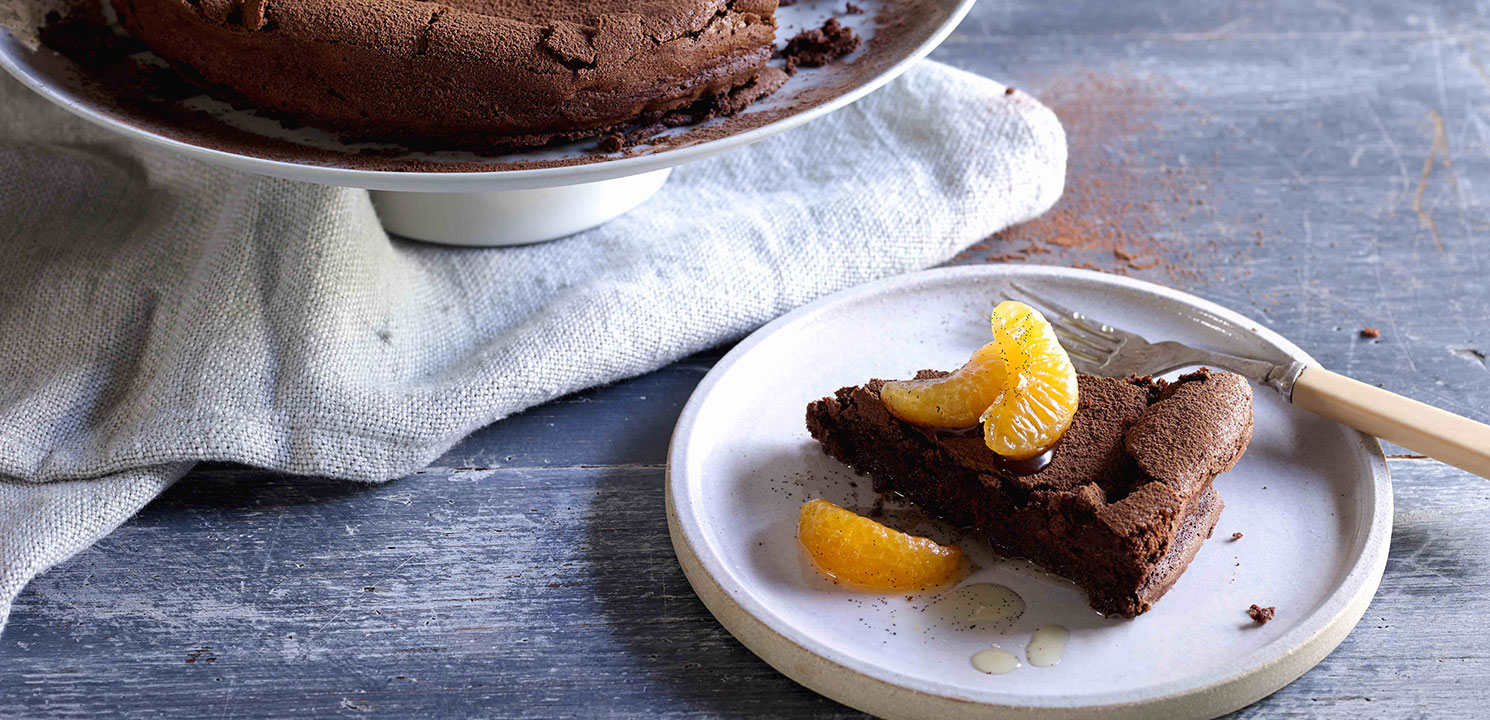 Baking & Desserts
Flourless Chocolate Cake with Vanilla Marinated Mandarins
Prep 15 mins. /Cook 45 mins.
serves 8-10
Easy
Flourless Chocolate Cake with Vanilla Marinated Mandarins
Method
---
Preheat the oven to 160°C. Grease a 23cm round springform cake tin and line the base and sides with baking paper.

Place the butter and chocolate in a medium heatproof bowl, and heat over a small saucepan of simmering water. Stir regularly until the chocolate and butter have melted together and set aside to cool.

Beat the egg yolks and caster sugar in the bowl of an electric mixer on medium speed for five minutes or until pale and creamy. Once combined, transfer into a large bowl and set aside. Beat the egg whites until stiff peaks form, and then gradually add the remaining sugar one tablespoon at a time. Beat until thick and glossy.

Pour the cooled chocolate mixture into the egg yolks and stir to combine. Fold in a third of the egg whites to loosen the mixture, and then add the remaining whites and fold through until just combined. Pour the mixture into the prepared cake tin and transfer into the oven to bake for 45 minutes.

As the chocolate cake bakes, gently stir the caster sugar, water, vanilla bean and seeds in a small saucepan over a medium heat until the sugar has dissolved. Increase the heat to high and boil for a further 2 minutes. Turn off the heat, add the mandarins, and then leave in the syrup until ready to serve.

When the cake is ready, remove from the oven, and allow to cool in the tin. The cake should still be slightly soft in the centre and the middle will sink as it cools.

Serve the cake alongside the mandarins and cream.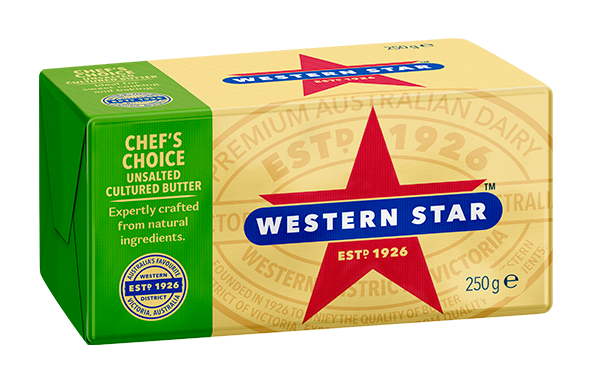 IN THIS RECIPE
Chef's Choice Unsalted Cultured Butter
Western Star Chef's Choice Premium Cultured Unsalted is a premium quality butter that's noted for its extra creamier continental taste and texture. A creamier fresh tasting butter that's versatile and ensures great results every time.
LEARN MORE
More Baking & Desserts recipes
Forgotten to soften the butter?
Grate butter coarsely, spread onto baking paper and stand for 10 minutes before using. Alternatively chop into 2cm cubes, microwave on 30% power in 10 second bursts until just softened.