Method
---
Gingerbread
Be sure to allow plenty of time to create your gingerbread house. This recipe requires an additional 4 hours of cooling time, plus allowing your creation to dry overnight

Melt butter, sugar and golden syrup together in a saucepan over low heat, stirring occasionally, until the sugar has dissolved. Cool slightly.

Sift flour, spices and bicarbonate of soda into a large bowl. Whisk eggs into cooled butter mixture and then pour into the flour and mix until combined. Turn dough onto a floured surface and knead lightly until smooth. Flatten into a disc shape, cover with cling wrap and refrigerate for 30 minutes or until just firm.

Roll out dough on a lightly floured surface to 1/2 cm thickness. Using a sharp knife, cut the dough into a total of 7 shapes, (4 sides, 2 roof panels and the door) using the templates as a guide. Carefully transfer gingerbread onto lightly buttered baking trays, allowing one tray for each piece of gingerbread (you will need to do this in stages). Bake at 180°C for 10-12 minutes or until cooked and lightly browned. Remove from oven and while still hot, use the templates to trim the gingerbread evenly to size (gingerbread will spread slightly during baking). Cool completely on trays before lifting pieces onto a wire rack to cool completely.
Royal icing
Beat egg whites until foamy.

Gradually beat in icing sugar until piping consistency. Transfer to a bowl and press cling wrap over the surface of the icing then cover with a double thickness of damp paper towel to prevent it from drying out. Spoon as required, into a piping bag and use to decorate cooled gingerbread.
To decorate and assemble
Pipe a thin outline of icing on each piece of gingerbread and allow to dry. Pipe 2 windows on each side panel using royal icing.

Decorate each individual panel (except the roof) with red and green lollies, using the royal icing as 'glue'. Fill in any gaps with silver cachous.

On a cake board, use the icing to 'glue' the 4 side panels together and onto the board, using cans of food as props to position and hold the four panels upright. Allow to dry for 2-3 hours.

Position both roof panels in place with royal icing, placing cans underneath the roof overhang, so roof stays in place. Allow to dry overnight, then remove cans.

To decorate roof, turn chocolate melts flat side up and adhere to the roof with icing, starting from the bottom and working up in rows, overlapping slightly to resemble roof tiles. Pipe dabs of remaining icing along edges of the roof and walls to decorate. To finish, pipe icing along one side of the door and adhere so that it appears open. Dust the entire house with icing sugar to resemble snow.
More Tips
Western Star Salt Reduced or Chef's Choice are suitable for use in this recipe.
It's important to trim the gingerbread while it's still hot from the oven, so measurements are precise, making assembly easy.
Using leftover dough, cut out stars of varying sizes and bake until golden. When cool, assemble with royal icing and decorate with silver cachous and flaked almonds to resemble Christmas trees for the front garden!
Use tweezers to help position lollies and cachous onto the gingerbread.
If you don't have a piping bag, try filling a thick plastic snaplock bag with icing and snip off the bottom corner.
It is easier to make the house in stages, so allow plenty of time. Bake the gingerbread at least a day before assembling and then assemble in stages, allowing to dry for several hours before completing the next step.
Gingerbread house will keep for up to a month, in a cool, dry cupboard, covered to protect from dust.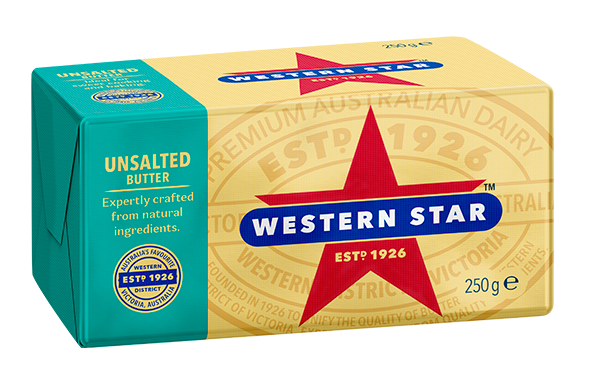 IN THIS RECIPE
Unsalted Butter
Western Star Unsalted is a great regular unsalted butter that is suitable for everyday cooking and baking needs.  It allows the cook to regulate the seasoning required for the dish.  Expertly crafted from one natural ingredient.
LEARN MORE
More Baking & Desserts recipes
Which butter should I use to make sweet pastries?
We recommend Chef's Choice - it's higher fat content and creamier finish makes it ideal for sweet pastries.