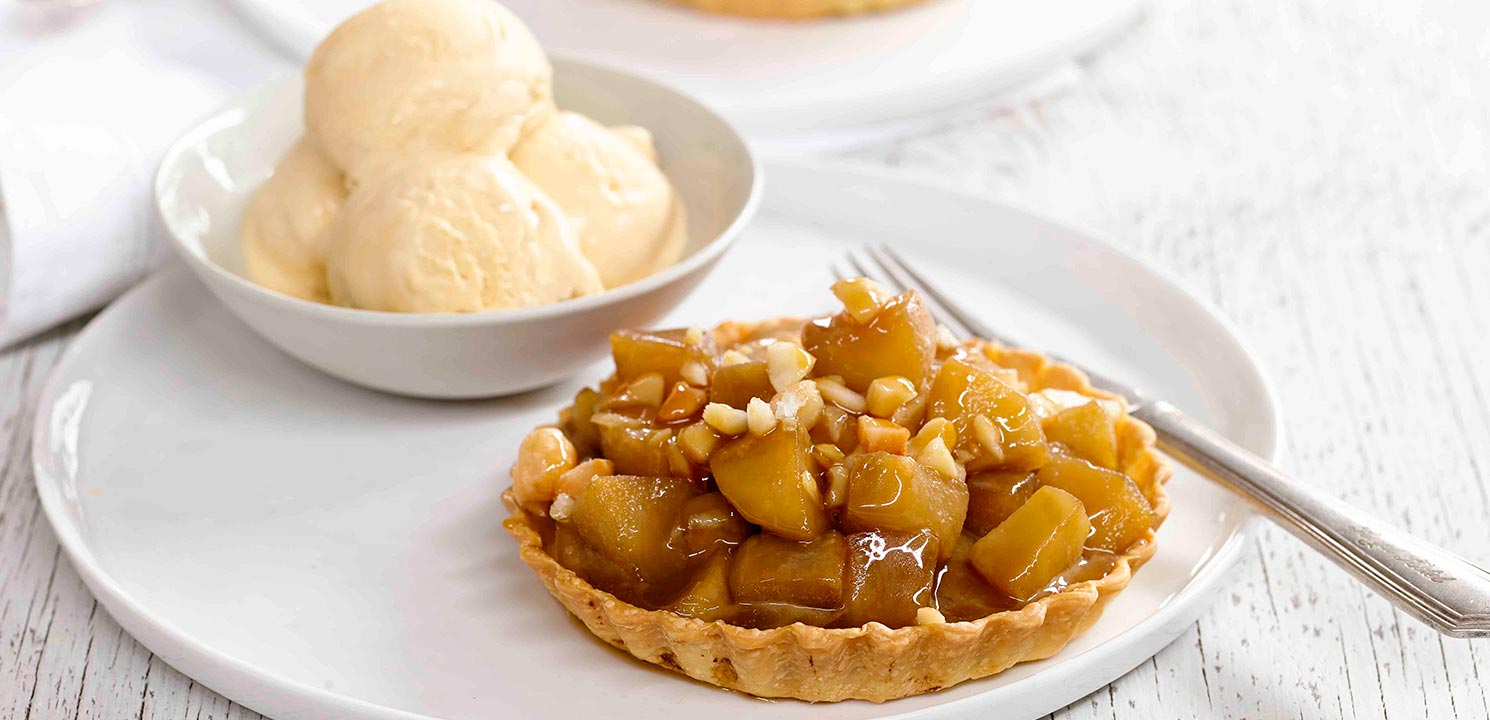 Baking & Desserts
Kick-Ass Apple Pie with Burnt Butter Ice-Cream
Prep 1h 0 mins. /Cook 50 mins.
serves 4
Easy
Kick-Ass Apple Pie with Burnt Butter Ice-Cream
Method
---
To make ice cream, melt butter in a small frying pan over medium low heat until dark golden brown.

Heat cream and milk in a saucepan over medium heat until hot.

Whisk egg yolks, sugars and salt until pale and creamy. Slowly add hot cream mixture, whisking continuously. Return mixture to saucepan. Stir over a low heat until thick enough to coat the back of a spoon. Stir in brown butter. Strain. Cool. Refrigerate until cold. Churn in an ice-cream maker according to manufacturers instructions.

To make pastry, process flour and butter to form fine crumbs. Add water, processing until mixture just comes together.

Turn the dough onto a lightly floured surface and knead lightly until smooth. Shape into a disc and cover in plastic wrap. Refrigerate for 30 minutes to rest.

Meanwhile, to make filling, place teabags and water in a medium saucepan. Set aside to infuse for 1 hour. Remove teabags. Add apples and place over a low heat. Bring to a simmer. Simmer, stirring occasionally, until apples are just tender. Drain apples and set aide.

Preheat oven to 180C.

Roll out pastry on a lightly floured surface and use to line four 11cm round fluted loose based tart tins.

Line tart shells with baking paper and fill with baking beads or rice. Bake for 10 minutes. Remove paper and beads. Bake for a about a further 10 minutes or until golden and crisp. Cool completely.

To make butterscotch sauce, stir sugar, butter and cream over a medium heat until sugar dissolves. Bring to a boil. Simmer for 5 minutes. Stir in nuts.

To assemble, fill tart shells with apples and drizzle with sauce. Serve with burnt butter ice cream.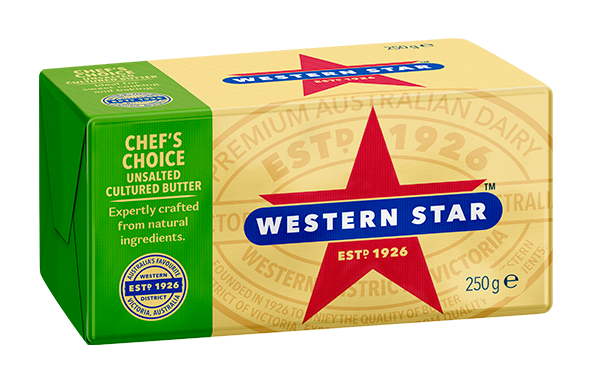 IN THIS RECIPE
Chef's Choice Unsalted Cultured Butter
Western Star Chef's Choice Premium Cultured Unsalted is a premium quality butter that's noted for its extra creamier continental taste and texture. A creamier fresh tasting butter that's versatile and ensures great results every time.
LEARN MORE
More Baking & Desserts recipes
Which butter should I use to make sweet pastries?
We recommend Chef's Choice - it's higher fat content and creamier finish makes it ideal for sweet pastries.