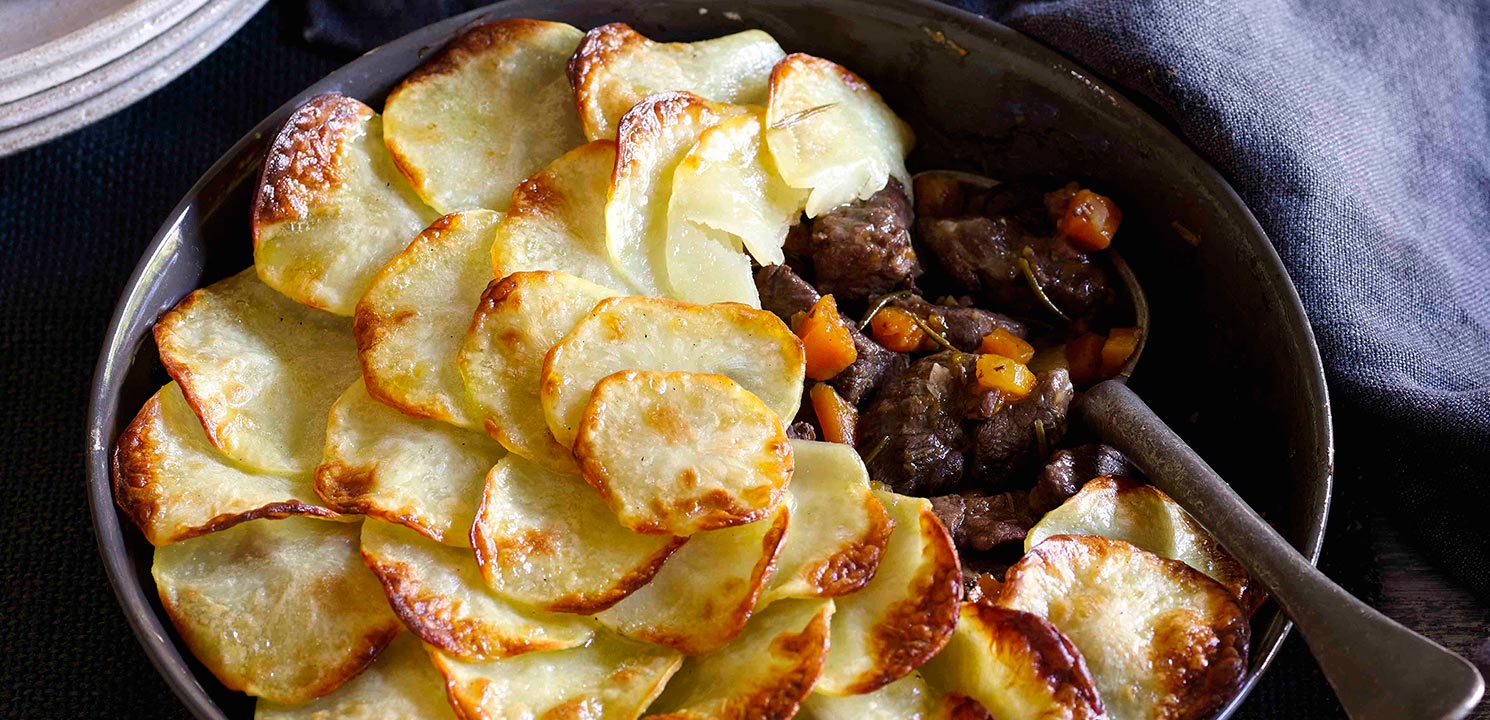 Mains
Lamb and Crispy Potato Pie
Prep 15 mins. /Cook 3h 5 mins.
serves 6-8
Average
Lamb and Crispy Potato Pie
Method
---
Preheat the oven to 160°C.

Heat half of the butter in a large heavy based oven-proof pan over a low heat. Sauté the onion, carrot, and garlic for 5-8 minutes or until the vegetables become soft. Use a slotted spoon to remove from the pan and set aside.

Dust the lamb with the plain flour, and season with salt and pepper. Add the oil to the same pan and increase the heat to high. Sauté in batches for about 5 minutes or until browned on all sides. Add the wine and simmer for 1 minute to deglaze the pan. Use a wooden spoon to scrape any residue from the bottom of the pan.

Pour in the stock, add the rosemary and reserved vegetables, and bring to a gentle simmer. Cover with a lid and transfer into the oven to cook for 2 hours or until the lamb is very tender. Remove the lamb from the oven and place into a pie or casserole dish. Increase the heat of the oven to 200°C.

Neatly lay and arrange the potatoes over the lamb filling, overlapping each slice. Melt the remaining butter and brush over the potatoes generously. Season with salt and pepper.

Transfer the dish into the oven and cook for a further 35 minutes or until the potatoes become crisp and golden.

Serve with steamed vegetables topped with a knob of Western Star Original Butter.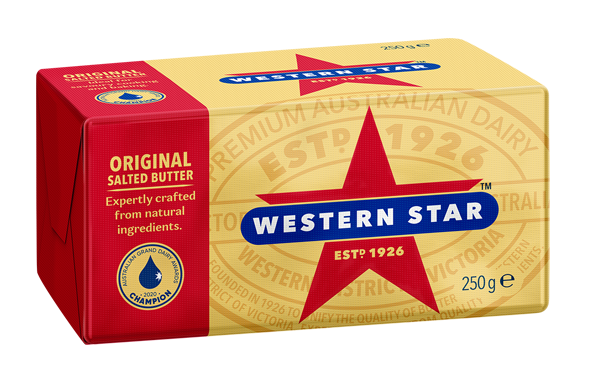 IN THIS RECIPE
Original Salted Butter
Western Star is Australia's favourite butter. It's a classic, pure creamery butter with a rich satisfying, five-star taste. Winner of Champion Butter at the 2019 Australian Grand Dairy Awards, this product sets the benchmark by which all other butters are judged. Expertly crafted from only two natural ingredients, cream and salt.
LEARN MORE
More Mains recipes
Cooking pasta?
Toss a knob of butter through pasta or couscous before serving for a glossy sheen and delicious buttery flavour!