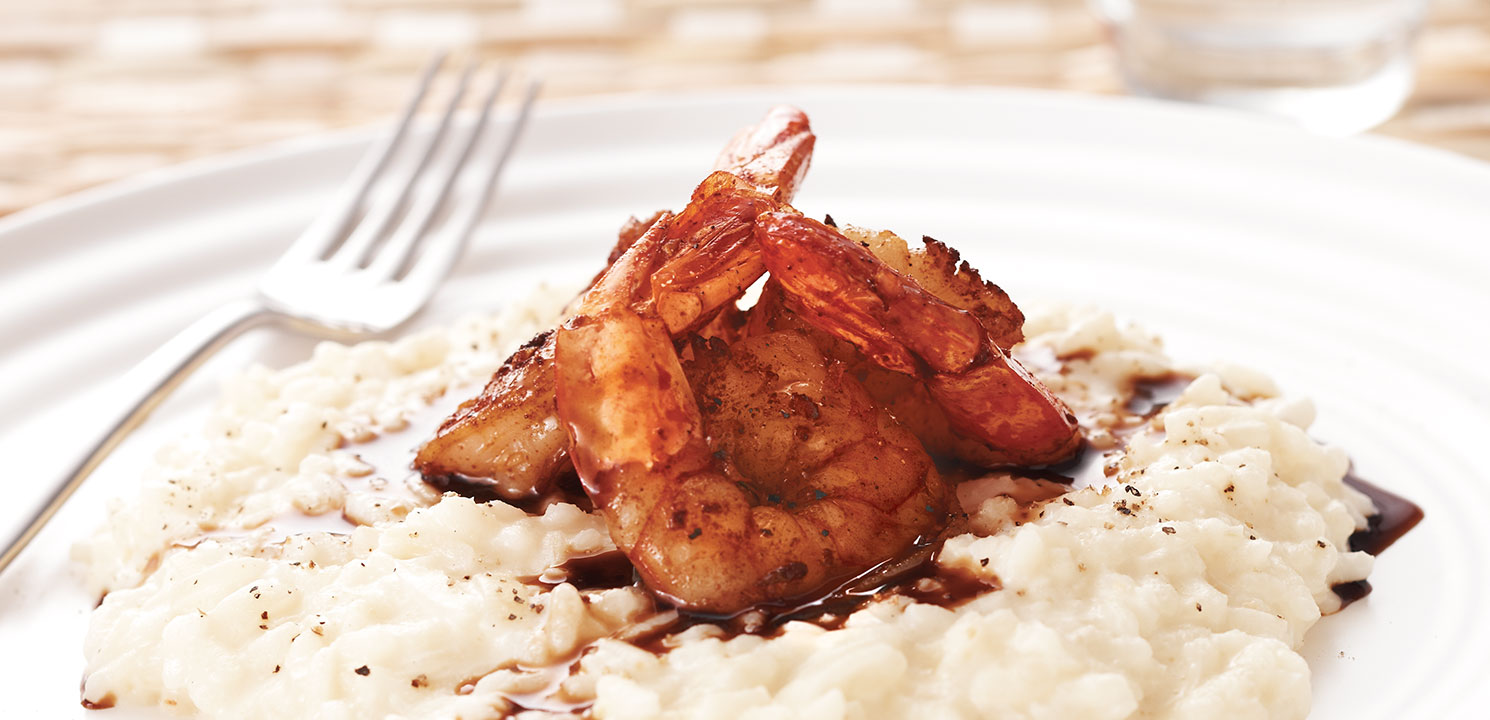 Mains
Parmesan Risotto with Garlic Butter Prawns
Prep 5 mins. /Cook 30 mins.
Serves 4
Easy
Parmesan Risotto with Garlic Butter Prawns
Method
---
Melt 20g butter in a large heavy based saucepan add onion and season with salt, sauté over medium heat for 5 minutes until soft and translucent. Add rice and stir for 1 minute, pour in white wine and sizzle for a further minute.

Combine stock and milk and bring to a gentle simmer. Ladle approximately 3 cups of mixture into rice and stir, let bubble over medium heat stirring occasionally until almost evaporated, continue to add 2 ladlefuls of liquid at a time, stirring occasionally until evaporated before adding the next. When the final liquid has been added, the risotto should be loose and slightly soupy, and the rice should be al dente. Turn off heat and stir in parmesan, remaining 20g butter and pepper.

Melt extra butter in a frypan over medium- high heat until foamy, add prawns, garlic and paprika, toss quickly over high heat for 1-2 minutes, until prawns are just opaque and cooked.

Ladle a spoonful of risotto onto each serving plate and top with 3 prawns, drizzle with balsamic vinegar or glaze and black pepper.
More Tips
Risotto is best served immediately after it's made, it can go soggy if left standing for over 10 minutes.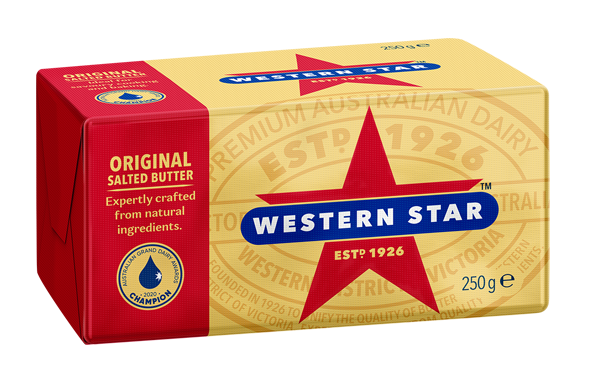 IN THIS RECIPE
Original Salted Butter
Western Star is Australia's favourite butter. It's a classic, pure creamery butter with a rich satisfying, five-star taste. Winner of Champion Butter at the 2019 Australian Grand Dairy Awards, this product sets the benchmark by which all other butters are judged. Expertly crafted from only two natural ingredients, cream and salt.
LEARN MORE
More Mains recipes
Making a sauce?
Enrich wine based sauces by whisking in a large knob of cold butter at the very end, it will give your sauce a richness, shine and round off any acidic flavours.