Method
---
Combine all ingredients for chosen butter and chill until required.

Stuff butter under the skin of chicken or turkey breasts to keep the breast moist during cooking. Using fingers and working from the base of each breast, gently separate the skin from the breast meat to form two pockets. Stuff a handful of chosen butter into each pocket and from the outside, massage the butter evenly over the meat. Roast the bird in the usual way.
More Tips
These delicious butters may be prepared ahead of time and refrigerated for 3-4 days, or even frozen up to 1 month in advance.
Stuffing butter under the skin of a roasting bird like chicken or turkey, helps to baste the breast during cooking, without you having to lift a finger! It also imparts a wonderful subtle flavour into the meat and will ensure a moist result.
Any leftover butter can be portioned and frozen and then defrosted as required.
Flavoured butters can be used for almost anything, try tossing any of these butters through steamed asparagus or green beans in a pan. Try cooking an omelette in shallot or lime and chilli butter, or simply spread over grilled steak or chicken.
To serve these butters at the Christmas table, use baking paper to shape them into a log and refrigerate until firm, then slice into individual rounds for serving.
Allow at least 30 minutes for them to come to room temperature before serving.
For a special Christmas idea, spread flavoured butter onto a baking paper lined tray and chill until firm. Using a star shaped cutter (or whatever shape you like) cut out shapes and place on a serving plate on the dinner table.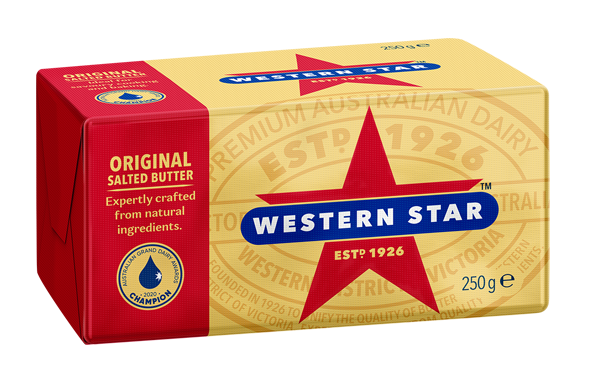 IN THIS RECIPE
Original Salted Butter
Western Star is Australia's favourite butter. It's a classic, pure creamery butter with a rich satisfying, five-star taste. Winner of Champion Butter at the 2019 Australian Grand Dairy Awards, this product sets the benchmark by which all other butters are judged. Expertly crafted from only two natural ingredients, cream and salt.
LEARN MORE
More Sauces recipes
Grilling mushrooms?
Trying mixing horseradish with grainy mustard, parsley and softened butter and dolloping over the flat mushrooms before grilling. Also great with steak.