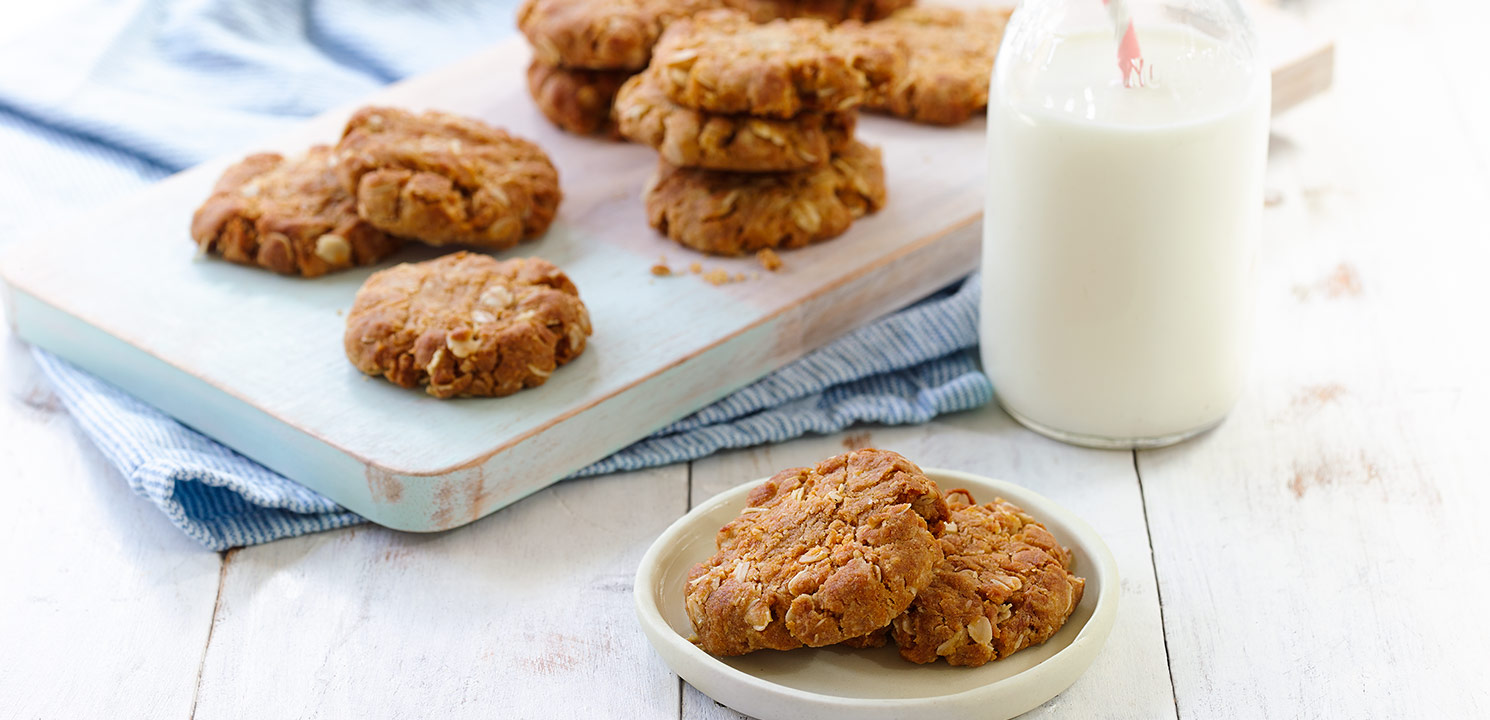 Baking & Desserts
Anzac Biscuits
Prep 15 mins. /Cook 15 mins.
serves 20
Easy
Anzac Biscuits
Method
---
Preheat the oven to 180°C. Line two large baking trays with baking paper and set aside.

Place the flour, oats, sugar and coconut in a large bowl. Mix to combine and set aside.

In a small saucepan, heat the butter and golden syrup over a medium low heat. Meanwhile, mix the bi carb soda with the hot water. When the butter has completely melted, remove the saucepan from the heat. Add the bi carb mixture to the saucepan and stir to combine. Take care as the mixture will quickly bubble. Pour the butter and syrup mixture into the dry ingredients, and gently stir until everything is incorporated.

Get the kids to roll tablespoonfuls of the mixture into balls and place onto the prepared trays, leaving a 2-3cm gap between each ball, as biscuits will spread. Flatten each biscuit with the back of a fork or get the kids to use their fingertips!

Bake for 10-12 minutes or until light golden. Remove the biscuits from the oven and allow to stand for five minutes, before transferring to a wire rack to cool completely.
More Tips
Keep these biscuits in an airtight container for up to a week.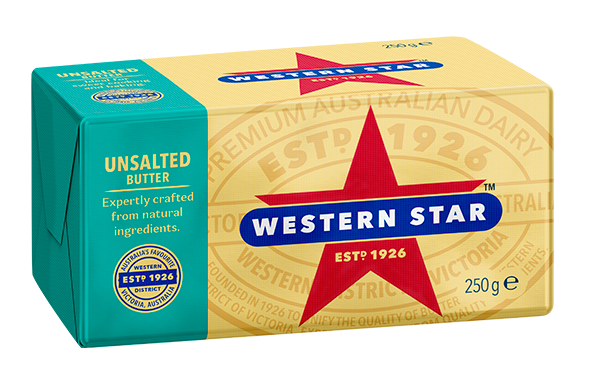 IN THIS RECIPE
Unsalted Butter
This versatile all-rounder gives you control of seasoning in the kitchen. We know that unsalted butter and everyday baking are a perfect match. But you don't have to relegate unsalted butter to only the world of sweet cooking. This pure unsalted butter is perfect for everyday cooking where you want to have control over the seasoning. Expertly crafted from one natural ingredient, Australian cream. Western Star has been Crafting Butter in Victoria since 1926 when the leading butter makers in the Western District came together. Over 95 years later and trusted for generations, Western Star truly is Australia's Favourite.
LEARN MORE
More Baking & Desserts recipes
Which butter should I use to make sweet pastries?
We recommend Chef's Choice - it's higher fat content and creamier finish makes it ideal for sweet pastries.