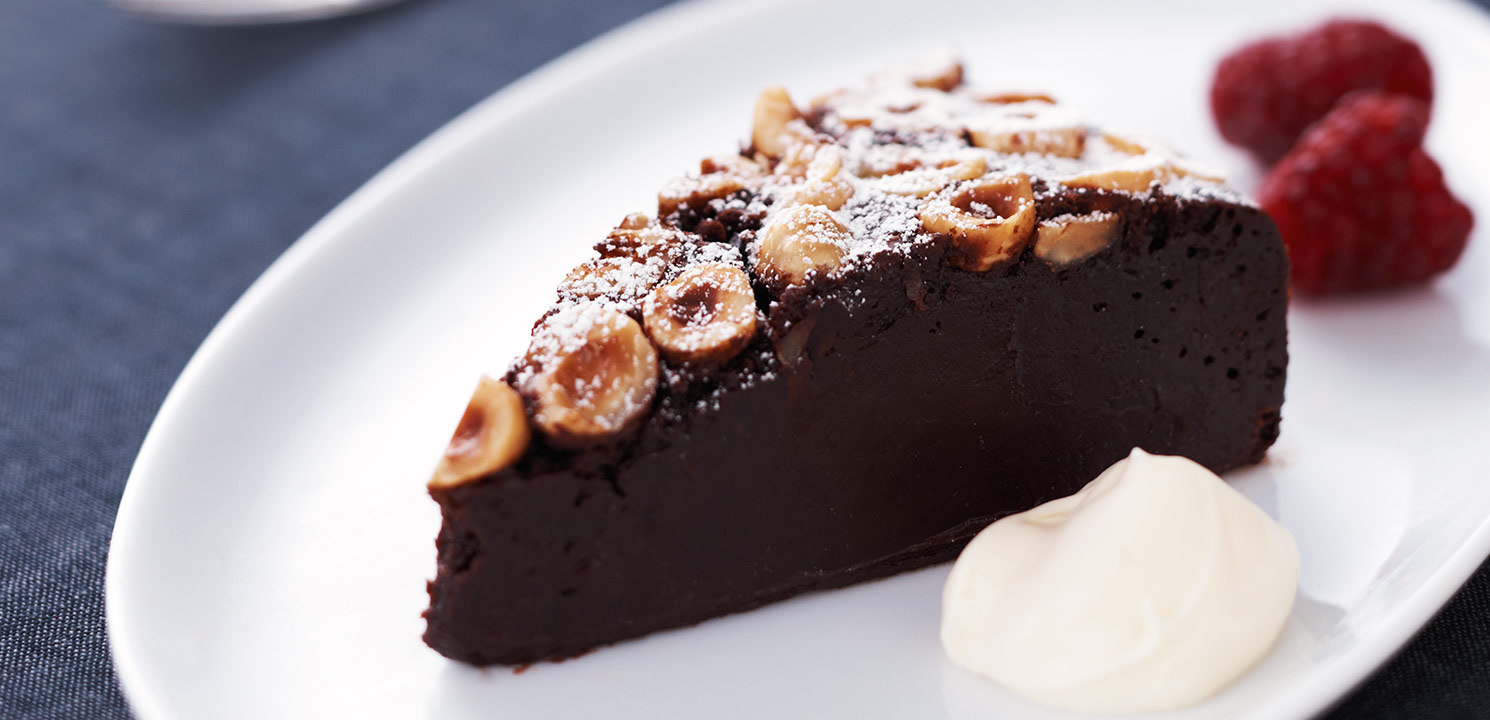 Baking & Desserts
Baked Chocolate & Hazelnut Mousse Cake
Prep 20 mins. /Cook 1h 10 mins.
Makes 8
Average
Baked Chocolate & Hazelnut Mousse Cake
Method
---
Note: this recipe requires an additional 20 minutes for cooling.
Dissolve sugar in water over low heat, bring to the boil and immediately remove from heat. Stir in chocolate and butter, until melted and smooth. Cool for 5 minutes.

Whisk eggs into chocolate mixture and pour into a 20cm springform cake pan, base and sides lined with baking paper. Sprinkle hazelnuts over the cake.

Place the cake pan into a large baking dish half filled with boiling water and bake at 180°C for 1 hour until dry and slightly firm to touch. Remove and rest in baking dish for 5 minutes before placing the pan on a wire cooling rack to cool completely.

Loosen the cake from the sides of the pan before removing and sliding onto a serving platter. Dust with icing sugar and serve very thin slices with cream and fresh berries.
More Tips
Hazelnut chocolate mousse cake is very moist, fudgy and extremely decadent and should be served in very thin slices with fresh fruit and cream.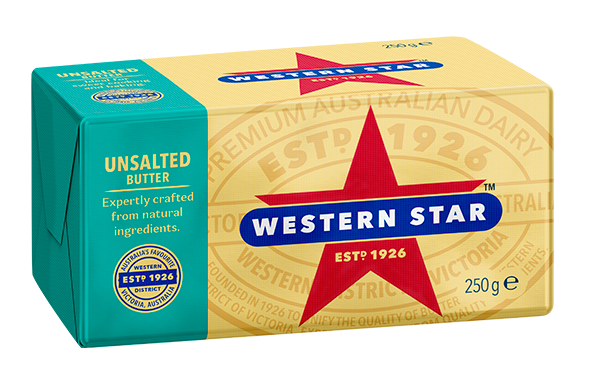 IN THIS RECIPE
Unsalted Butter
Western Star Unsalted is a great regular unsalted butter that is suitable for everyday cooking and baking needs.  It allows the cook to regulate the seasoning required for the dish.  Expertly crafted from one natural ingredient.
LEARN MORE
More Baking & Desserts recipes
Forgotten to soften the butter?
Grate butter coarsely, spread onto baking paper and stand for 10 minutes before using. Alternatively chop into 2cm cubes, microwave on 30% power in 10 second bursts until just softened.