Method
---
Combine softened butter, paprika, garlic powder, peppers and oregano in a small bowl.

Boil or steam rice until tender. Stir in remaining butter, herbs, lemon rind, almonds and tomato and keep warm.

Coat fish in flour, dusting off excess and spread with the flavoured butter.

Heat a non-stick fry pan until hot and cook fillets for 2 minutes on each side or until cooked to your liking. Serve immediately with herb and lemon scented rice.
More Tips
Flavoured Butter can be prepared up to 2 days ahead of time and is also delicious spread on chicken fillets before cooking.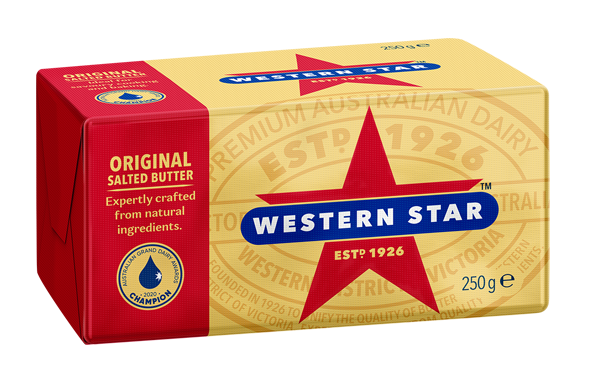 IN THIS RECIPE
Original Salted Butter
Western Star is Australia's favourite butter. It's a classic, pure creamery butter with a rich satisfying, five-star taste. Winner of Champion Butter at the 2019 Australian Grand Dairy Awards, this product sets the benchmark by which all other butters are judged. Expertly crafted from only two natural ingredients, cream and salt.
LEARN MORE
More Mains recipes
Dry roast chicken?
Avoid a dry chicken by stuffing some flavoured butter under the skin before roasting. Simply ease your fingers under the skin of the chicken breast to create a pocket (without breaking through) and fill it with softened flavoured butter. The butter bastes and flavours the chicken as it cooks leaving you with a moist and tender roast!