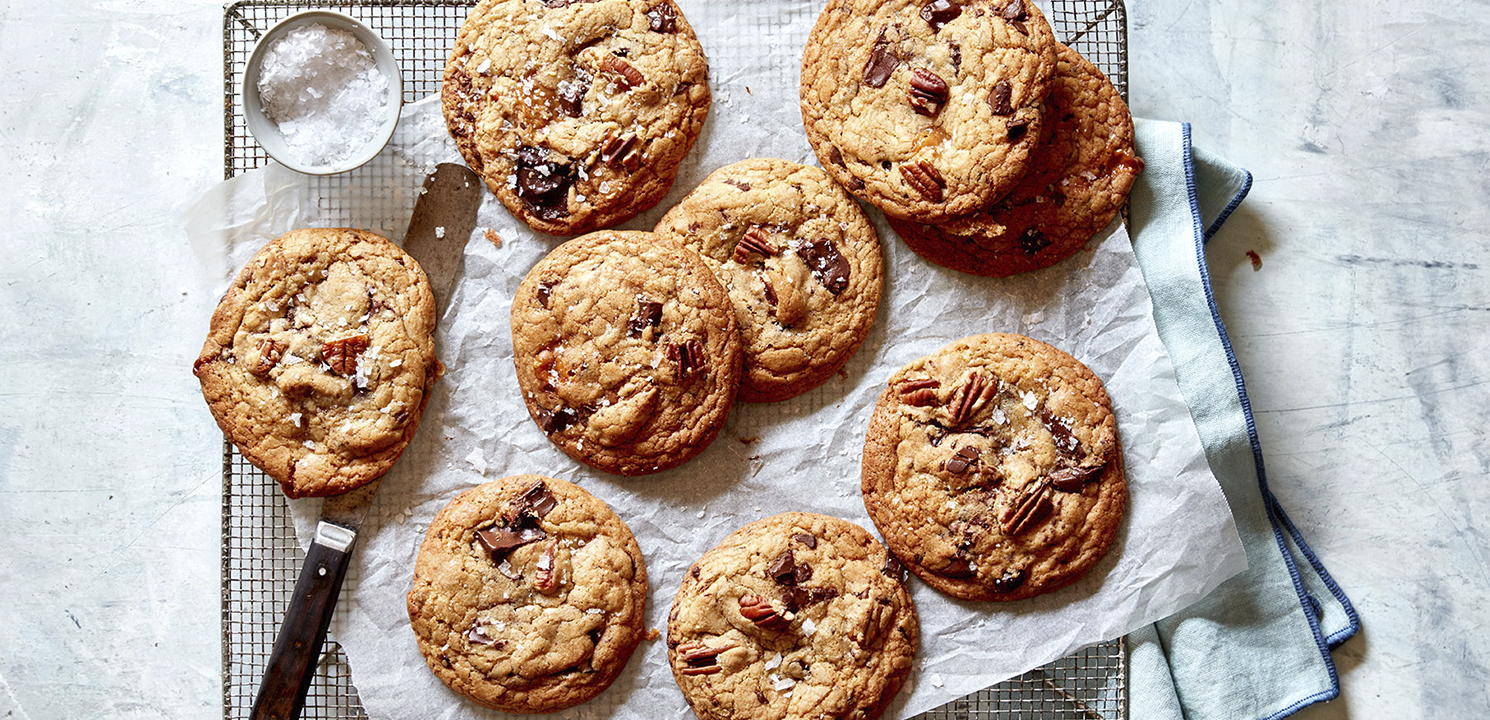 Baking & Desserts
Brown Butter, Caramel and Chocolate Cookies
Prep 20 mins. /Cook 24 mins.
serves 30
Average
Brown Butter, Caramel and Chocolate Cookies
Method
---
Pre heat oven to 160°C and line 4 baking trays with baking pape..

Place the butter in a medium saucepan over medium heat and cook until the butter foams and turns a light brown colour. Pour the butter into the bowl of a stand mixer to cool.

Add the sugars to the cooled browned butter and mix on medium speed until combined. Add the eggs one at a time followed by the vanilla. Turn the mixer up to high and beat until the mixture has lightened in colour, 2-3 mins.

Sift the flour, bi- carb and baking powder into the mixing bowl and mix until just combined. Remove the bowl from the mixer and use a spatula to scrape down the bowl and incorporate any ingredients that haven't fully been mixed.

Add the chocolate, caramels and pecans and mix by hand to combine.

Using a small ice cream scoop or a tablespoon, form balls around 2 tablespoons in size. Arrange the balls on baking trays leaving room for them to spread, around 6- 8 balls per tray.

Bake the cookies for 10- 12 mins or until they are just set to touch. Sprinkle a little flaked salt over each cookie and leave for 10- 15 mins before transferring to cooling racks to cool.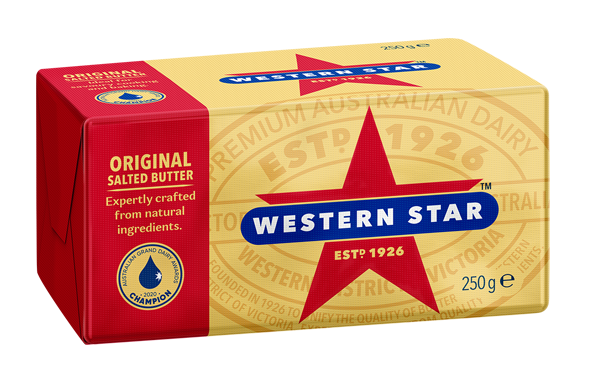 IN THIS RECIPE
Original Salted Butter
Salted butter is a versatile cooking staple. Expertly crafted at Cobden, Western Victoria, from only two natural ingredients, Australian cream and salt, to deliver a classic, pure creamery butter with a rich satisfying, five-star taste. This pure salted butter enhances the flavour of food while adding an exceptional creamy texture. Winner of Champion Butter at the 2020 Australian Grand Dairy Awards, this product sets the benchmark by which all other butters are judged. Western Star has been Crafting Butter in Victoria since 1926 when the leading butter makers in the Western District came together. Over 95 years later and trusted for generations, Western Star truly is Australia's Favourite.
LEARN MORE
More Baking & Desserts recipes
Forgotten to soften the butter?
Grate butter coarsely, spread onto baking paper and stand for 10 minutes before using. Alternatively chop into 2cm cubes, microwave on 30% power in 10 second bursts until just softened.