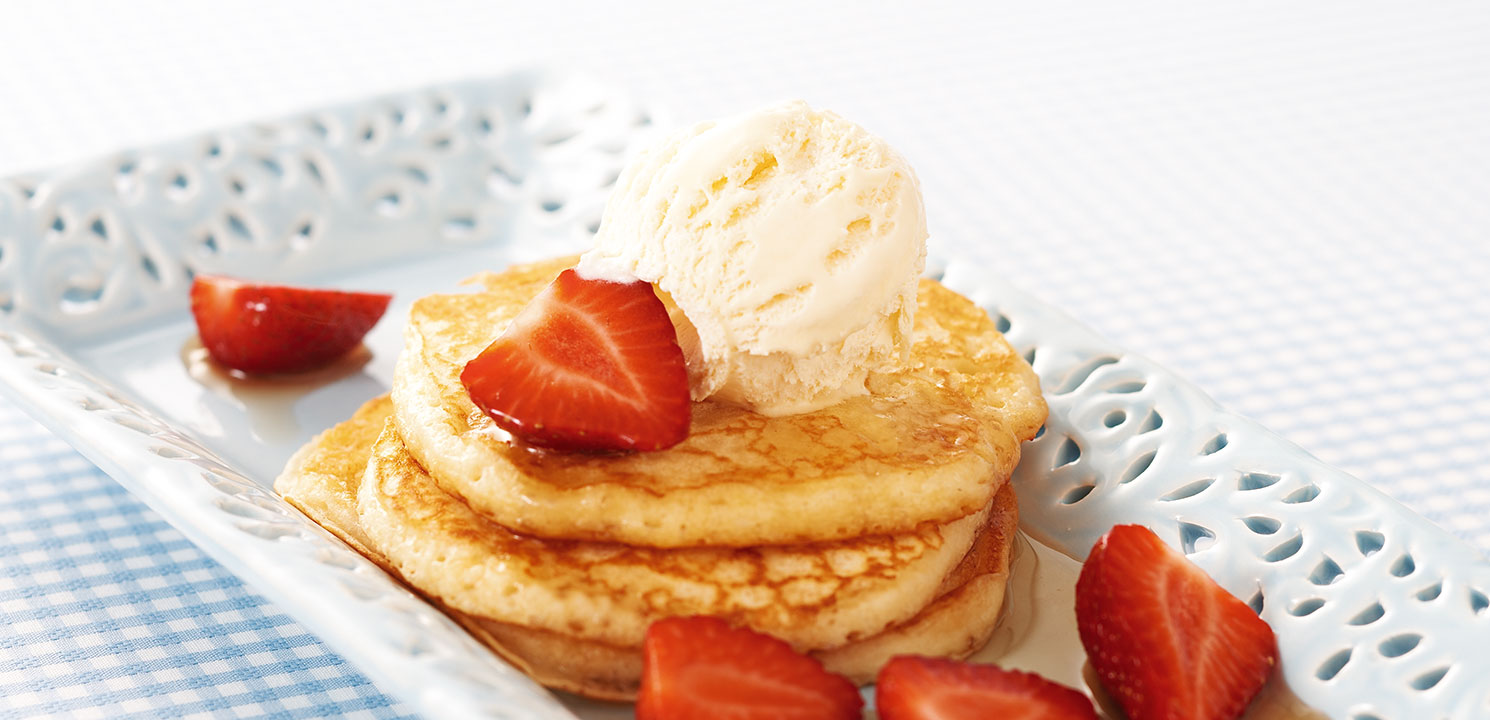 Baking & Desserts
Buttermilk Pancakes with Maple Glazed Strawberries
Prep 5 mins. /Cook 20 mins.
Serves 15
Easy
Buttermilk Pancakes with Maple Glazed Strawberries
Method
---
Sift flour and baking powder into a large bowl, stir in sugar. Whisk eggs, buttermilk and 60g butter together, then whisk into dry ingredients until thick and smooth.

Pour a little of the remaining butter in a non stick frypan over medium-low heat. Pour in 1/4 cup mixture and cook until bubbles form and begin bursting on top. Flip over and cook for a further minute until golden. Repeat with remaining butter and pancake mixture. Keep pancakes warm.

Add the maple syrup to the pan and bring to the boil. Reduce heat, add strawberries and heat gently for 30 seconds Serve the warm pancakes topped with hot strawberries and ice cream.
More Tips
The pancake batter is quite thick, so when adding to frypan use a small spatula to spread mixture.
Try using stone fruit such as peaches, nectarines or apricots, when in season. Frozen berries also make a delicious alternative.
For a spiced variation, add 1 teaspoon cinnamon to dry ingredients.
Pancakes are best made and enjoyed on the same day, but can be refreshed in the microwave before serving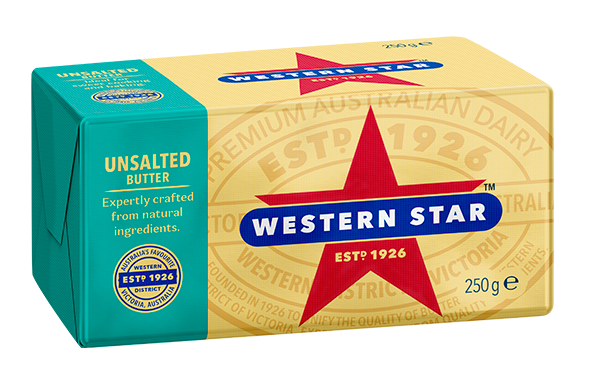 IN THIS RECIPE
Unsalted Butter
Western Star Unsalted is a great regular unsalted butter that is suitable for everyday cooking and baking needs.  It allows the cook to regulate the seasoning required for the dish.  Expertly crafted from one natural ingredient.
LEARN MORE
More Baking & Desserts recipes
Forgotten to soften the butter?
Grate butter coarsely, spread onto baking paper and stand for 10 minutes before using. Alternatively chop into 2cm cubes, microwave on 30% power in 10 second bursts until just softened.