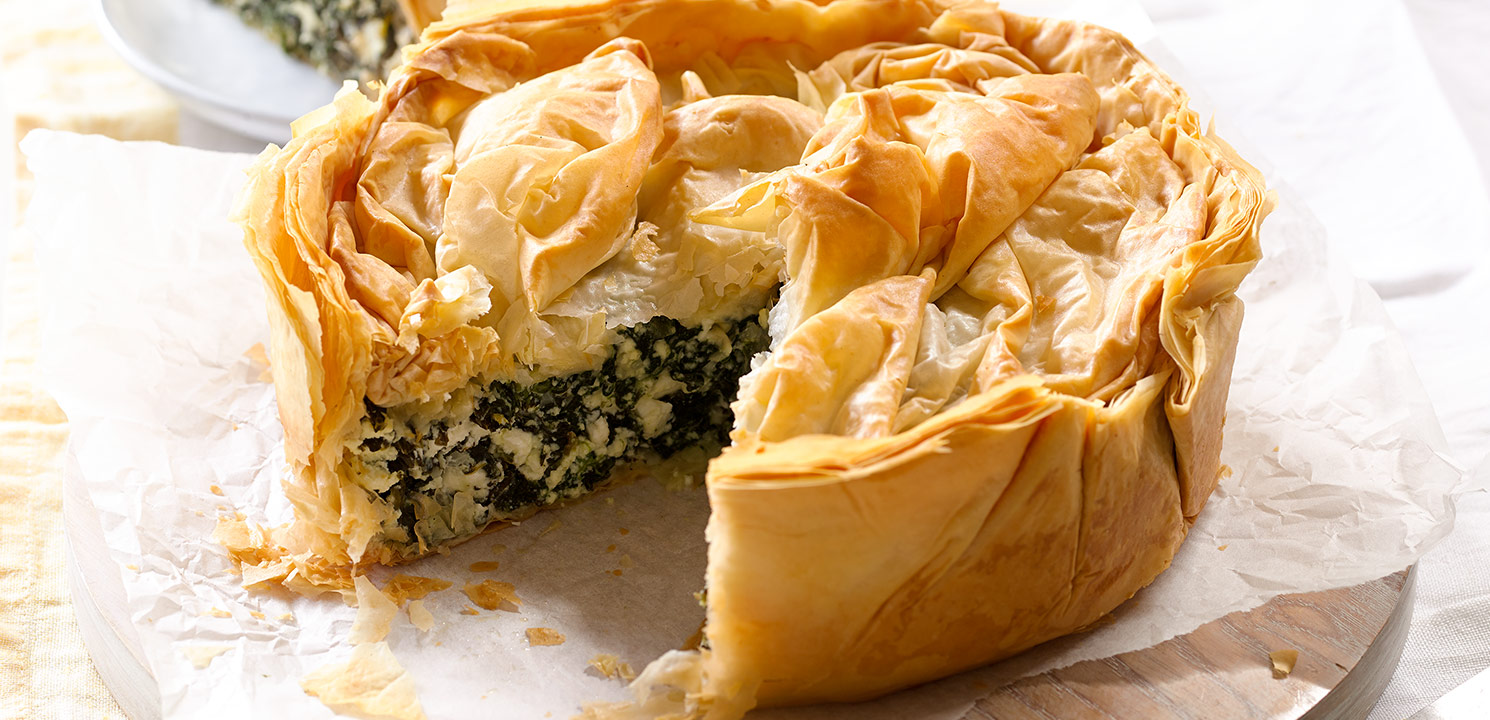 Mains
Cheese & Greens Filo Pie
Prep 30 mins. /Cook 1h 30 mins.
serves 10
Easy
Cheese & Greens Filo Pie
Method
---
Preheat the oven to 180°C. Butter a metal pie dish and set aside.

Heat the oil in a medium pan over a medium heat. Add the onions and cook for 4-5 minutes or until softened. Add the garlic and cook for a further 2 minutes. Transfer to a large bowl to cool.

Bring a large pot of water to the boil. In batches, add the spinach for 10-20 seconds before using tongs or a sieve to remove into a colander. Refresh in cold water, drain again, and squeeze out any excess moisture. Transfer the spinach onto a chopping board and chop finely,

Place the chopped spinach in the bowl alongisde the onions and garlic. Add the eggs, ricotta, and crumble the Feta on top. Season with salt and pepper and mix well. Set aside.

Lay a sheet of filo on a clean surface and brush with the melted butter. Top with another sheet of filo and brush with more butter. Repeat this 8 more times until you have a stack of 10 sheets. Lay the filo stack in the prepared pie dish, and then fill with the spinach and cheese mixture.

Brush the remaining filo sheets with butter. Place each on top of the filling to loosely cover, scrunching the pastry to fit into the tin. Transfer into the oven to bake for 1 hour or until golden and cooked through. Allow the the pie to cool in the dish for 5 minutes before turning out.

Slice and serve warm or at room temperature.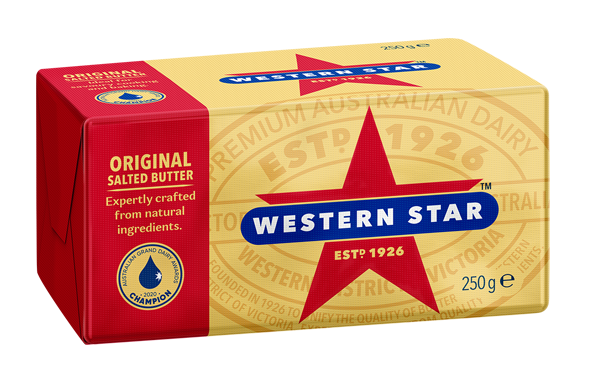 IN THIS RECIPE
Original Salted Butter
Western Star is Australia's favourite butter. It's a classic, pure creamery butter with a rich satisfying, five-star taste. Winner of Champion Butter at the 2019 Australian Grand Dairy Awards, this product sets the benchmark by which all other butters are judged. Expertly crafted from only two natural ingredients, cream and salt.
LEARN MORE
More Mains recipes
Avoid a "floury" white sauce
At the beginning of a white sauce always cook off the butter and flour over low heat for 1 minute to ensure the finished sauce doesn't have a "floury" flavour. Remove from the heat before whisking in milk and returning back to the heat to thicken.