Method
---
Note: this recipe requires an additional 40 minutes for cooling.
Soften butter add desicated coconut, plain flour & brown sugar, combine.

Roll 2/3 of pastry out between 2 sheets of baking paper for a 20cm or 9" pie tin. Line dish & edges with pastry then chill for 15 mins. Pat into baking dish & bake at 160c until it starts to go golden brown. Remove & cool

Combine cherries, lemon juice, cinnamon & 1/4 cup of raw sugar. Cook for 5 minutes in a saucepan until sugar has dissolved. Mix cornflour with a small amount of cold water, then stir into the cherry mixture. Cook for a further 3 minutes until mixture boils & thickens. Chill right down.

Pre heat oven now to 180c.

Spoon cooled cherry mixture into line pie dish, roll out remaining pastry in the same fashion. Cut pastry into 2cm strips & arrange in a lattice formation over the pie dish. Pressing edges in to seal, then trim edges & brush with egg white. sprinkle remaining brown sugar over top.

Place in oven & bake for 40 minutes until pastry is golden & crisp. Allow to stand for 15 minutes before cutting.
More Tips
If cherries are out of season, use pitted cherries in the can fruit aisle of supermarket.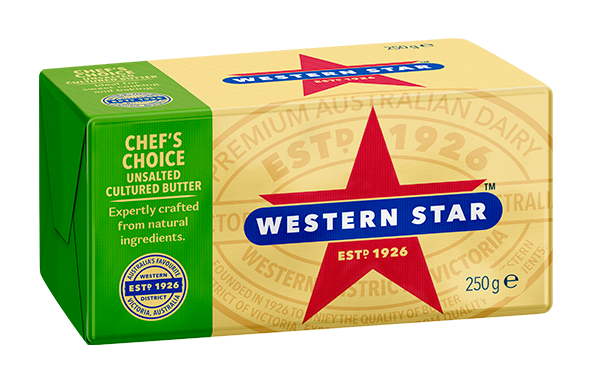 IN THIS RECIPE
Chef's Choice Unsalted Cultured Butter
Western Star Chef's Choice Premium Cultured Unsalted is a premium quality butter that's noted for its extra creamier continental taste and texture. A creamier fresh tasting butter that's versatile and ensures great results every time.
LEARN MORE
More Baking & Desserts recipes
Which butter should I use to make sweet pastries?
We recommend Chef's Choice - it's higher fat content and creamier finish makes it ideal for sweet pastries.