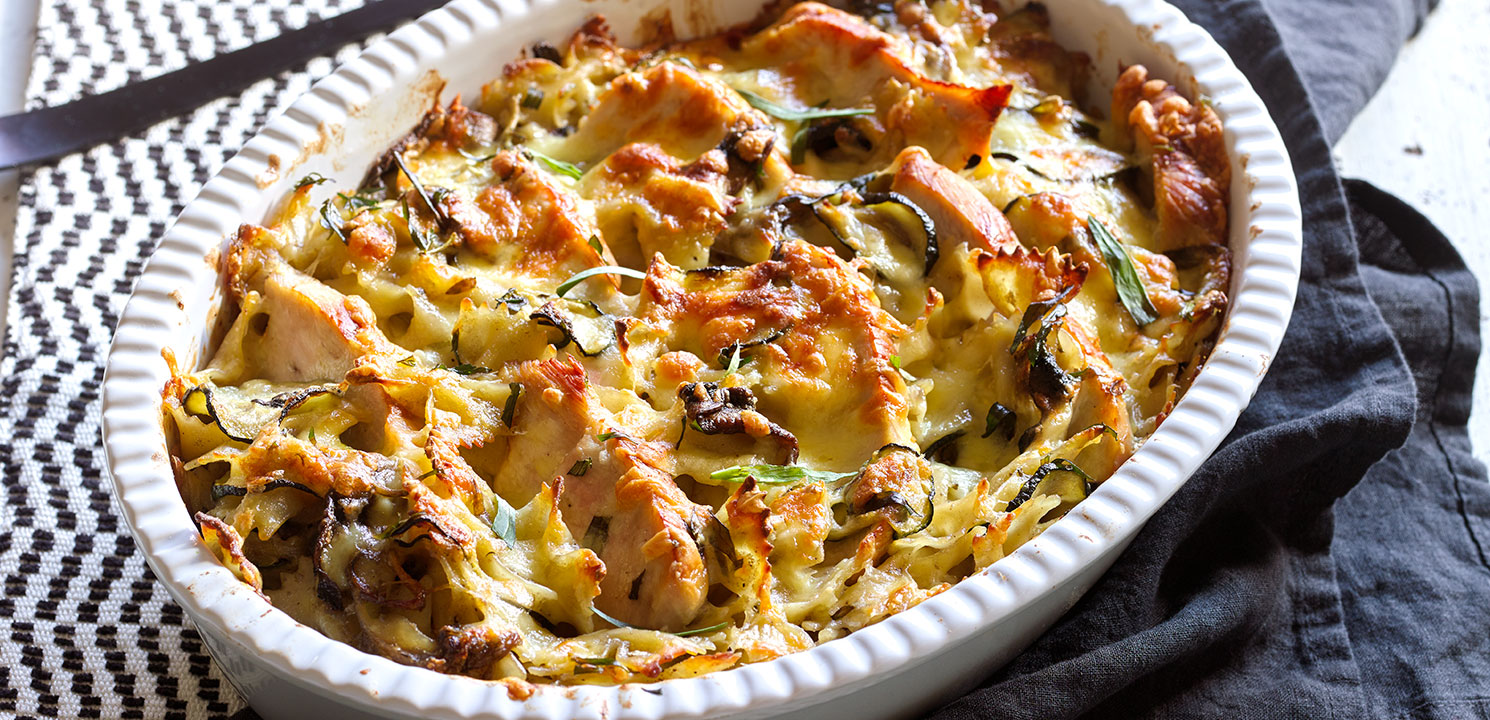 Mains
Chicken & Mushroom Farfalle Bake
Prep 15 mins. /Cook 40 mins.
Serves 4-6
Easy
Chicken & Mushroom Farfalle Bake
Method
---
Preheat the oven to 200°C.

Cook the farfalle in a large saucepan of boiling water until just tender, following the packet directions. Drain pasta and set aside.

Cooking pasta?

Toss a knob of butter through pasta or couscous before serving for a glossy sheen and delicious buttery flavour!

Meanwhile, place the remaining olive oil in a large heavy based saucepan over a medium-high heat. Add the onion and stir for 2 minutes or until soft and translucent. Add the mushrooms and cook for 3-4 minutes or until just tender. Add the garlic, tarragon and zucchini and cook for a further 1-2 minutes. Add the flour and stir for 1 minute or until all the vegetables are coated. Add the wine and bring the mixture to the boil while stirring. Reduce the heat to low and add the Western Star™ Thickened Cream. Finally, stir well to combine all ingredients, and simmer for 2-3 minutes or until heated through. Remove from the heat.

Thinly slice the chicken and add it to the mushroom mixture along with the pasta. Season with salt and pepper. Transfer into a large baking dish and sprinkle over the Perfect Italiano™ Perfect Bakes cheese.

Bake for 20-25 minutes or until the cheese is melted golden brown.

Remove from the oven and allow to rest for a few minutes before serving.
More Tips
If tarragon isn't available try using thyme or oregano for a different twist.
More Mains recipes
Dry roast chicken?
Avoid a dry chicken by stuffing some flavoured butter under the skin before roasting. Simply ease your fingers under the skin of the chicken breast to create a pocket (without breaking through) and fill it with softened flavoured butter. The butter bastes and flavours the chicken as it cooks leaving you with a moist and tender roast!