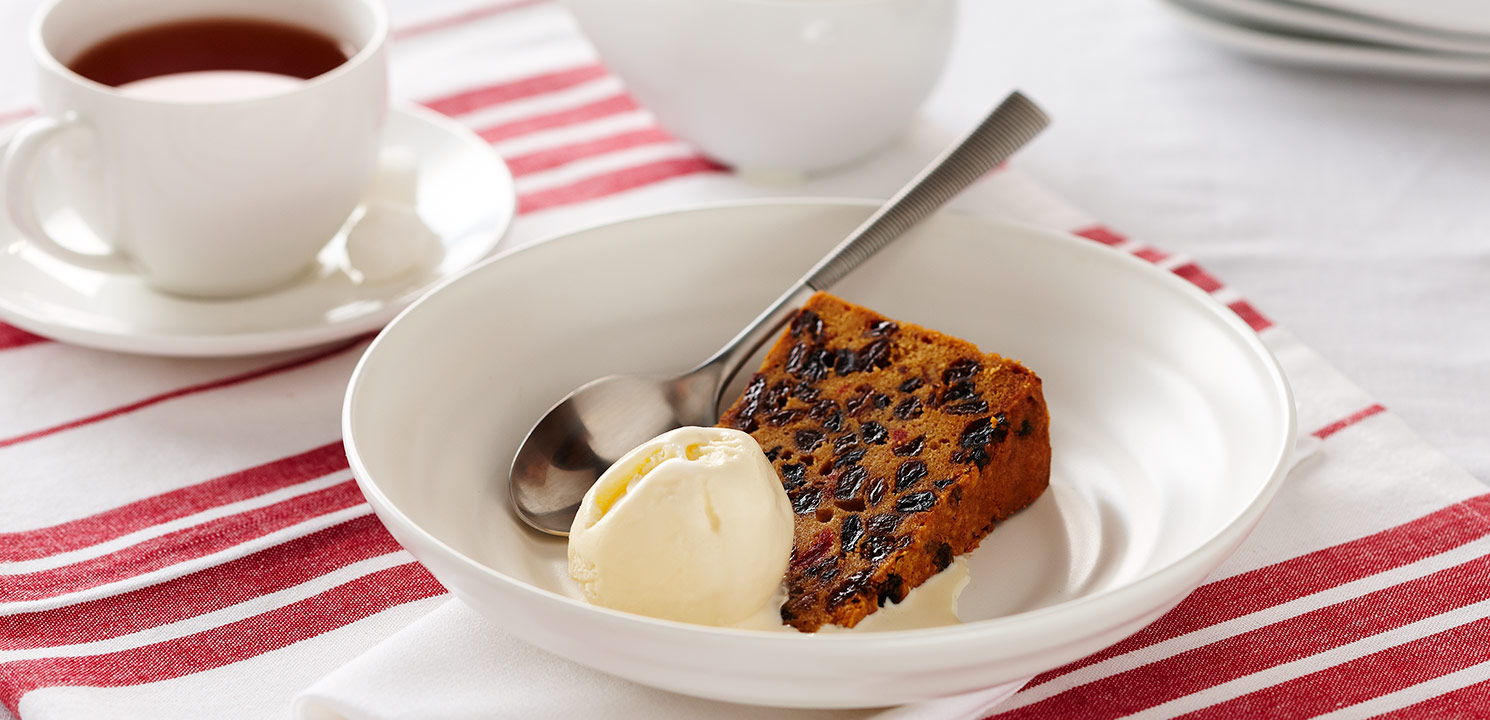 Baking & Desserts
Christmas Cake
Prep 25 mins. /Cook 4h 0 mins.
Makes 12
Average
Christmas Cake
Method
---
Start early to make your Christmas cake. You'll need to allow at least 12 hours for soaking fruit overnight.
Combine the dried fruit and brandy and stand, covered for up to 1 month or at least overnight, stirring occasionally (if using orange juice, stand in refrigerator overnight only).

Butter and line the base and sides of a 20cm round cake pan with baking paper and preheat oven to 140°C.

Sift together the flours and spices.

Cream together the butter and sugar until light and fluffy. Add the vanilla and then gradually add the eggs, beating well between each addition. Fold in the fruit and flour in 2 batches.

Spoon cake mixture into the prepared pan and flatten the top. Bake for 3 ¾ - 4 hours or until cooked when tested with a skewer. Brush with extra brandy if desired. Cool in pan and then store in an airtight container until required.
More Tips
Cake may be baked in a 22cm round cake pan but the cooking time will be 3 ¼ -3 ½ hours.
Fruit cake should be stored in an airtight container, in original baking paper and wrapped in foil, if desired, in a cool, dark cupboard. It can keep for at least 2 months if stored correctly.
Chocolate and Pistachio Christmas Cake Log - To make a treat to serve with coffee, cut a bar or log shaped piece of Christmas Cake 13cm x 4cm x 3cm. Melt 75g dark chocolate and spread a little on a piece of baking paper. Place the cake on a wire rack sitting over a sheet of baking paper. Pour chocolate over the cake, spreading to completely coat. Sprinkle with chopped pistachios and allow chocolate to set. Store in an airtight container until required. Serve sliced with freshly brewed coffee.
Cheat's Christmas Pudding - Warm slices of Christmas Cake and brush with liqueur if desired, serve with ice cream for a delicious alternative to pudding.
Christmas Truffles - Make cake truffles by pulsing 500g of Christmas Cake in a food processor with 1 tablespoon brandy. Shape into balls and coat with 250g melted dark or white chocolate. Decorate as desired.
Christmas Cake Pops - Make fruity cake pops for children by pulsing 500g fruit cake with 1 tablespoon apple or orange juice in the food processor and shape into balls. Dip the tip of an icy pole or lollypop stick in melted white chocolate. Place the chocolate tip of the icy pole stick in a ball of cake then coat the entire ball in melted white chocolate, poke the cake pops into a piece of foam or egg carton and refrigerate until set. Use food dye to colour melted white chocolate and pipe decorations onto the pops to look like Christmas baubles.
Christmas Cake Ice Cream Bombe - To make an Ice Cream Bombe, first line a 1 litre freezer proof bowl with plastic wrap. Layer 1 litre of softened vanilla ice cream, 2 cups crumbled Christmas Cake and a sprinkling of brandy in the bowl to fill, cover and refreeze until set. Turn out, unwrap, dust with cinnamon and slice to serve.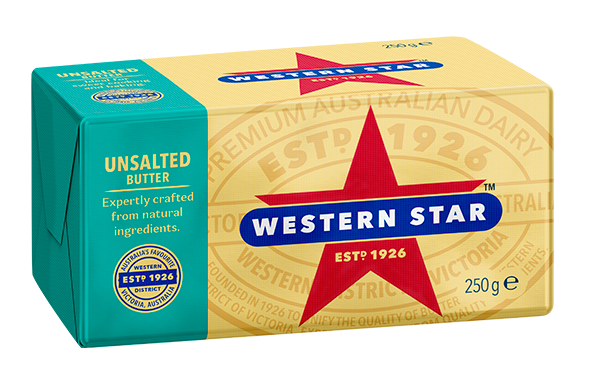 IN THIS RECIPE
Unsalted Butter
Western Star Unsalted is a great regular unsalted butter that is suitable for everyday cooking and baking needs.  It allows the cook to regulate the seasoning required for the dish.  Expertly crafted from one natural ingredient.
LEARN MORE
More Baking & Desserts recipes
Forgotten to soften the butter?
Grate butter coarsely, spread onto baking paper and stand for 10 minutes before using. Alternatively chop into 2cm cubes, microwave on 30% power in 10 second bursts until just softened.