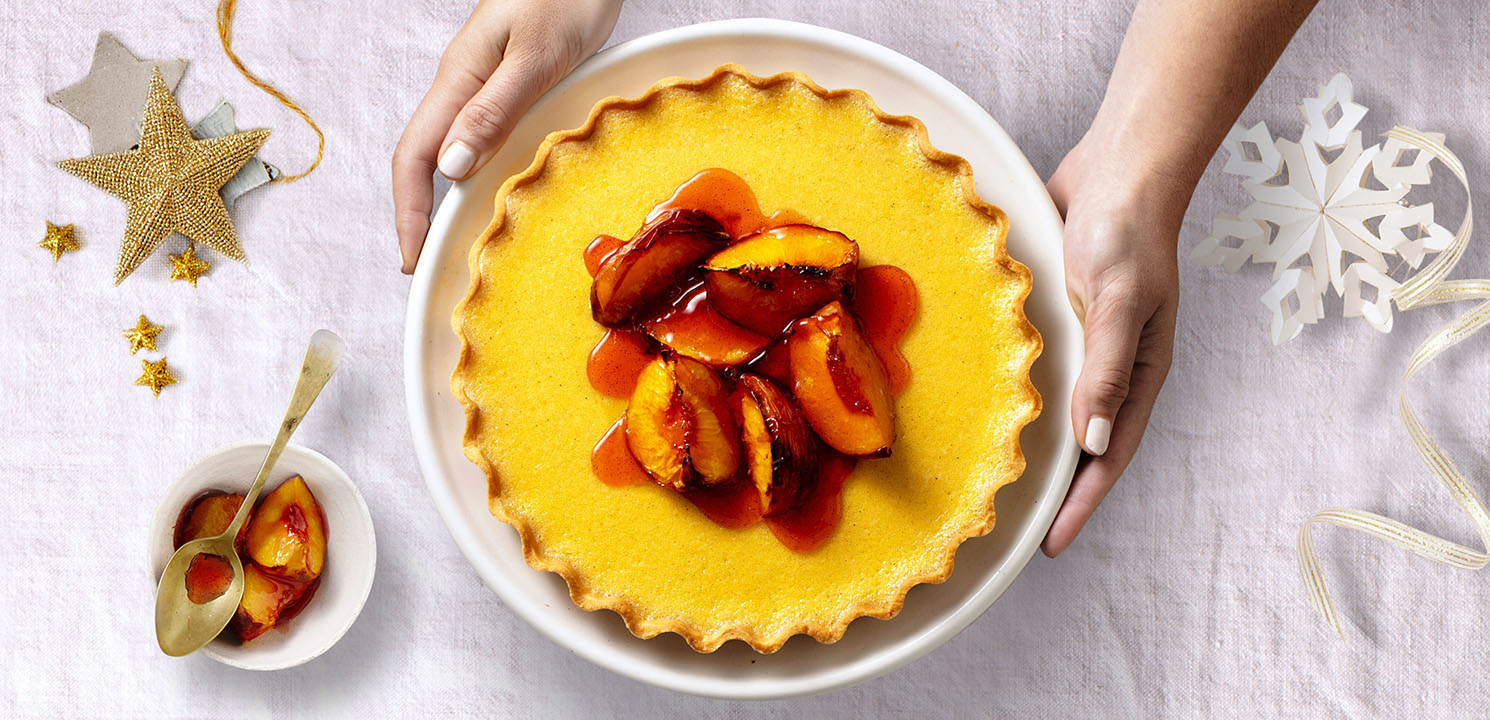 Baking & Desserts
Christmas spiced custard tart with honey roasted peaches
Prep 45 mins. /Cook 1h 40 mins.
serves 8
Easy
Christmas spiced custard tart with honey roasted peaches
Method
---
Note: This recipe requires chilling time
To make the pastry, place the flour, butter, icing sugar and salt into a food processor and whiz until the mixture resembles breadcrumbs. Add the yolk and water and process until the mixture comes together into a ball.

Pat the dough into a disc, cover with cling film and rest in the fridge for 30 minutes.

Preheat oven to 180°c. Flour the rested pastry disc and roll into a 34cm circle between 2 sheets of baking paper.

Use a floured rolling pin to gently lift the pastry and line a 24cm loose-bottomed tart tin. Prick the base all over with a fork, then trim off any excess. You can use offcuts to patch up if necessary. Place onto a flat baking sheet and refrigerate for a further 15 minutes.

Line the pastry with baking paper and fill with baking beans or ceramic baking weights. Place in the oven on a baking sheet. Cook for 15 minutes, then remove baking beans and baking paper and cook the pastry for a further 10 minutes, or until cooked through and lightly coloured. Remove both the tart tin and baking tray from the oven, as it will make it easier to handle.

For the custard filling, turn the oven down to 140c. Pour the cream into a pan set over a medium heat and cook until just below boiling point. Place the remaining ingredients into a mixing bowl and whisk. Pour the hot cream into the egg mixture and whisk until combined. Strain into a jug.

To make the tart, place the tart tin onto a baking sheet in the oven. Keeping the oven door open, gently pour in the warm strained filling. Cook for 35 minutes or until the custard is just set. Remove from the oven and turn it up to 180c.

Allow the tart to cool while you cook the peaches. To prepare the peaches, halve them and cut into thick wedges. Tip into a small roasting tin and pour the orange juice on top. Drizzle with the honey and vanilla paste and stir to coat. Bake for 40 minutes or until softened, juicy and slightly tinged at the edges. Allow to cool.

Serve the cooled tart with the roasted peaches and drizzle over the peach juices.
More Tips
Try experimenting with different stone fruits, such as nectarines, plums or apricots.
For a more festive flourish you could add a dash or rum or brandy to the custard base.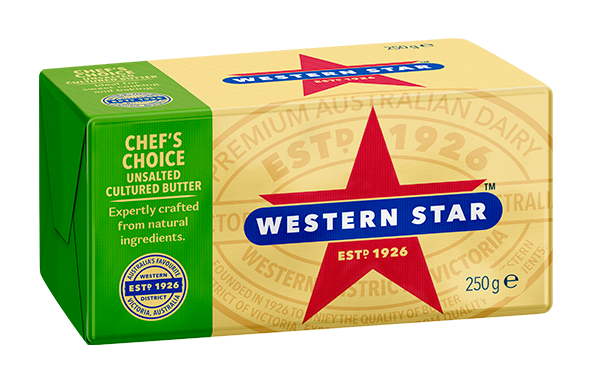 IN THIS RECIPE
Chef's Choice Unsalted Cultured Butter
Western Star Chef's Choice Premium Cultured Unsalted is a premium quality butter that's noted for its extra creamier continental taste and texture. A creamier fresh tasting butter that's versatile and ensures great results every time.
LEARN MORE
More Baking & Desserts recipes