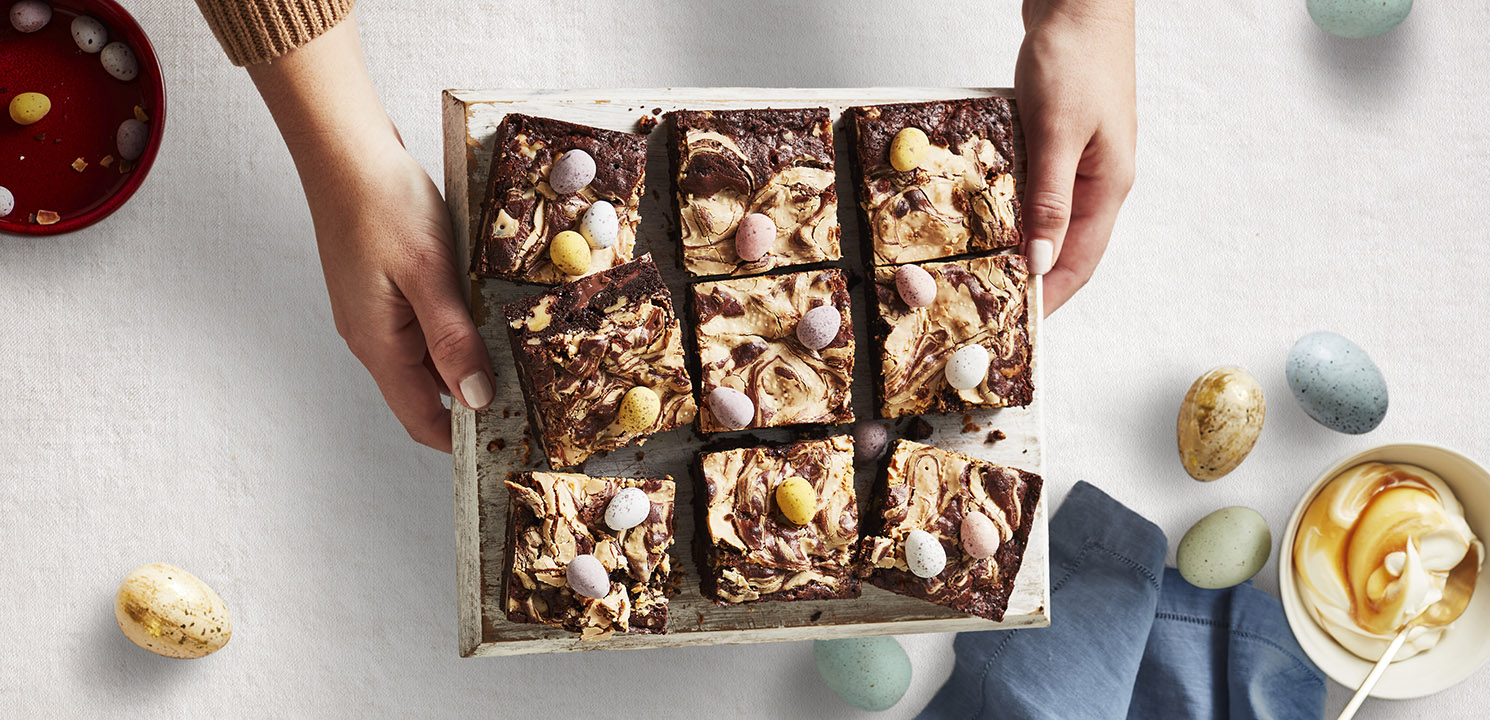 Baking & Desserts
Double choc walnut brownies with caramel cream
Prep 25 mins. /Cook 35 mins.
Serves 9
Easy
Double choc walnut brownies with caramel cream
Method
---
To make the brownies, preheat oven to 170°c. Line a 20cm square cake tin with baking paper.

Whisk the sugars, cocoa, flour and baking powder together in a large bowl. Beat in the butter and eggs. Fold in the dark chocolate and walnuts until evenly distributed.

Pour into the prepared tin and add the white chocolate in spoonfuls, creating a swirly effect with a teaspoon.

Bake for 35 minutes. It should still be a little squidgy inside. While still hot, gently press the Easter eggs into the top of the brownie. Allow to cool in the tin for 10 minutes, then remove and cut into 9 pieces.

For the caramel cream, whisk the cream into soft peaks. Gently fold the caramel sauce into the whipped cream to create a rippled effect. Eat the brownies warm or at room temperature with a dollop of caramel cream.
More Tips
Try substituting walnuts for macadamias or pecans. Or omit completely for a nut-free version.
You can swap the dark chocolate with milk chocolate for a less intense cocoa hit.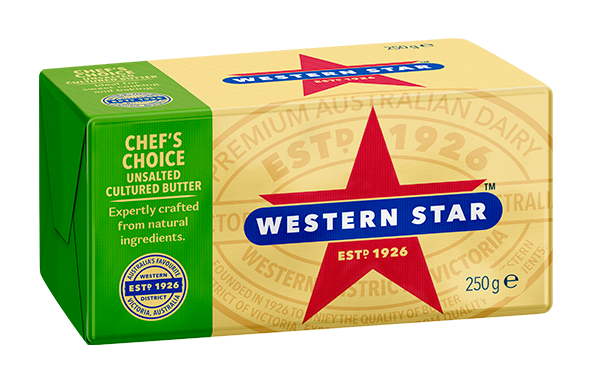 IN THIS RECIPE
Chef's Choice Unsalted Cultured Butter
When you really want your pastry and baking to shine, unsalted cultured butter delivers with that sought after creamier fresh tasting butter that is versatile and ensures great results every time. As an unsalted butter, Chef's Choice allows you full control over the seasoning of your dish. Winner of the Champion Butter award at the 2018 Australian Grand Dairy Awards, Western Star Chef's Choice Unsalted Cultured Butter is a premium quality butter, celebrated for its extra creamy continental taste and texture. Western Star has been Crafting Butter in Victoria since 1926 when the leading butter makers in the Western District came together. Over 95 years later and trusted for generations, Western Star truly is Australia's Favourite
LEARN MORE
More Baking & Desserts recipes