Method
---
Note: this recipe requires an additional 20 minutes for resting.

Pound the salt, pepper and fennel in a mortar and pestle into a coarse powder.

Pat the surface of the meat dry with paper towel and rub the fennel salt all over the surface. Scatter the onion, carrot and celery in the base of a flameproof baking dish and top with the pork.

Bake at 230°C for 15 minutes. Reduce the heat to 180°C and bake for a further 45 minutes or until cooked. Remove pork from pan, cover with foil and stand in a warm place for 20 minutes.

Pour juices from pan through a strainer into a jug and stand for 5 minutes before spooning off and discarding fat.

Place the baking dish over moderate heat, add the port, wine, stock, cinnamon stick and rosemary and cook, scraping dish to dislodge any cooked on pork remnants from the bottom of the dish. Pour the skimmed cooking juices back into the pan along with any from the resting meat. Strain sauce through a fine sieve into a saucepan, add the figs and simmer gently for 10 minutes to reduce and thicken slightly. Remove cinnamon stick and rosemary if desired. Gradually whisk in the butter, a cube at a time melting between each addition. Keep warm while carving meat.
More Tips
Ask your butcher to 'chine' the pork rack, this will allow easy slicing once it's cooked.
Stand pork rack at room temperature for 30-60 minutes before cooking, depending on the weather.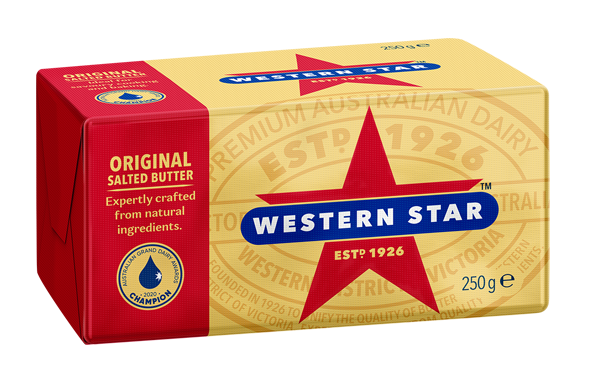 IN THIS RECIPE
Original Salted Butter
Western Star is Australia's favourite butter. It's a classic, pure creamery butter with a rich satisfying, five-star taste. Winner of Champion Butter at the 2019 Australian Grand Dairy Awards, this product sets the benchmark by which all other butters are judged. Expertly crafted from only two natural ingredients, cream and salt.
LEARN MORE
More Mains recipes
Pine nut and herb crusted fish - in a hurry!
Combine melted Western Star Butter with a handful of breadcrumbs, raw pine nuts and fresh herbs of choice, press onto one side of a skinless white fish fillet. Bake at 200°C for 10-15 minutes or until golden.