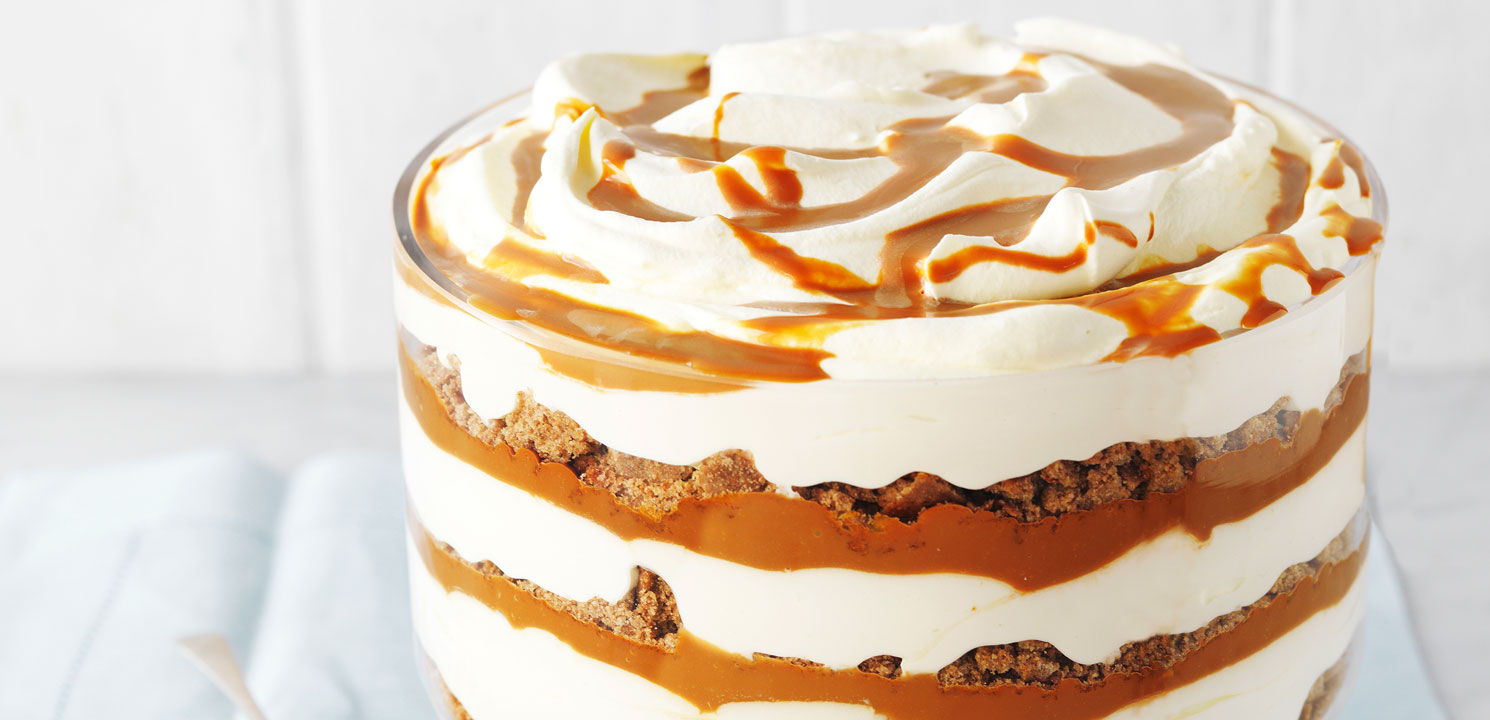 Baking & Desserts
Gingerbread and Caramel Trifle
Prep 25 mins. /Cook 22 mins.
Serves 8-10
Average
Gingerbread and Caramel Trifle
Method
---
Gingerbread
Melt butter, brown sugar and golden syrup together in a saucepan, stirring until smooth. Cool slightly.

Whisk egg and butter mixture in a large bowl. Sift flour, spices and bicarbonate of soda over the butter mixture and mix until combined into a smooth dough. Flatten into a disc shape, cover with plastic wrap and refrigerate for 30-40 minutes or until just firm.

Preheat oven to 180°C (fan forced). Roll out one-third of the dough on baking paper to 5mm thick. Cut into gingerbread men using 10 cm and 8 cm gingerbread man cutter and place on a baking tray lined with baking paper. Cook for 8-10 minutes or until golden brown. Cool completely. Decorate the gingerbread men using a white icing pen to draw faces and buttons.

Roll out the remaining gingerbread dough into a 1 cm thick (25 cm x 30 cm) rectangle. Place on a large baking tray lined with baking paper and cook for 10-12 minutes, or until golden brown. Cool completely.
Trifle
Whip the cream in a large bowl using a hand-held mixer until firm peaks.

Put the caramel and water in a small bowl and mix to combine.

To assemble. Crumble the gingerbread slab into pieces. Place one third of the gingerbread pieces into a trifle dish. Top with one third of the cream and half the caramel. Swirl the caramel into the cream. Repeat with another third of the remaining gingerbread pieces and cream and remaining caramel. Swirl the remaining cream on top. Place the gingerbread men on top.

Serve with fresh seasonal fruit.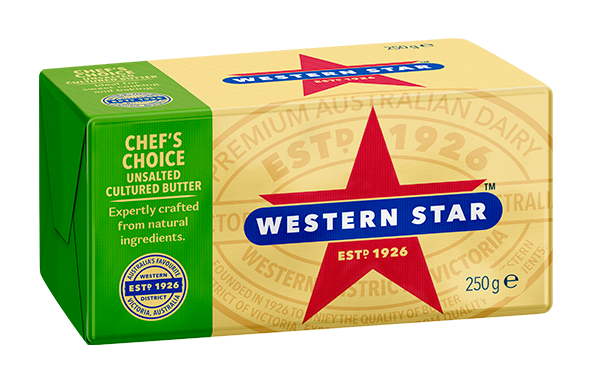 IN THIS RECIPE
Chef's Choice Unsalted Cultured Butter
When you really want your pastry and baking to shine, unsalted cultured butter delivers with that sought after creamier fresh tasting butter that is versatile and ensures great results every time. As an unsalted butter, Chef's Choice allows you full control over the seasoning of your dish. Winner of the Champion Butter award at the 2018 Australian Grand Dairy Awards, Western Star Chef's Choice Unsalted Cultured Butter is a premium quality butter, celebrated for its extra creamy continental taste and texture. Western Star has been Crafting Butter in Victoria since 1926 when the leading butter makers in the Western District came together. Over 95 years later and trusted for generations, Western Star truly is Australia's Favourite
LEARN MORE
More Baking & Desserts recipes
Which butter should I use to make sweet pastries?
We recommend Chef's Choice - it's higher fat content and creamier finish makes it ideal for sweet pastries.