Method
---
Download paper templates for gingerbread house and cut out each piece: two 13 cm x 18 cm rectangles for the roof, two 10 cm x 15 cm rectangles for the side walls, and two 10 cm x 18 cm rectangles for the front and back walls. Trim corners of front and back walls to make two 10 cm gables. Cut the door shape.

Melt salted butter, brown sugar and golden syrup together in a saucepan, stirring until smooth. Cool slightly.

Whisk egg and butter mixture in a large bowl. Sift flour, spices and bicarbonate of soda over the butter mixture and mix until combined into a smooth dough. Flatten into a disc shape, cover with plastic wrap and refrigerate for 1 hour or until just firm.

Preheat oven to 180°C (160°C fan forced). Roll dough, in several batches, between sheets of baking paper until 5 mm thick. Use templates to cut shapes from dough. Carefully transfer shapes to baking paper lined baking trays. Bake for 10-12 minutes. Stand on trays for 5 minutes before transferring to wire racks to cool.

Meanwhile, make royal icing. Beat egg whites until foamy then gradually beat in icing sugar until piping consistency. Spoon some icing into a piping bag fitted with a small star-shaped nozzle.

Spoon some icing into a piping bag fitted with a small star-shaped nozzle. Pipe a lattice pattern onto the roof pieces. Decorate with the red M & Ms. Allow to set.

To make the pretzel stain-glass windows, cut out pieces of the red sour straps to fit the pretzel shape. Assemble and attach one each of these using royal icing onto the front and back walls and two each onto the side walls. Allow to set.

Using royal icing, attach the door onto the front wall beneath the pretzel window. Add a red heart securing with a dab of royal icing. And pipe a little royal icing over the top of the door to resemble fallen snow.

Once the individual pieces have dried, it's time to put it all together. Assemble the house on wooden board, securing roof and walls together with the royal icing. Use royal icing to attach the candy cane and the liquorice twists on either side of the front of the house.

Finish decorating the eaves with royal icing to look like fallen snow. Dust the board around the house with desiccated coconut and the entire house with icing sugar.
More Tips
Gingerbread can be made up to a week ahead, store in an airtight container. The house can be assembled 5 days ahead, keep covered in a cool dry place.
Gingerbread House templates, please visit link: https://westernstarbutter.com.au/content/dam/westernstar/recipe-templates/Gingerbread-House-Templates-A4.pdf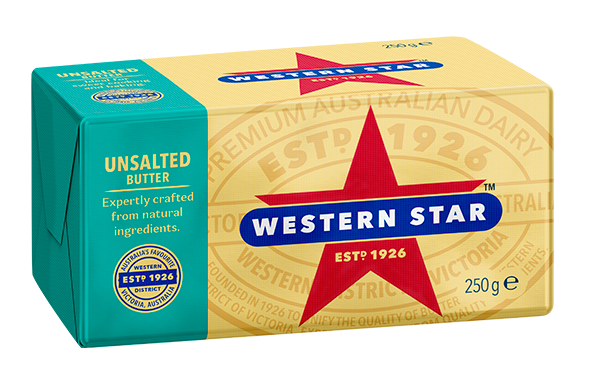 IN THIS RECIPE
Unsalted Butter
Western Star Unsalted is a great regular unsalted butter that is suitable for everyday cooking and baking needs.  It allows the cook to regulate the seasoning required for the dish.  Expertly crafted from one natural ingredient.
LEARN MORE
More Baking & Desserts recipes
Should I grease my baking tins?
This helps stop food sticking. Brush the tin with melted butter or use some baking paper with a little butter on it to rub around the inside of the tin.