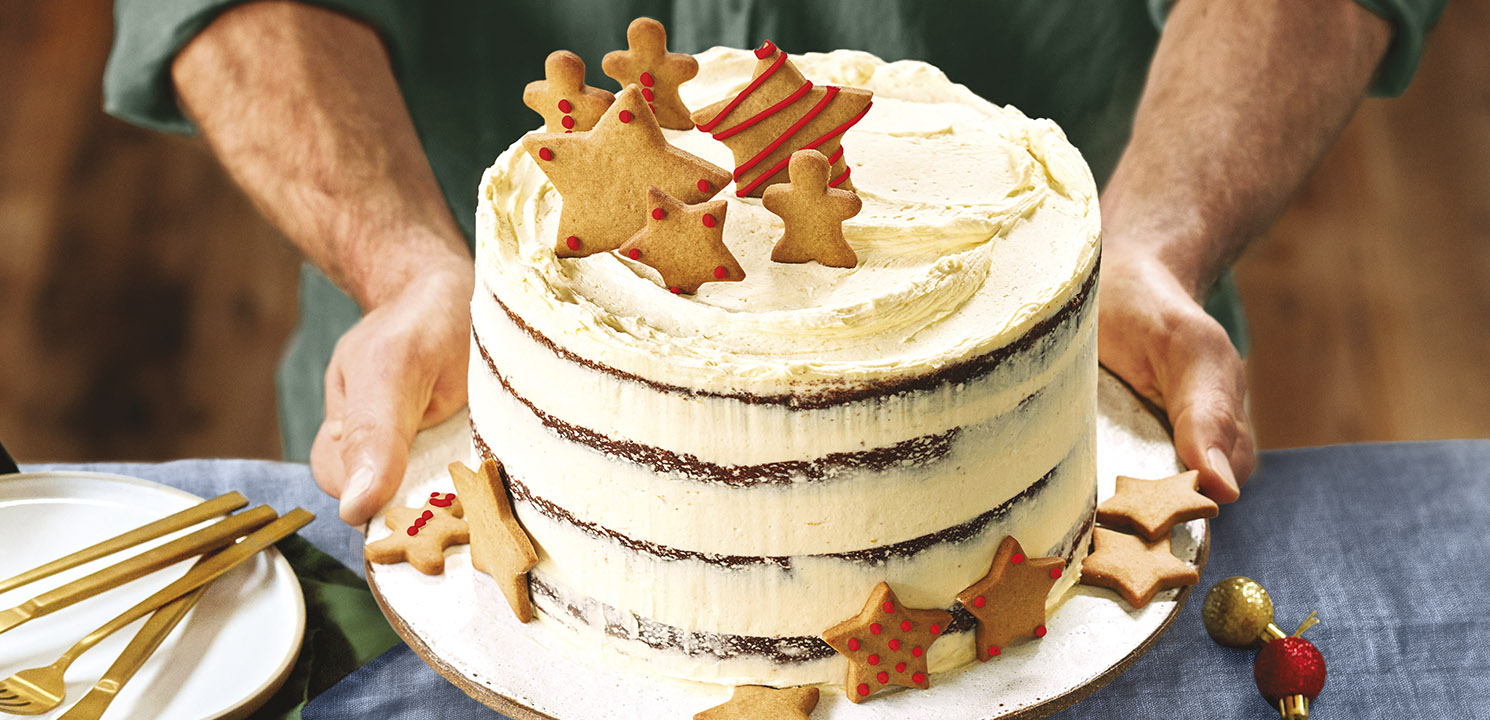 Baking & Desserts
Gingerbread layer cake
Prep 50 mins. /Cook 2h 0 mins.
Serves 24
Average
Gingerbread layer cake
Method
---
Preheat oven to 160C. Line 2 x 23cm round cake tins with baking paper.

To make the ginger cake, place all ingredients into the bowl of an electric mixer (note, depending on the size of your mixer this may have to be done in 2 parts). Using the paddle attachment mix on low speed until well combined. Increase to medium speed and mix for a further 5 mins. Divide the mixture evenly between the cake pans and bake for 45-50 mins, or until a skewer inserted into the centre of the cakes comes out clean. Cool in the tin for 10 mins before turning out onto a wire rack to cool completely.

To make the gingerbread biscuits, place the water, sugar, golden syrup, and spices into a saucepan and bring to the boil over medium heat, stirring often. Add the butter and stir until melted. Add the bicarb soda, remove from heat, and allow to cool until just warm. Add the flour and mix until a dough forms, wrap in gladwrap and chill in the fridge for at least an hour.

Preheat oven to 160C and line a baking tray with baking paper.

Lightly flour the bench and roll out the dough to 5mm thick. Use cookie cutters to cut out shapes and place on the baking tray. Bake for 8-10 mins or until firm. Cool completely on a wire rack before icing.

Once the gingerbread biscuits are cool, place the egg white into the bowl of a stand mixer and beat until soft peaks form. Gradually add the icing sugar and beat until still peaks form. Place icing into a piping bag and pipe decorations onto biscuits.

To make the buttercream, place the butter into the bowl of a stand mixer and mix on medium high speed for 5 mins.

Reduce the speed to low and add the sugar, vanilla and orange zest. Once combined mix on high for 8 mins until fluffy. If the buttercream is too stiff, add the milk a small amount at a time until the desired consistency is achieved.

To assemble the cake, use a serrated knife to cut each cake in half horizontally. Place 1 layer of cake on a serving plate and spread evenly with a little of the buttercream. Top with another layer of cake. Continue layering with buttercream and remaining cake layers. Spread the top and sides of cake with remaining buttercream.

Decorate with gingerbread biscuits and stars.
More Tips
Try adding other flavours to the butter cream such as lemon zest or ground ginger.
Experiment with other gingerbread shapes to truly personalise your cake.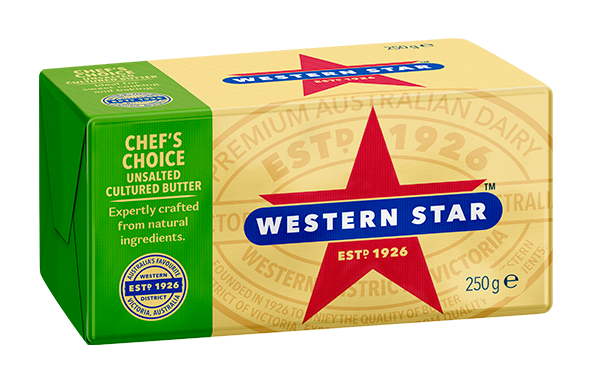 IN THIS RECIPE
Chef's Choice Unsalted Cultured Butter
Western Star Chef's Choice Premium Cultured Unsalted is a premium quality butter that's noted for its extra creamier continental taste and texture. A creamier fresh tasting butter that's versatile and ensures great results every time.
LEARN MORE
More Baking & Desserts recipes
Should I grease my baking tins?
This helps stop food sticking. Brush the tin with melted butter or use some baking paper with a little butter on it to rub around the inside of the tin.