Method
---
Note: This is based on a standard star cutter set available from most good kitchenware stores.
Melt salted butter, brown sugar and golden syrup together in a saucepan, stirring until smooth. Cool slightly.

Whisk egg and butter mixture in a large bowl. Sift flour, spices and bicarbonate of soda over the butter mixture and mix until combined into a smooth dough. Flatten into a disc shape, cover with plastic wrap and refrigerate for 1 hour or until just firm.

Divide dough in half. Roll each half between sheets of baking paper until 5 mm thick. Refrigerate for 30 minutes.

Preheat oven to 180°C / 160°C fan forced. Line baking trays with baking paper.

Using the cookie cutters, cut eight stars for each cutter size (4 cm, 6 cm, 7 cm, 8 cm 9 cm stars) from dough. You will have 40 stars in total. Cut out an extra four 4 cm stars to use to top the tree. Transfer stars to prepared trays. You will need to re-roll the dough several times to get the correct number of stars. Bake stars for 10-12 minutes. Cool on trays.

Meanwhile, make royal icing. Beat egg white until foamy then gradually beat in icing sugar until smooth and spreadable.

Reserve 4 of the 4 cm stars and set aside. For the remaining stars, working with one star at a time, spread with royal icing and dip into a bowl containing hundreds and thousands. Set aside to set.

While the iced stars are setting, roll out the fondant to 1 cm thick. Using the 4 cm star cutter, cut out 4 fondant stars. Attach them to the reserved 4 cm gingerbread stars with a little royal icing. Set aside.

Assemble trees by joining each star offsetting slightly with another same-sized star. Continue stacking with the stars grading from the largest at the bottom reducing in star size as you stack until you have 4 trees. Top each tree with the red fondant stars standing upright. If you have any royal icing remaining, add a little bit of the icing to the tips of some of the stars to look like snow dripping off the tree.
More Tips
If you feel like your stars aren't going to hold or are leaning dramatically, dab a little royal icing to the base of each star to help it stick.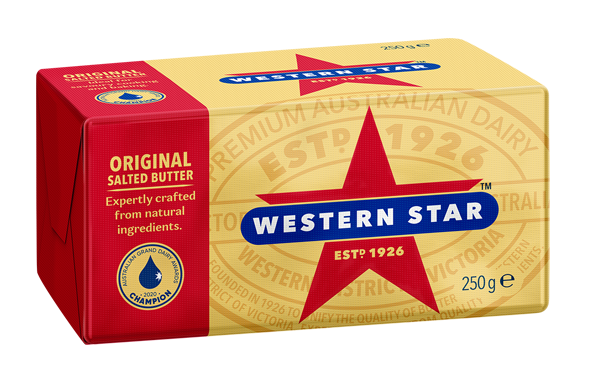 IN THIS RECIPE
Original Salted Butter
Salted butter is a versatile cooking staple. Expertly crafted at Cobden, Western Victoria, from only two natural ingredients, Australian cream and salt, to deliver a classic, pure creamery butter with a rich satisfying, five-star taste. This pure salted butter enhances the flavour of food while adding an exceptional creamy texture. Winner of Champion Butter at the 2020 Australian Grand Dairy Awards, this product sets the benchmark by which all other butters are judged. Western Star has been Crafting Butter in Victoria since 1926 when the leading butter makers in the Western District came together. Over 95 years later and trusted for generations, Western Star truly is Australia's Favourite.
LEARN MORE
More Baking & Desserts recipes
Should I grease my baking tins?
This helps stop food sticking. Brush the tin with melted butter or use some baking paper with a little butter on it to rub around the inside of the tin.