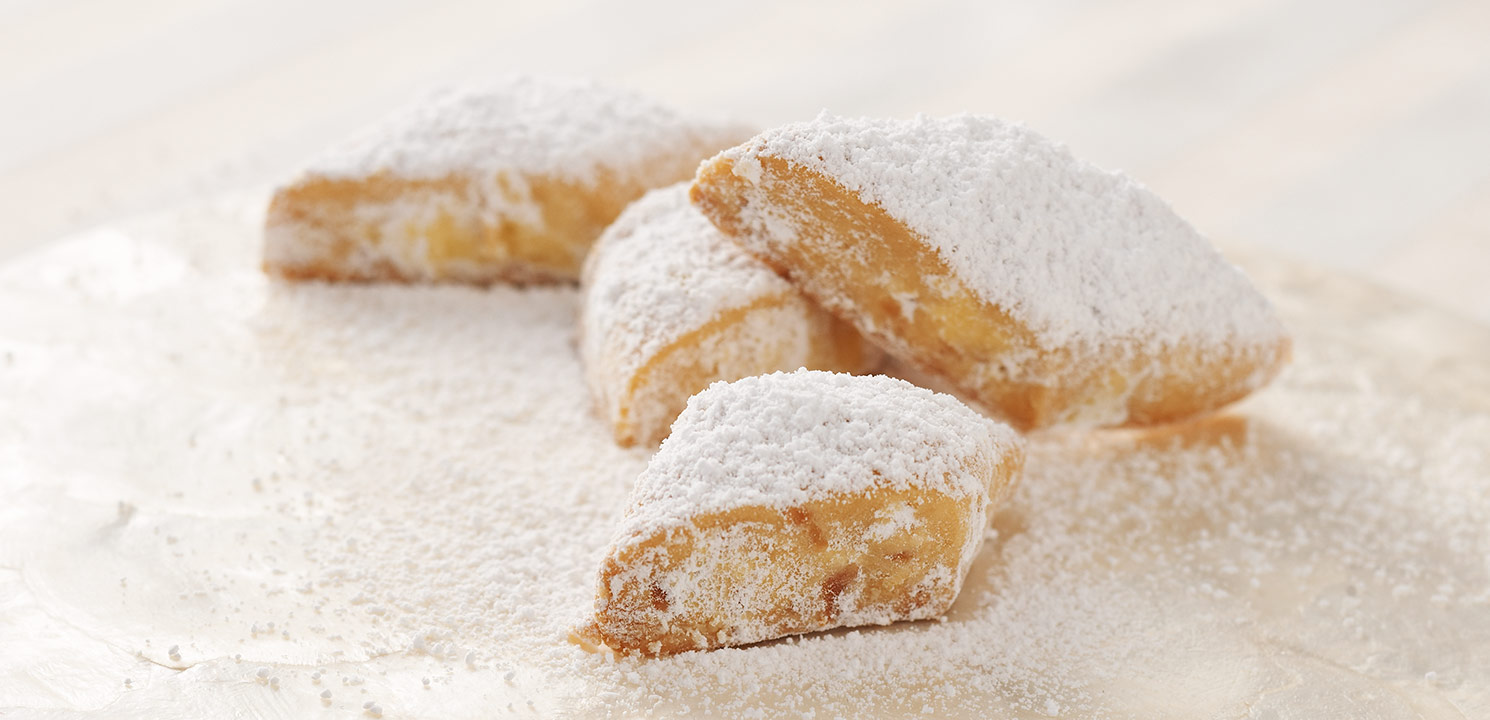 Baking & Desserts
Greek Almond Shortbread Diamonds (Kourambiedes)
Prep 35 mins. /Cook 35 mins.
Makes 28
Average
Greek Almond Shortbread Diamonds (Kourambiedes)
Method
---
Note: this recipe requires an additional 10 minutes for resting.
Beat butter with an electric mixer for approximately 15 minutes, until light, creamy and almost white in colour. Add icing sugar and continue beating for a further 5 minutes. Add yolks, ouzo, almonds and vanilla and beat until well combined.

Sift flours and baking powder into butter mixture and stir with a large metal spoon, until mixture forms a dough. Turn onto a lightly floured surface and knead gently until smooth. Cover and rest for 10 minutes.

Divide mixture into 4 and press each into a long sausage shape, approximately 4cm x 30cm long. Using a sharp knife cut dough on an angle at 4 cm intervals. Transfer 'diamonds' to paper lined baking trays, allowing a little room for spreading. Bake at 150°C for 30-35 minutes until golden.

Drizzle each biscuit with a few drops of ouzo, immediately on removal from oven. Roll hot biscuits in extra icing sugar and transfer to a cooling rack. Sift remaining icing sugar over biscuits and allow to cool completely before transferring to an airtight container.
More Tips
Biscuits will keep for 1 month in an airtight container, stored in a cool place.
Traditionally, when baking Greek biscuits, it's customary to make them in large quantities, to give away as a gift or offering to family and friends.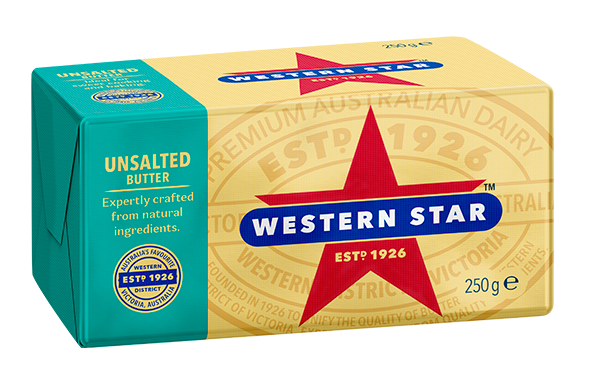 IN THIS RECIPE
Unsalted Butter
Western Star Unsalted is a great regular unsalted butter that is suitable for everyday cooking and baking needs.  It allows the cook to regulate the seasoning required for the dish.  Expertly crafted from one natural ingredient.
LEARN MORE
More Baking & Desserts recipes
Forgotten to soften the butter?
Grate butter coarsely, spread onto baking paper and stand for 10 minutes before using. Alternatively chop into 2cm cubes, microwave on 30% power in 10 second bursts until just softened.