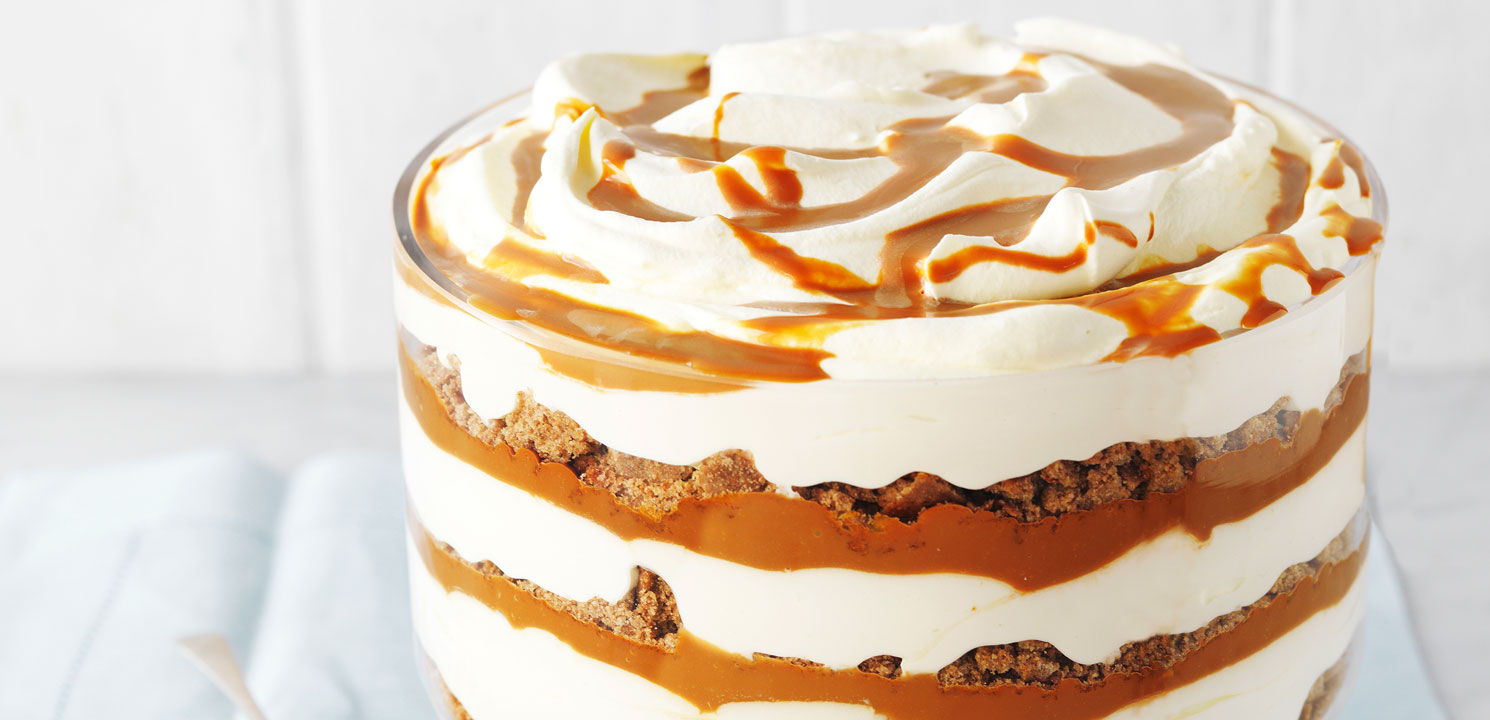 Baking & Desserts
Gingerbread and Caramel Trifle
Prep 25 mins. /Cook 22 mins.
Serves 8-10
Easy
Gingerbread and Caramel Trifle
Method
---
Gingerbread
Melt butter, brown sugar and golden syrup together in a saucepan, stirring until smooth. Cool slightly.

Whisk egg and butter mixture in a large bowl. Sift flour, spices and bicarbonate of soda over the butter mixture and mix until combined into a smooth dough. Flatten into a disc shape, cover with plastic wrap and refrigerate for 30-40 minutes or until just firm.

Preheat oven to 180°C (fan forced). Roll out one-third of the dough on baking paper to 5mm thick. Cut into gingerbread men using 10 cm and 8 cm gingerbread man cutter and place on a baking tray lined with baking paper. Cook for 8-10 minutes or until golden brown. Cool completely. Decorate the gingerbread men using a white icing pen to draw faces and buttons.

Roll out the remaining gingerbread dough into a 1 cm thick (25 cm x 30 cm) rectangle. Place on a large baking tray lined with baking paper and cook for 10-12 minutes, or until golden brown. Cool completely.
Trifle
Whip the cream in a large bowl using a hand-held mixer until firm peaks.

Put the caramel and water in a small bowl and mix to combine.

To assemble. Crumble the gingerbread slab into pieces. Place one third of the gingerbread pieces into a trifle dish. Top with one third of the cream and half the caramel. Swirl the caramel into the cream. Repeat with another third of the remaining gingerbread pieces and cream and remaining caramel. Swirl the remaining cream on top. Place the gingerbread men on top.

Serve with fresh seasonal fruit.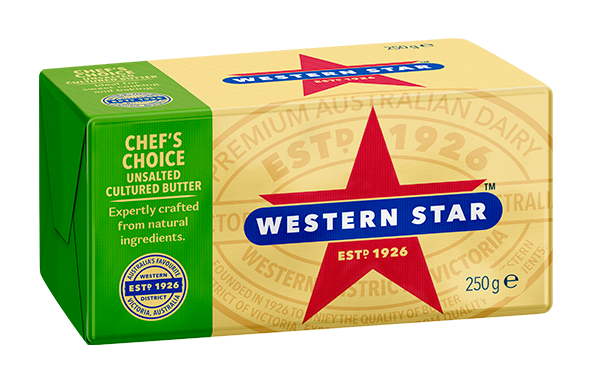 IN THIS RECIPE
Chef's Choice Unsalted Cultured Butter
Western Star Chef's Choice Premium Cultured Unsalted is a premium quality butter that's noted for its extra creamier continental taste and texture. A creamier fresh tasting butter that's versatile and ensures great results every time.
LEARN MORE
More Snack, Sides and Starters recipes
Pine nut and herb crusted fish - in a hurry!
Combine melted Western Star Butter with a handful of breadcrumbs, raw pine nuts and fresh herbs of choice, press onto one side of a skinless white fish fillet. Bake at 200°C for 10-15 minutes or until golden.