Sauces
Hollandaise Sauce
Prep 5 mins. /Cook 10 mins.
½ cup
Difficult
Hollandaise Sauce
Method
---
Place egg yolk and lemon juice into the bowl of a food processor and process until well combined.

With the motor running, slowly pour in 1 - 2 tbsps of butter at a time, processing for 30 seconds between each addition.

Season the sauce with salt and extra lemon juice to taste.

Serve over your favourite eggs. We suggest using toasted croissants, fried eggs and shaved ham to make an extra special breakfast for that festive occasion.
More Tips
Left over Christmas ham? The perfect excuse for eggs benedict on Boxing day morning!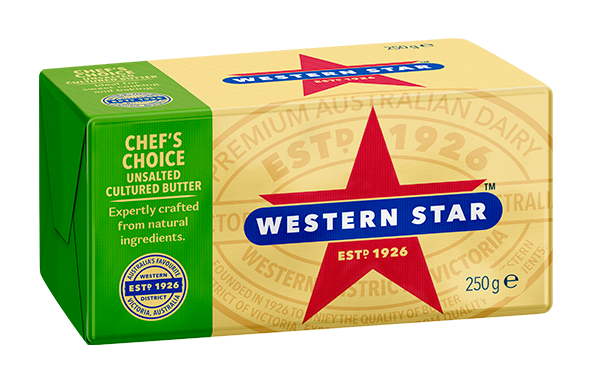 IN THIS RECIPE
Chef's Choice Unsalted Cultured Butter
When you really want your pastry and baking to shine, unsalted cultured butter delivers with that sought after creamier fresh tasting butter that is versatile and ensures great results every time. As an unsalted butter, Chef's Choice allows you full control over the seasoning of your dish. Winner of the Champion Butter award at the 2018 Australian Grand Dairy Awards, Western Star Chef's Choice Unsalted Cultured Butter is a premium quality butter, celebrated for its extra creamy continental taste and texture. Western Star has been Crafting Butter in Victoria since 1926 when the leading butter makers in the Western District came together. Over 95 years later and trusted for generations, Western Star truly is Australia's Favourite
LEARN MORE
More Sauces recipes
Delicious slow roasted tomoatoes
Simply slice roma tomatoes in half, lay cut side up on a lined baking tray, season with salt and pepper, and top each tomato with a slice of garlic and a knob of butter. Bake at 140°-150°C for 1-2 hours or until done to your liking. Use in salads, antipasto or simply enjoy on fresh bread!