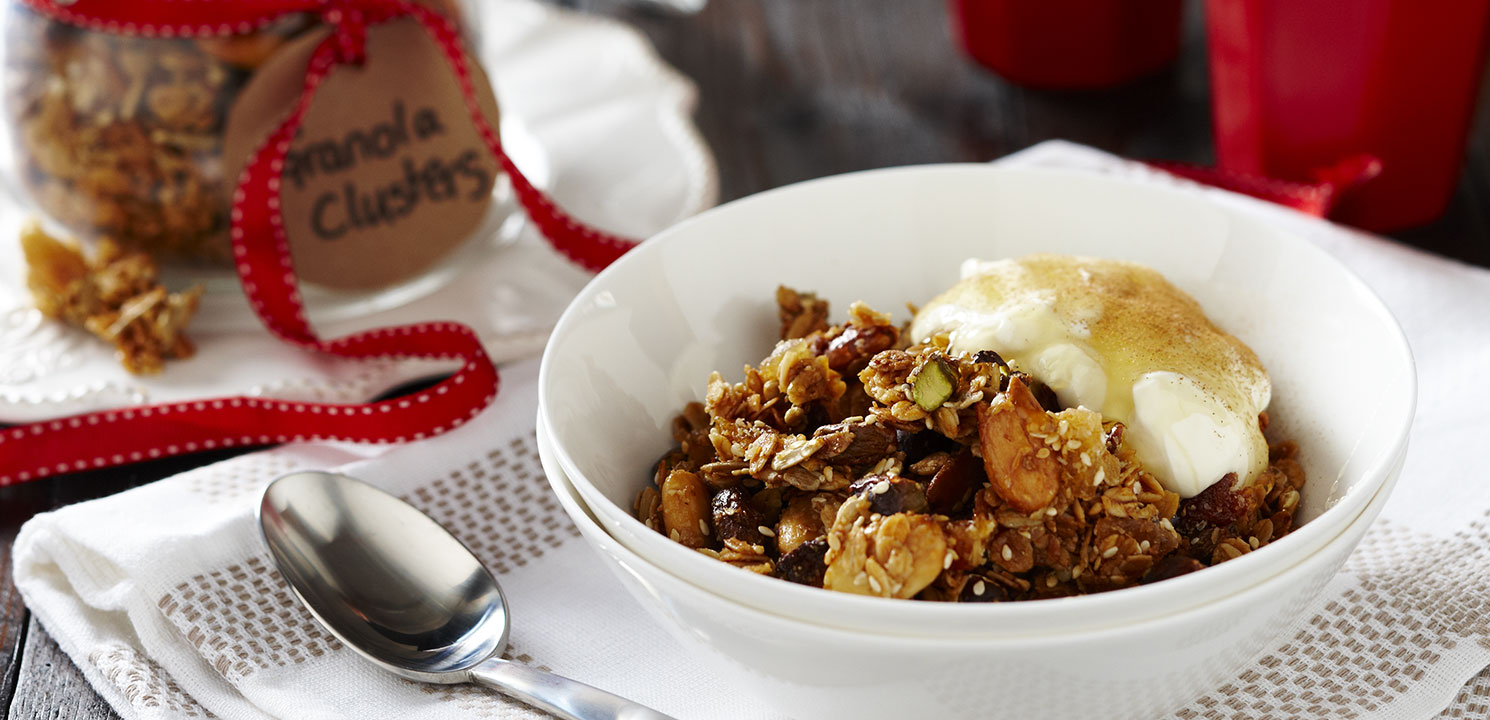 Breakfast
Homemade Granola Clusters
Prep 5 mins. /Cook 40 mins.
Serves 10
Easy
Homemade Granola Clusters
Method
---
Heat butter, honey, sugar and orange rind in a small saucepan, stirring occasionally until bubbling.

Combine remaining ingredients in a large bowl and pour in the butter mixture, toss to coat. Spread the mixture onto a baking paper lined oven tray and bake at 180°C for 25-30 minutes or until golden (mixture may still feel a bit moist). Cool completely on tray, the mixture should be firm and stuck together.

Smash the granola into chunks using a spoon and transfer to airtight jars or containers for storing.
More Tips
Granola will keep in an airtight container for up to 1 month.
For a gift idea, tie a ribbon around the jar and attach a small wooden or metal scoop and a gift tag.
Serving Suggestions: Serve granola with Greek style natural yogurt, cinnamon and honey.
Serve cinnamon poached rhubarb topped with natural yogurt, honey and sprinkled with granola.
Stir 1 teaspoon vanilla bean paste into 1 cup natural yogurt and layer into glasses with ripe nectarines, raspberries and granola.
Top roasted peach halves with vanilla ice cream or double cream and sprinkle with granola for a quick dessert.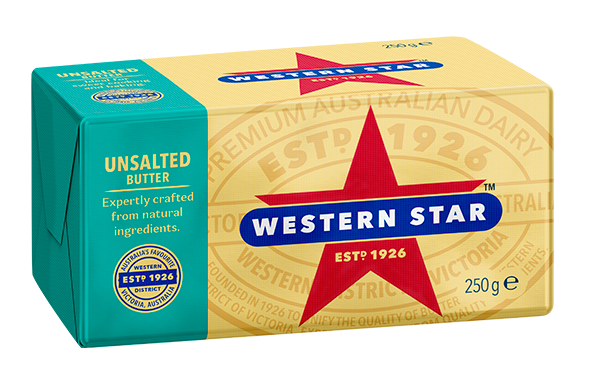 IN THIS RECIPE
Unsalted Butter
Western Star Unsalted is a great regular unsalted butter that is suitable for everyday cooking and baking needs.  It allows the cook to regulate the seasoning required for the dish.  Expertly crafted from one natural ingredient.
LEARN MORE
More Breakfast recipes
Delicious crunch on toasties?
Use Western Star Spreadable on the outside of your bread for a golden delicious crunch!