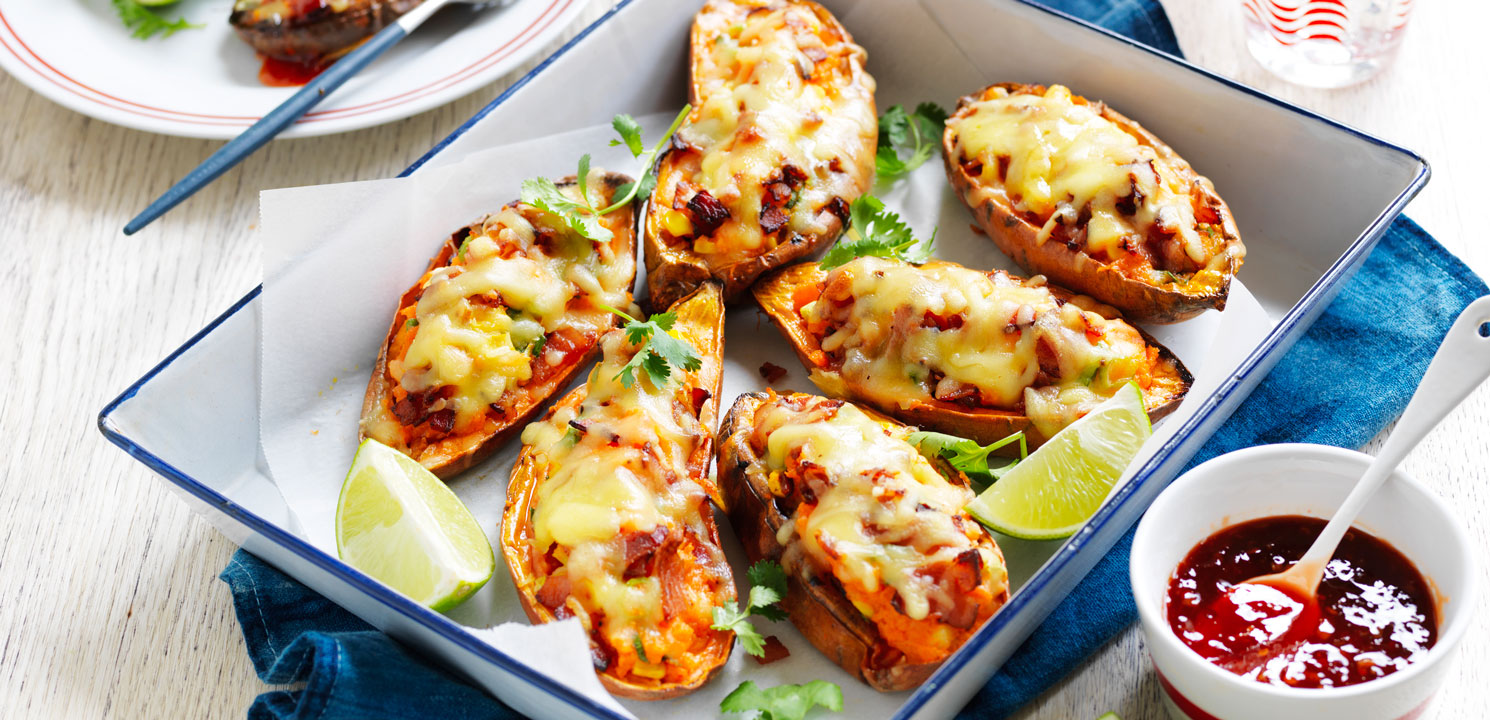 Snack, Sides and Starters
Loaded Sweet Potato Skins
Prep 20 mins. /Cook 1h 30 mins.
Serves 4
Average
Loaded Sweet Potato Skins
Method
---
Preheat oven to 200˚C fan-forced. Place sweet potatoes cut-side up on a large baking tray lined with baking paper. Bake for 1 hour or until tender when tested with a skewer. Remove sweet potatoes from oven; set aside to cool.

Using a spoon, scoop out flesh from the centre of each sweet potato, leaving a ½ cm shell of flesh, being careful not to tear the skin. Place sweet potato flesh into a bowl. Add 2 tablespoons Western Star Spreadable Original Soft and mash until smooth. Season with salt and pepper to taste. Stir in corn, spring onions and 1 cup Perfect Italiano 4 Cheese Melt. Mix until well combined.

Return sweet potato skins to the baking tray. Roast for 12-15 minutes until just crisp. Meanwhile, heat a non-stick frying pan over medium heat. Add remaining 2 tablespoons Western Star Spreadable Original Soft and heat until bubbling. Add bacon and cook, tossing often, until crisp. Drain on paper towel.

Spoon sweet potato mixture into skins. Sprinkle with bacon and remaining 1 cup Perfect Italiano 4 Cheese Melt. Bake for 12-15 minutes or until hot and cheese melts. Serve with sweet chilli sauce, lime wedges and a sprinkle of coriander leaves. Team with a leafy green salad, if liked.
More Tips
When selecting your sweet potatoes, choose even-sized, elongated rather than round sweet potatoes.
For an added flavour twist, add some Mexican spice to the mash mix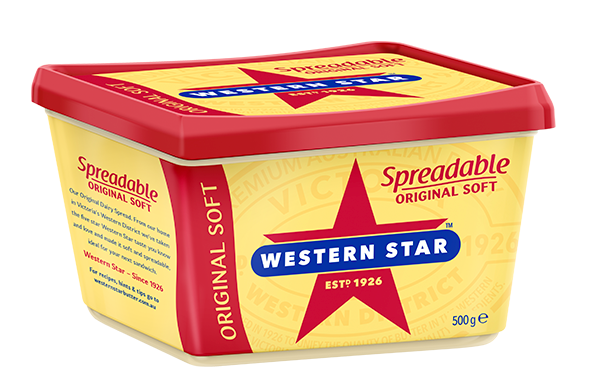 IN THIS RECIPE
Spreadable Original Soft
We've taken the five-star Western Star taste you know and love and made it soft and spreadable. Ideal for sandwiches, toast, pancakes and more.
LEARN MORE
More Snack, Sides and Starters recipes
Making a sauce?
Enrich wine based sauces by whisking in a large knob of cold butter at the very end, it will give your sauce a richness, shine and round off any acidic flavours.