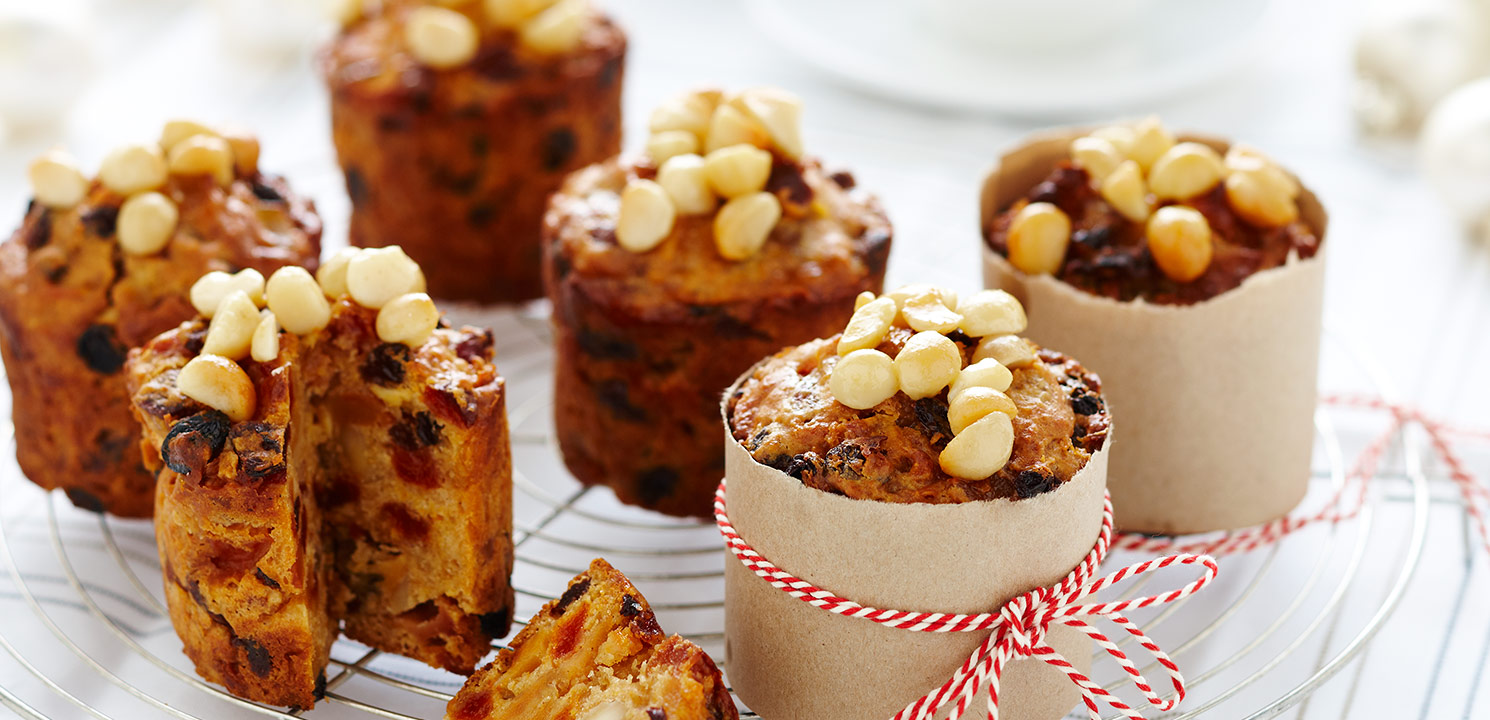 Baking & Desserts
Mini Blonde Christmas Cakes
Prep 10 mins. /Cook 1h 15 mins.
Makes 8
Easy
Mini Blonde Christmas Cakes
Method
---
Note: this recipe requires an additional 20 minutes for cooling.

Combine dried fruits, ginger, pineapple, sugar, butter and spices in a saucepan and bring to the boil stirring occasionally. Simmer for 5 minutes. Remove from heat and stir in macadamia nuts and bicarbonate of soda. Allow to cool.

Line the sides and base of 8 x 1 cup capacity dariole moulds with baking paper. Stir eggs and flours into fruit mixture and spoon into the moulds. Bake at 160°C for 45-50 minutes or until golden and cooked when tested with a skewer.

Combine remaining macadamia nuts, honey and butter and spoon over each cake. Return to the oven and bake for a further 8-10 minutes or until nuts are golden. Cool in moulds before turning out carefully.
More Tips
This is a great alternative for those who might not enjoy traditional Christmas cake. Bursting with Australian flavours like macadamia, pineapple and ginger, these cakes are deliciously moist and moreish!
Store cooled cakes in an airtight container, in a cool dark cupboard for up to 3 weeks.
Decorate with brown paper and twine and wrap in clear cellophane for a gorgeous gift idea.
1 cup capacity dariole moulds are available at specialty cookware stores, however, these cakes may be baked in a variety of individual cake pans or moulds, simply adjust the cooking time and test regularly with skewer.
Try baking these cakes in sturdy paper baking cases (used for panettone), they are often available in individual shapes from specialty stores.
More Baking & Desserts recipes
Forgotten to soften the butter?
Grate butter coarsely, spread onto baking paper and stand for 10 minutes before using. Alternatively chop into 2cm cubes, microwave on 30% power in 10 second bursts until just softened.