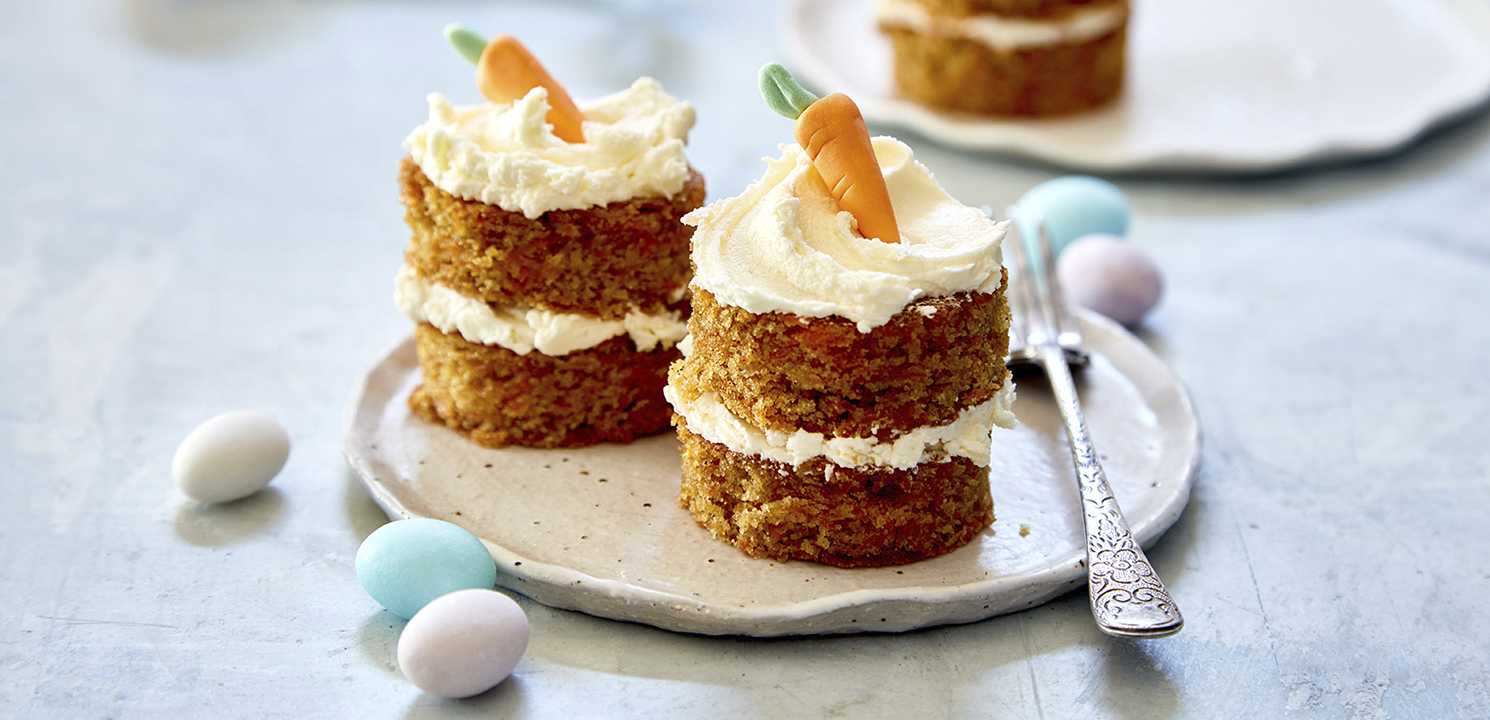 Baking & Desserts
Mini Carrot Layer Cakes
Prep 40 mins. /Cook 25 mins.
Makes 6
Average
Mini Carrot Layer Cakes
Method
---
Pre heat oven to 180°C and line a 25cm x 30cm (with at least 4cm high sides) baking tray with baking paper. Place the butter and sugars into the bowl of an electric mixer and beat on medium speed until pale in colour. Scrape down the sides of the bowl with a spatula before adding the eggs and continuing to mix on medium for a further 3 minutes.

Scrape down the sides of the bowl with a spatula, then while the mixer is on low slowly stream in the oil. Increase the speed of the mixer to high and beat until the batter has almost doubled in size, about 5 minutes.

Add the remaining ingredients except for the carrots and mix on a low speed until just incorporated, about 1 minute. Using a spatula fold in the carrots. Transfer the batter into the prepared cake pan.

Bake for 25 minutes or until just golden and the center springs back when touched. Let sit for 5 minutes before transferring to a cooling rack to cool completely.

Meanwhile add the cream cheese and butter to the bowl of an electric mixer and beat until combined. Lower the speed of the mixer to low and gradually add the icing sugar. Increase the mixer to medium high and beat for a further 2 minutes until light and fluffy. If your buttercream is to thick add a splash of milk.

Cut rounds of cake using a 6cm round cutter, and using a spatula spread frosting on each round before sandwiching 2 together to form your mini layer cakes. Decorate with mini carrot decorations, available at most good cake supply shops or a walnut. – (See tip)
More Tips
You can use any size round cutter that you have on hand. Your mini layer cakes will just be slightly smaller or larger.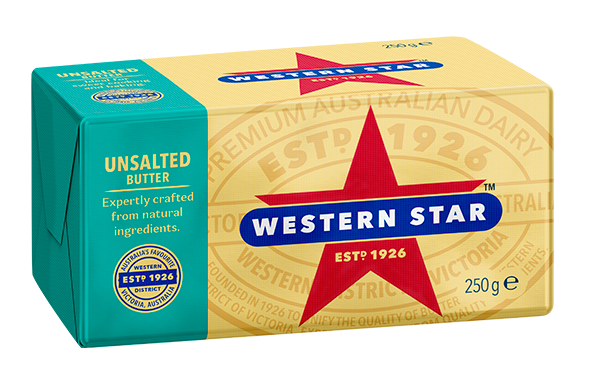 IN THIS RECIPE
Unsalted Butter
This versatile all-rounder gives you control of seasoning in the kitchen. We know that unsalted butter and everyday baking are a perfect match. But you don't have to relegate unsalted butter to only the world of sweet cooking. This pure unsalted butter is perfect for everyday cooking where you want to have control over the seasoning. Expertly crafted from one natural ingredient, Australian cream. Western Star has been Crafting Butter in Victoria since 1926 when the leading butter makers in the Western District came together. Over 95 years later and trusted for generations, Western Star truly is Australia's Favourite.
LEARN MORE
More Baking & Desserts recipes
Should I grease my baking tins?
This helps stop food sticking. Brush the tin with melted butter or use some baking paper with a little butter on it to rub around the inside of the tin.