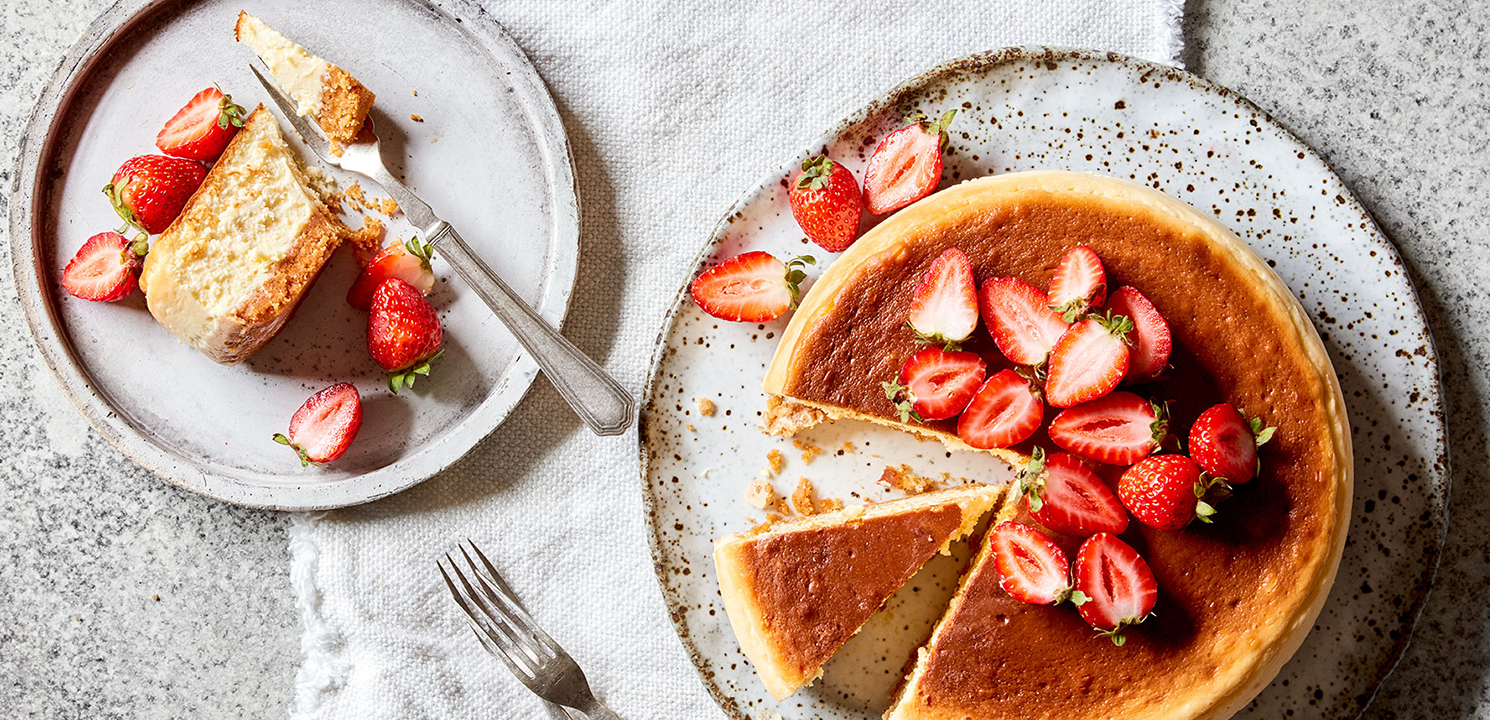 Baking & Desserts
New York Baked Cheesecake
Prep 15 mins. /Cook 1h 15 mins.
Serves 10
Easy
New York Baked Cheesecake
Method
---
Preheat oven to 175C. Line the base and sides of a 23cm springform cake tin with baking paper. Wrap the outside of the tin tightly with two layers of foil.

In the base of a food processor add the biscuits and blitz to make crumbs. Add the caster sugar (for base) and melted butter. Blitz again until just combined. Tip mixture into prepared tin and press firmly and evenly onto the base of the tin. Place into the oven and bake for 10 minutes. Remove and allow to cool completely.

Place the cream cheese into the base of an electric mixture and beat until smooth and creamy. Add the sugar and continue to mix until dissolved. Add the eggs, one at a time, and mix until well combined. Add the vanilla and cream and mix well. Set aside.

Boil the kettle. Pour cheesecake mixture over the cooled base. Place the filled cake tin into a large, deep roasting tin. Pace into the oven and then carefully fill the roasting tin with boiling water from the kettle until water reaches about 2cm deep up the sides of the tin. Bake for 1 hour and then turn off the oven, leaving the cheesecake in the oven to cool for one hour before removing. Do not open the oven door until the time has passed.

Refrigerate cheesecake for 2 hours or overnight before serving.
More Tips
Serving suggestion: Serve alongside fresh or frozen strawberries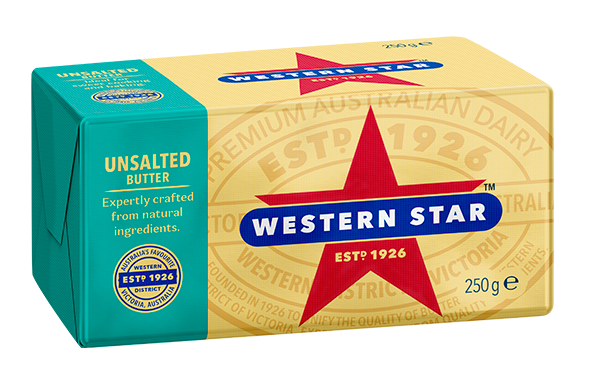 IN THIS RECIPE
Unsalted Butter
This versatile all-rounder gives you control of seasoning in the kitchen. We know that unsalted butter and everyday baking are a perfect match. But you don't have to relegate unsalted butter to only the world of sweet cooking. This pure unsalted butter is perfect for everyday cooking where you want to have control over the seasoning. Expertly crafted from one natural ingredient, Australian cream. Western Star has been Crafting Butter in Victoria since 1926 when the leading butter makers in the Western District came together. Over 95 years later and trusted for generations, Western Star truly is Australia's Favourite.
LEARN MORE
More Baking & Desserts recipes
Should I grease my baking tins?
This helps stop food sticking. Brush the tin with melted butter or use some baking paper with a little butter on it to rub around the inside of the tin.