Method
---
Note: this recipe requires an additional 15 minutes for resting.
Finely grate the rind from orange and remove the leaves from 10 sprigs of thyme. Combine butter, with rind, thyme leaves, parsley, 2 cloves crushed garlic and season with pepper.

Rinse the turkey inside and out, pat dry with paper towel. Using fingers, carefully loosen the skin from the breast meat to create a pocket all the way down the breast. Push the butter mixture under the skin and spread over the breast. Cut the orange into quarters and garlic bulb in half, tightly pack as much into the turkey cavity as possible along with the remaining thyme.

Use a skewer to secure the flap of skin at the neck of the turkey, to the back. Tie the legs together with string and tuck the wing tips underneath the turkey. Gently rub salt and a little olive oil over the skin of the turkey.

Place celery, carrot and onion in the base of a deep heavy based roasting tray, rest turkey on the vegetables and pour white wine and chicken stock in the bottom of the baking dish, cover with aluminium foil and roast at 180°C for 1.5 hours. Remove the foil and roast for a further 1.5 hours* until golden, remove turkey from tray and rest for 10-15 minutes before carving.

For the gravy, strain the pan juices into a measuring jug, discard vegetables. Skim the fat off the juices and add enough chicken stock to the juices to make up 500ml liquid.

Melt butter in a heavy based saucepan over medium heat, scraping any baked on bits from the bottom. Add flour and cook stirring for 5 minutes, until beginning to brown. Whisk in white wine and pan juices, bring to the boil, whisking for 5 minutes, until thickened and golden. Season with pepper and serve hot with carved turkey slices.
More Tips
If the turkey browns too much in one area, cover the area with a little aluminium foil and continue roasting.
This orange and herb butter is also delicious stuffed under the skin of chicken when cooking a favourite roast chicken recipe.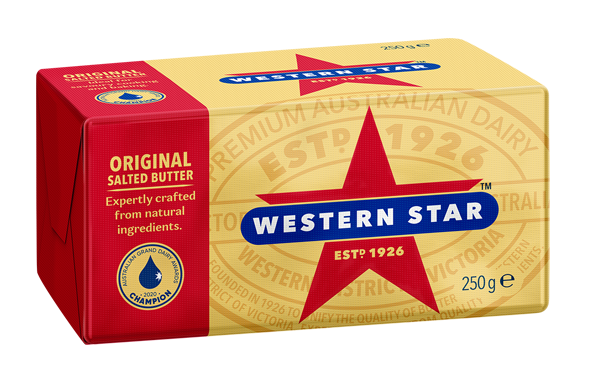 IN THIS RECIPE
Original Salted Butter
Western Star is Australia's favourite butter. It's a classic, pure creamery butter with a rich satisfying, five-star taste. Winner of Champion Butter at the 2019 Australian Grand Dairy Awards, this product sets the benchmark by which all other butters are judged. Expertly crafted from only two natural ingredients, cream and salt.
LEARN MORE
More Mains recipes
Chicken and Mushroom Risotto
Make Dinner a Winner with Chicken and Mushroom Risotto and Western Star™ Butter.
Cooking pasta?
Toss a knob of butter through pasta or couscous before serving for a glossy sheen and delicious buttery flavour!