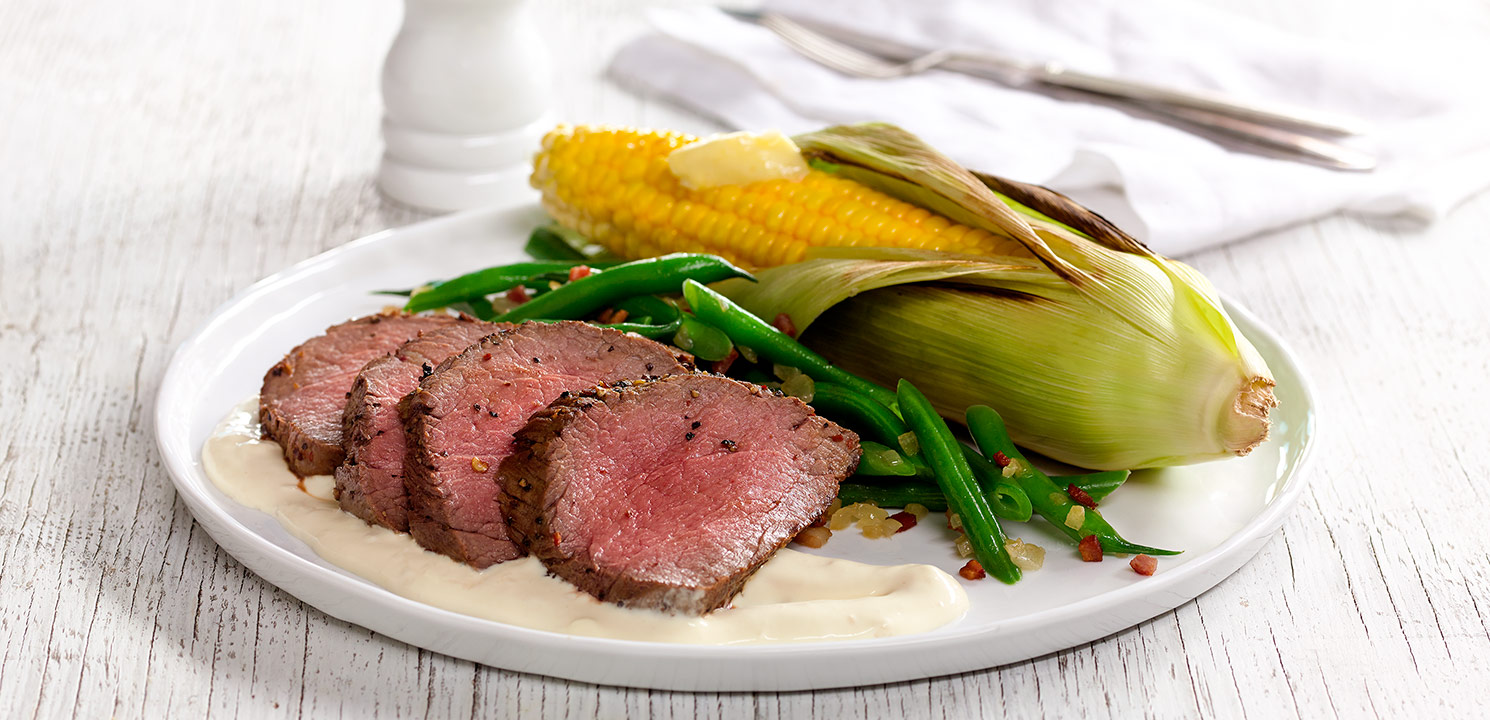 Mains
Peppered Beef with Texas Green Beans and BBQ Corn with Garlic Butter
Prep 1h 0 mins. /Cook 1h 30 mins.
serves 6
Easy
Peppered Beef with Texas Green Beans and BBQ Corn with Garlic Butter
Method
---
To make horseradish sauce, combine all ingredients in a bowl. Season. Set aside.

Preheat oven to 200C.

To prepare beef, brush with oil. Combine salt, pepper, chilli flakes and sugar in a bowl. Rub mixture all over beef. Stand until room temperature.

Heat a frying pan over medium-high heat. Cook beef, until browned all over. Transfer to the oven and roast for 45-60 minutes for rare, 60-75 minutes for medium or 75-90 minutes for well done. Remove from oven and rest, lightly covered with foil for 20 minutes.

Meanwhile, cook green beans in a large saucepan of boiling salted water for 1 minute. Drain.

Heat oil in a medium saucepan over medium heat. Cook onion until soft. Add bacon and cook until lightly browned. Stir in water and sugar. Season with ground black pepper. Add beans. Simmer until water has evaporated and beans are very tender.

To prepare corn, preheat a barbecue to medium.

Melt butter in a small saucepan. Add garlic and season. Simmer over lowest heat for 1-2 minutes for flavours to infuse, but do not allow to brown. Pull back husk (leaves) to expose corn. Brush with butter mixture and replace husk. Wrap each corn cob in foil. Cook on barbecue, turning occasionally, for about 20 minutes or until tender. Remove foil and barbecue for a further 5 minutes until husk is lightly charred. Remove from barbecue. Pull back a little of the husk and drizzle corn with any remaining butter mixture.

Serve beef, beans and corn with sauce.
More Tips
Try making the horseradish sauce a day or two in advance to allow for a more intense flavour.
For perfectly cooked meat, use a meat thermometer with the temperatures being 55-60C for rare, 65-70C for medium and 75C for well done, as recommended by Australia's Meat & Livestock Association.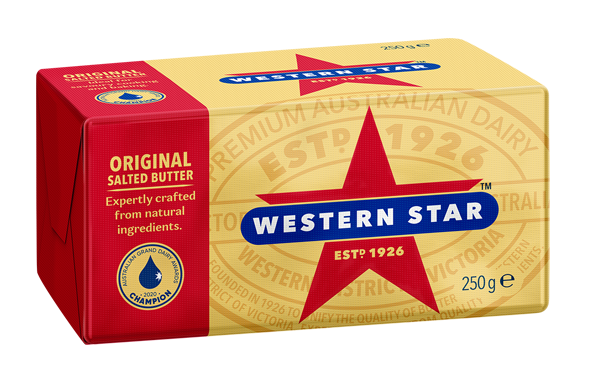 IN THIS RECIPE
Original Salted Butter
Western Star is Australia's favourite butter. It's a classic, pure creamery butter with a rich satisfying, five-star taste. Winner of Champion Butter at the 2019 Australian Grand Dairy Awards, this product sets the benchmark by which all other butters are judged. Expertly crafted from only two natural ingredients, cream and salt.
LEARN MORE
More Mains recipes
Saute with butter
Melt butter on a medium heat. The butter must be hot otherwise it will be absorbed and the food becomes soggy rather than crispy. The food should "sizzle" when added to the pan.