Method
---
Dissolve yeast and sugar in 2 cups lukewarm water, add 2 tablespoons melted butter.

Combine flour, rosemary, pepper and salt. Stir yeast mixture into flour until combined.

Turn dough onto a floured surface, and knead for 5-10 minutes adding a little more flour if necessary to form a smooth and elastic dough. Place dough in an oiled bowl and cover with lightly oiled plastic wrap, set aside in a warm spot for one hour, until doubled in size.

"Knock back" dough and knead lightly into a log, divide into 12 portions. Roll each portion out into a long, free form shape (around 30-40cm long) of around 1-2mm thickness.

Transfer dough to a lined baking tray and brush with butter before baking in batches at 180°C for 8 minutes, until just firm and pale, remove from baking tray, turn and cook directly on oven racks for a further 5 minutes until golden. Remove and cool completely on a wire rack (the wafers will crisp on cooling). Serve with antipasto, cheese or dips.
More Tips
These wafers can be stored in an airtight container for approximately 2 weeks.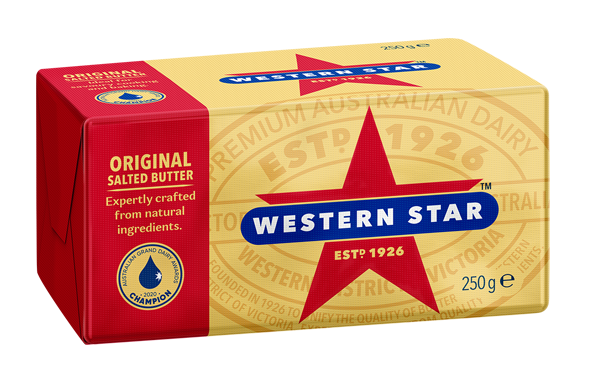 IN THIS RECIPE
Original Salted Butter
Western Star is Australia's favourite butter. It's a classic, pure creamery butter with a rich satisfying, five-star taste. Winner of Champion Butter at the 2019 Australian Grand Dairy Awards, this product sets the benchmark by which all other butters are judged. Expertly crafted from only two natural ingredients, cream and salt.
LEARN MORE
More Snack, Sides and Starters recipes
Croque Monsieur with Rosemary Butter
Croque Monsieur with Rosemary Butter made with Western Star Original Butter..
Forgot the garlic bread?
Combine Western Star spreadable with garlic, finely grated Parmesan cheese and chopped parsley and spread generously between slices of baguette. Wrap in foil and bake until golden and crunchy.