Ingredients
---
Flavour Variation: Ham and Corn
Flavour Variation: Spinach Mustard and Feta
---
Method
---
Combine flour, cheese and parsley in a bowl.

Add butter, milk, egg and chosen flavouring and stir with a large metal spoon until just combined. Do not over mix.

Spoon mixture into 12 x 1/3 cup capacity buttered muffin pans.

Bake at 180°C for 15-20 minutes or until golden and cooked.
More Tips
This recipe can also be made in mini muffin pans, simply reduce cooking time to 10 minutes.
Muffins are best made and eaten on the same day, however day old muffins can be freshened by warming in the microwave.
Muffins can be individually wrapped and frozen for school lunch boxes.
Try out your own flavour variations with these muffins.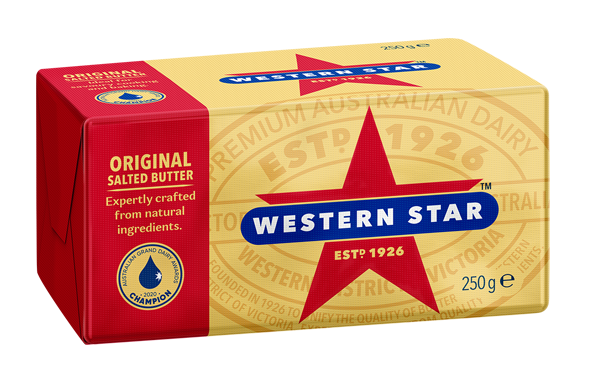 IN THIS RECIPE
Original Salted Butter
Western Star is Australia's favourite butter. It's a classic, pure creamery butter with a rich satisfying, five-star taste. Winner of Champion Butter at the 2019 Australian Grand Dairy Awards, this product sets the benchmark by which all other butters are judged. Expertly crafted from only two natural ingredients, cream and salt.
LEARN MORE
More Snack, Sides and Starters recipes
Forgotten to soften the butter?
Grate butter coarsely, spread onto baking paper and stand for 10 minutes before using. Alternatively chop into 2cm cubes, microwave on 30% power in 10 second bursts until just softened.